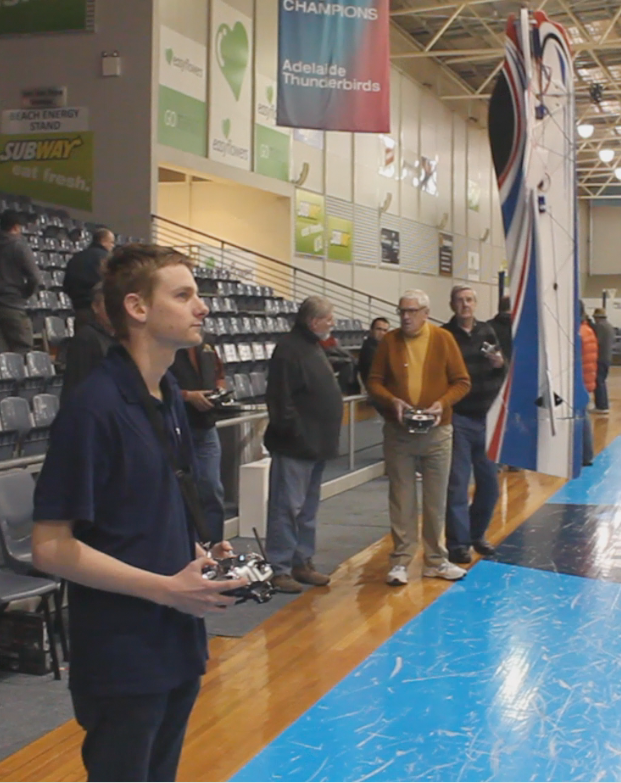 It was a great turnout at the August indoor flying session at ETSA Park, South Australia. Pilots and spectactors flocked to see some brilliant RC plane and helicopter demonstrations, in addition to seeing some of the latest releases from
Modelflight
. It was an impressive line-up. Some of the new models that were on show included the new
350 QX
from
Blade
, the
Delta Ray
from
HobbyZone
, the
Ultra-Micro Icon A5
from
ParkZone
, and the
UMX Habu
from
E-Flite
. The 350 QX 
RC quadcopter
certainly drew a lot of attention. It's
SAFE Technology
 gave the quad incredible stability in the air. We were able to attach a GoPro camera to the 350 QX and capture some great aerial footage. This footage, among other highlights from indoor flying, can be seen in the video below: As you can see, there was plenty of excitement at indoor flying. RC helicopter ace, Hamish, was on hand to put the
Forza 450
through its paces. We have included an action video of this
JR helicopter
below: Another amazing performance from Hamish! The Forza 450 is a finely-engineered
3D helicopter
. If you are interested in experiencing the thrill of the Forza yourself,
Modelflight
have three options available, including a kits 
without the electronics
,
with electronics
, and a third kit with
electronics and a flybarless unit
. On
Modelflight's YouTube channel
, we have a playlist called
RC Helicopter Action Videos with Hamish
, where you can watch all of Hamish's exciting heli videos. At the event, we were able to interview
Chuck T. Seeker
about the Blade 350 QX and the new
Ultra-Micro Icon A5
from
ParkZone
. The video interview can also be seen on Modelflight's YouTube channel: Thanks to Chuck for talking to us about these new models. August's indoor flying session was certainly an exciting night for all involved. If you would like to read more reports about previous indoor flying sessions (or other RC events), visit the
RC Events
section of
Modellfight's blog
. Stay tuned for more!