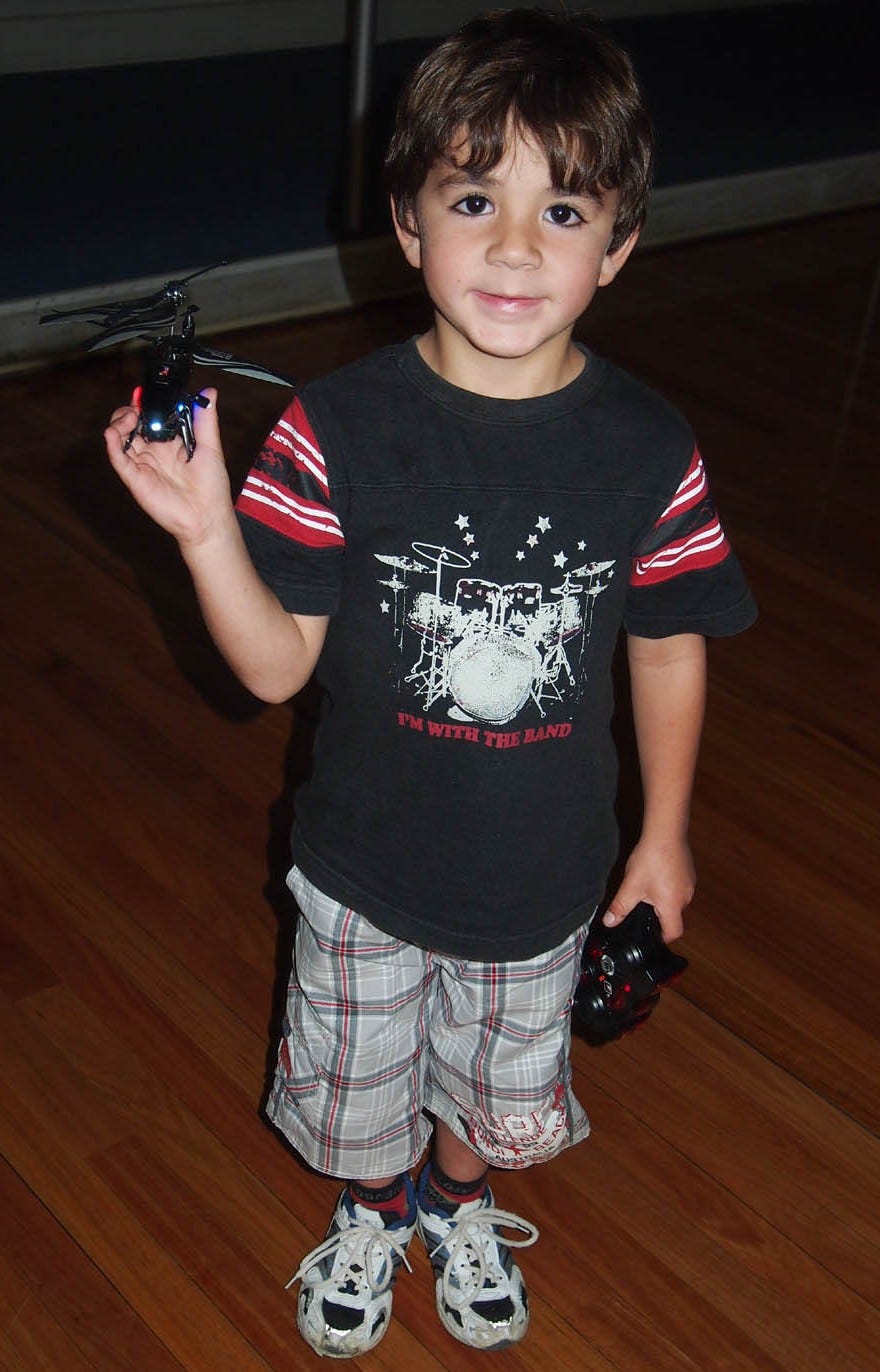 Our April Indoor Meeting had a touch of Royalty to add a little richness to its flavor – I speak of Speedway Royalty for those who can remember the days of Rowley Park which brought fame to many men and women over its 20-plus years of existence. One who will be remembered by his followers for many years to come is Bill Wigzell ("Wigzell The Wizard") Bill was one of the leading competitors in not only South Australia, but in all speedway tracks throughout the nation.
My opening shot this month is of Bill, who brought two of his grandies along to see just what we got up to each month. The Wigzells have recently discovered that the dam on Bill's Cherry Gardens property is better suited to
radio controlled boats
than "just feeding the sheep and cattle." The grandchildren – the two in the pix are also quite skilled with their
helicopters
- were making their first visit to our indoor meet and it would not surprise me if they made a return visit in the not too distant future.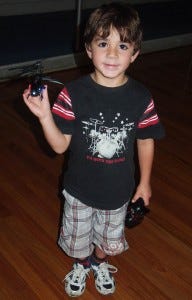 I have re-used a pix that I used last month  because the young flier featured, was an amazement to me in many ways – mainly I was amazed at the flying skill of a five-year-old. This month, we had another five-year-old, Zachary whom you see with his dad, Mark, in the next shot, and his flying ability just sent me up among the rafters of the stadium for quite a while. Five years of age, in the same class as Angus of last month's coverage and our new-comer surprised me with the magnificent control of his heli, and at such heights, right up among the rafters. At the statement from dad, Mark, "You're too high Zach," rather than a rush to slide his elevator down, Zachary  slowly brought it down to a respectable altitude. Well done. What a future these young people have if they control their wishes to go higher and faster etc.
They had  the opportunity to glance into  their future too for Hamish Scott was on hand once more to demonstrate one of the latest heli's available; the
Blade 130X.
Hamish has the opportunity to do that in his role as Chief Test Pilot for Model Flight, and we are fortunate in seeing the first flights of a number of new products that are available at
Model Flight
's Hobby Shop on Goodwood Road, merely hours after their arrival.  Tonight, as my picture shows, Chucky T (my name for him not his) although it is fairly close, always on hand to capture the action on video of the antics of our leading Heli Pilot, was again "at it." Then, dear readers, you see what all the excitement was about with Hamish just showing the subject of his latest demonstration.  I am really pleased to call him my friend, realizing perhaps, what I could have achieved, had I started about 60 years earlier than I did. Speaking of years gone by, but not by too much, my final picture is of the original "Three Wise Men."  The gentleman on the extreme right of the picture, so it is said, actually taught Moses to fly
control line
. Well done.
I close this epistle with a reminder that we DO meet on the third Thursday of each month – in May it will be the 17
th
., and we will again join in fellowship between the hours of 8.30p.m. and 10.30p.m. I realize that it is unusual for me NOT to feature a picture of our leader in action, but on this occasion he was helping  two of his daughters celebrate their birthdays and, even as I write this story, he is shouting his lovely wife, Janine, to some holiday time in Viet Pnam (Oh heck, how DOES one spell Pnam or Nam?) Warm regards to all from your friendly Phoenix.