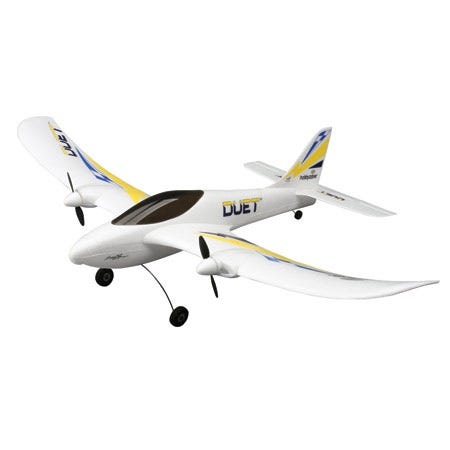 HobbyZone are renowned in the design of remote control planes for beginners and yesterday they continued that reputation with the announcement of the Duet RC plane. This remote control plane has everything you need to start your flying adventure; coming ready-to-fly straight out of the box. To help you develop your wings, HobbyZone have equipped with the Duet remote control plane with their Virtual Instructor technology. This in-built software makes minor corrections and adjustments to help you maintain control as you master the basics of flying. Even if you have never flown an RC plane before, Virtual Instructor will help make flying easier and smoother. Once you have got a hold of the basics, you can switch off Virtual Instructor and develop your skills further.
On Modelflight's YouTube channel, Matt unboxed and flew the HobbyZone Duet. Check out the video below to see this new plane in action:
Some of the great features with this remote control plane include an interference-free 2.4GHz transmitter and a rechargeable 150mAh 1S LiPo battery. This battery will give you plenty of flight time on a single charge. What makes the Duet unique is that the battery charger is conveniently built into the transmitter. Rest assured, HobbyZone have included the 4 AA batteries you need to power this charger and transmitter. With a 3-channel control, you will be able to operate the plane's climb, steering and throttle with ease. This beginner's remote control plane has a durable and lightweight construction that minimises damange should you have the minor accident as you learn to fly.
Complete with a vibrant trim scheme, the HobbyZone Duet is an excellent choice if you are looking for your first RC plane. Given its low price, it is superb value for money. If you cannot wait to get started with RC planes, make sure you visit Modelflight today to find out more about this exciting new release.
Click here to be notified when the HobbyZone Duet arrives in stock.