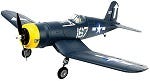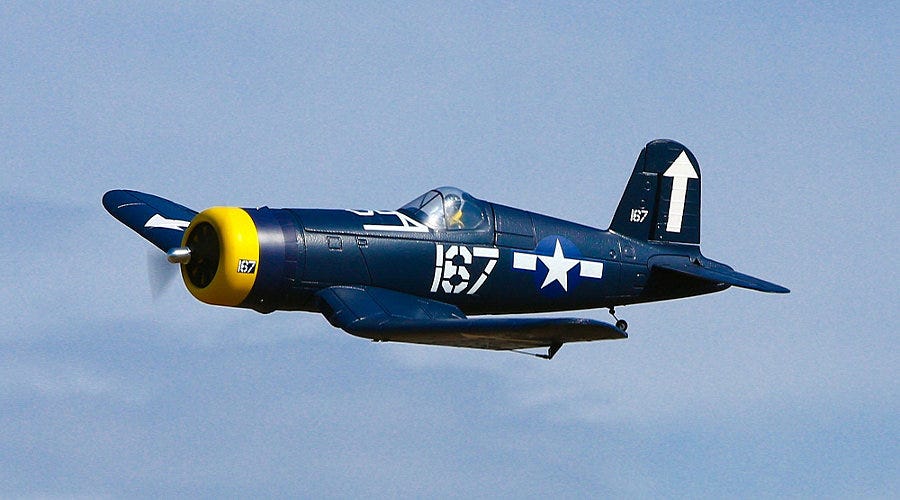 The Classic HobbyZone Corsair
You may have already heard of the F4U Corsair. It was one of the most distinguished military aircraft in the history of aviation, offering strong firepower and great versatility during World War II. Capturing the essence of this famed fighter, HobbyZone have created an RC version of this plane and we are pleased to announce that it is now available at Modelflight. At the core of this new model is Sensor-Assisted Flight Envelope (SAFE) Technology. SAFE has been used with great results in other models such as the Blade 350 QX and the HobbyZone Delta Ray. The Corsair is no different. SAFE will allow you to fly without fear of wind, turbulence or other factors in the environment. SAFE can work in the background to make adjustments as you fly, giving you a smooth flying experience.
This plane has a very appealing trim scheme, complete with scale military details. It is a true stand-out both in the air and on the ground. This plane is constructed from Z-Foam, which offers you light weight and durability. In the unlikely event of something going wrong, this material can be easily repaired! Powering the Corsair is brushless electric motor which gives the plane great speed and climb performance. This motor works in conjunction with the included LiPo battery, which is designed to give you long flight times on a single charge. There is also a DC fast charger with AC adapter included, allowing you to get back up into the air as quickly as possible.
The HobbyZone Corsair comes with removable landing gear, allowing you to perform ground takeoffs and landings or hand launches with belly landings. The plane offers proportional 4-channel control, covering throttle, rudder, ailerons and elevator. In the ready-to-fly version of this plane, you will also receive a full-range Spektrum DX4e DSMX transmitter (there is also a Bind-N-Fly version available if you would prefer).
The new HobbyZone Corsair is a great choice if you are a fan of scale RC planes. It is available now at Modelflight, so visit our website today to find out more.