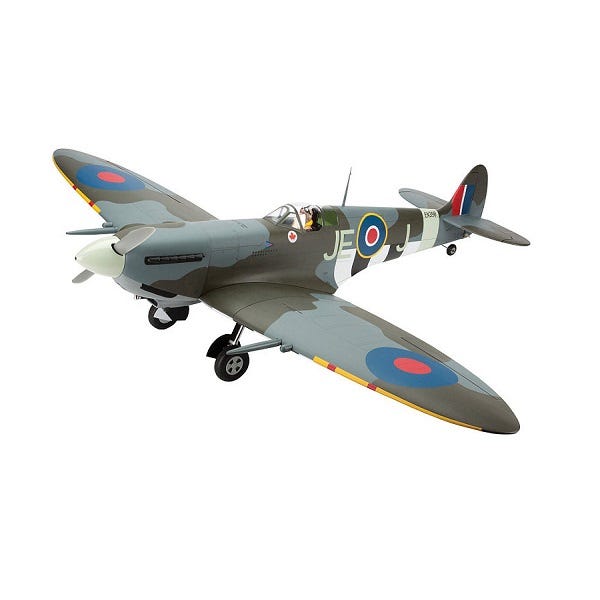 Spitfire Mk IX
. This RC plane is a true stunner. It comes with accurate details including camouflage colours modelled on the original Mk IXc plane, panel line detail and scale decal sets. This is quite a versatile aircraft; you have the option of running it on electric or gas power, depending on your preferences. Irrespective of your choice, you will find that the Spitfire is a great performer in the air. Among its many features, the Spitfire remote control plane comes with operational split-flaps with internal linkages, giving you both scale performance and appearance. Hangar 9 have also added cowl details such as carburetor intake, compressor intake and moulded engine exhaust. You will also notice the fixed landing gear, gear doors, scale tyres and 4-spoke Spitfire wheels. Furthermore, the
RC plane
comes with wing cannons and radio antenna detail (which can be removed if you so choose). The moulded wing radiators are finished with matching paint. The tail surfaces have also been airfoiled. The Spitfire is constructed from lightweight balsa and plywood, giving it great maneuverabilty in the sky. It comes with three-piece plug-in wings to make transportation and assembly easier.
Hangar 9
have also included two scale decal and identification number sets. If you appreciate
scale model planes
, the new Hangar 9 Spitfire is definitely something to keep your eye on. Hangar 9 are renowned for their high-quality, large-scale aircraft and the Spitfire certainly takes its place among their great models. It is coming soon to Modelflight, so make sure you visit our website today to find out more.
Click here
to learn about the Hangar 9 Spitfire Mk IX Model Plane.