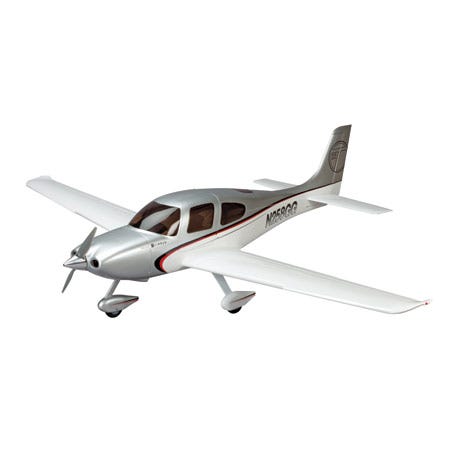 Hangar 9
 have a fantastic reputation when it comes to producing scale model planes.  Their latest release reaffirms this.  The
Cirrus SR22T 30cc ARF
 is a superb offering.  This plane is an officially licensed scale version of the full-scale Cirrus Aircraft model.  It features a paint scheme inspired by the original SR22 and authentic scale outline and contours.
The Cirrus features a fibreglass fuselage, fully balsa-sheeted wings and a foam-core stabiliser.  As you can see in the images above and below, this model plane has a two-piece plug-in wing with a carbon fibre tube spar.
Hangar 9 have designed this plane to include an authentic slotted flap system, factory-located hinges and airfoil-shaped tail surfaces.  All of these features give the plane both scale integrity and modern appeal.  The cowl is flush-mounted and (along with the wheel pants) is made from fibreglass.
You will also notice how the right and left access doors are removable, giving you easy access to the internal components.  Hangar 9 have even tinted the Cirrus' windows.
The Cirrus SR22T comes with a scale aluminium spinner and you have the option of adding a three-blade spinner.  There are also installation options for gas and electric power.
Flying this Hangar 9 plane will be most enjoyable.  It shares the same solid handling and performance characteristics of the full-size version.  The fuselage, wings and control surfaces of the Cirrus makes it both smooth and stable in the air.
If you are looking for a scale civilian model, we would highly recommend the Cirrus SR22T.  It is another stunning recreation from Hangar 9 and we are pleased to say that it is available now for pre-order from our website.  Modelflight looks forward to bringing you more news about the latest releases from Hangar 9 and other excellent RC brands.