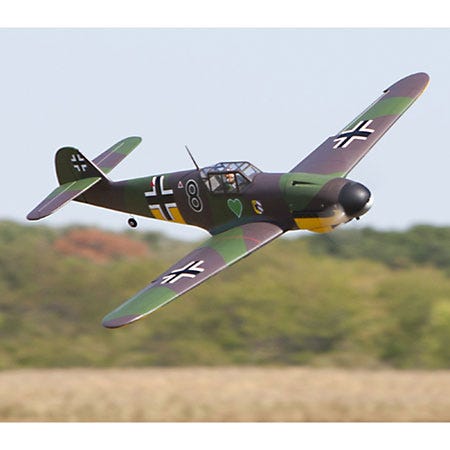 At Modelflight, we take a lot of pride in our range of scale
This 60-size ARF is certainly no ultra-micro and you will find that its range of features is just as large.  Made from an all-wood construction, the Messerschmitt incorporates two Selig airfoils with just the ideal amount of washout, letting you soar at high speeds while still performing graceful landings.  Additionally, Hangar 9 has included a four-section flap system, giving you a greater range of speed and manoeuvrability.
One of the key features of the Messerschmitt is its ability to combine great performance with accurate scale detail.  The construction of this RC plane allows for its curved surfaces to be fully sheeted.  This not only gives the Messerschmitt light weight, but also adds its scale detail.  Some of the other scale features you will notice include the engine exhaust details, which can be easily attached to the one-piece fibreglass cowl.  Furthermore, the durable UltraCote covering has been custom-printed with a flat finish, authentic camouflage and panel lines.  With the option to add electric power and
E-Flite 81-degree retracts
, the Messerschmitt is an exciting new release for fans of sport planes and/or warbirds. Be sure to check out our
website
to learn more about this fantastic
RC plane
and stay tuned to this blog as we continue to showcase the latest and greatest products available from
Modelflight
.