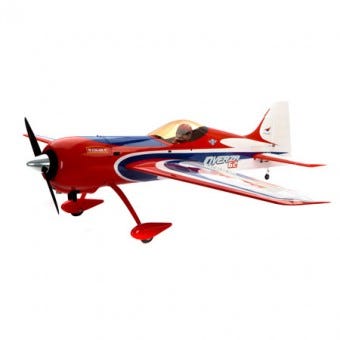 When we announced the Hangar 9 Inverza 33, we honestly thought that aerobatic planes couldn't get any more exciting. Today we stand corrected. Modelflight are pleased to inform you all that the Hangar 9 Inverza 62 will be coming soon and we are eagerly anticipating its arrival. The Inverza 62 was inspired by the Inverza project, lead by full-scale aircraft builder Kevin Kimball. Although this full-size plane is yet to be built, with the Inverza 62, you can witness the aerobatic potential of this design at your local field.
In creating this remote control plane, Hangar 9 have excelled in both style and performance. The Inverza 62 comes with huge control surfaces and a large wing area, making it predictable in slow flight and giving you stability when performing demanding 3D maneuvers. This RC plane features a two-piece wing that connects with a solid aluminium wing tube. You will also notice how the ailerons and elevators come with pre-fitted hinges, allowing you to take to the air faster.
This model plane comes with a large hatch featuring a tinted canopy and scale instrument detail. There is plenty of room for you to add a 30-33% scale pilot figure of your choice. Hangar 9 have also factory-painted the aluminium landing gear, fibreglass cowl and matching wheel pants. The Inverza 62 is constructed from a balsa/balsa-plywood structure that is both strong and lightweight. The original Mirco Pecorari design scheme has been reproduced with a geniune UltraCote covering; giving this RC plane a striking ground presence and great visibility in the air.
The Inverza 62 will take aerobatic performance to a whole new level. If you cannot wait to experience this thrilling performer, you can be notified about the model's arrival by visiting our webpage on the Hangar 9 Inverza 62.