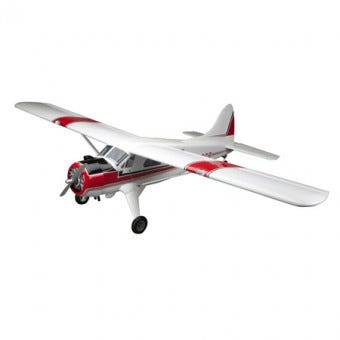 We are thrilled to announce the latest addition to Hangar 9's range of model planes. The
de Havilland DHC-2 Beaver
is an accurate replica of the full-scale plane of the same name (commonly referred to as the "bush plane" given its ability to handle rugged environments). It comes with a 110inch wingspan and is designed for 30cc gas power, but can also accomodate electric power.
Hangar 9 are well known for the quality of their models (as any fan can attest) and the Beaver is no different. It is constructed from the best balsa and plywood materials using modern construction processes, form assembly, tab alignment rigidity and laser-cut part accuracy. Regardless of whether the Beaver is your first giant-scale model or you are an experienced pilot, you will find that the RC plane's easy flying characteristics makes it a pleasure to fly. With its operational flaps, the Beaver has great low-speed performance for short field operation and for pilots who are keen to replicate full-scale performance. The attention to detail in this model is outstanding. The Hangar 9 Beaver's fuselage features scale-shape doors that open wide to give you generous access to the interior. Inside the plane, you will find scale details such as pilot seats and an instrument panel. The DHC-2 Beaver also features corrugated control surfaces that come factory-applied. These surfaces simulate the aluminium sheeting used on the full-size rudder, elevator, ailerons and flaps for control surface rigidity.
Hangar 9
have also focussed on the fibreglass details, with the radial cowl and landing gear fearings being painted in a colour that matches the Hangar 9 UltraCote covering. Excelling in both scale design and performance, the Beaver is an excellent addition to the remote control planes available at
Modelflight
. It will be available soon, so make sure you visit our website today to be notified about its arrival.
Click here
to be notified about the arrival of the Hangar 9 Beaver.