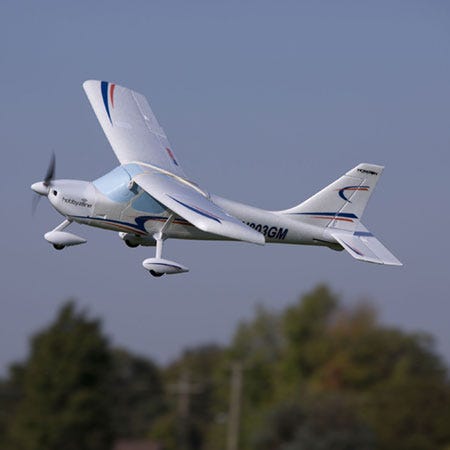 What an exciting week it has been for us here at Modelflight.  In our
last post
, we mentioned how ParkZone have recently released their new
VisionAire
and
P-40 Warhawk
RC planes.  But just when we thought it couldn't get any better, HobbyZone have just announced their brand new
Glasair Sportsman
.
This is the first 4-channel Teach-Yourself-to-Fly trainer plane from HobbyZone.  It comes complete with working throttle, ailerons, elevator and rudder.  Designed by champion pilot Mike McConville, you too can work towards becoming a champion pilot with the Glasair.  It was created especially for relatively new pilots who have been training with the
HobbyZone Champ
,
Super Cub
or
Stratos
and are ready to advance their learning.  Our very own Mike managed to get a sneak peek at this exciting new remote control plane, and starred in the below video: As you can see, the Glasair comes with superb features.  HobbyZone have included a 2-axis stabilisation system, offering pilots bank limiting and assistance with flying, turning and landing.  All of this guidance is provided through HobbyZone's Virtual Instructor technology. As a
RTF plane
, the Glasair can be assembled in minutes and comes with everything you need to get started, including a 480-size brushless motor.  You will also receive a 1300mAh LiPo battery, giving you long flight time and consistent power from take-off to landing.  To control this RC plane, HobbyZone have included a
Spektrum DX4e DSMX
transmitter, offering interference-free flight.
The Glasair RC plane is constructed from impact-resistant and durable Z-Foam.  You will also notice its tricycle gear with a steerable nose wheel, providing easier handling on the ground.  So if you are relative newcomer to RC planes (or know someone who is), check out this fantastic trainer.  It is available for pre-order now from our
website
.