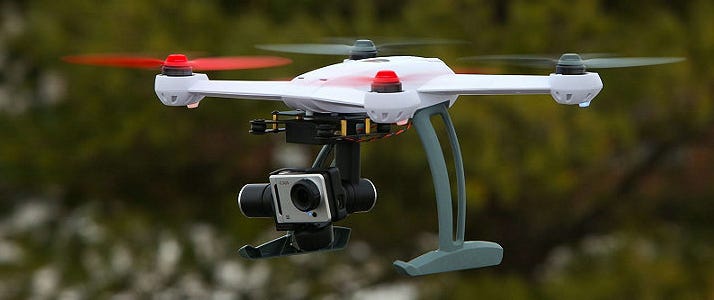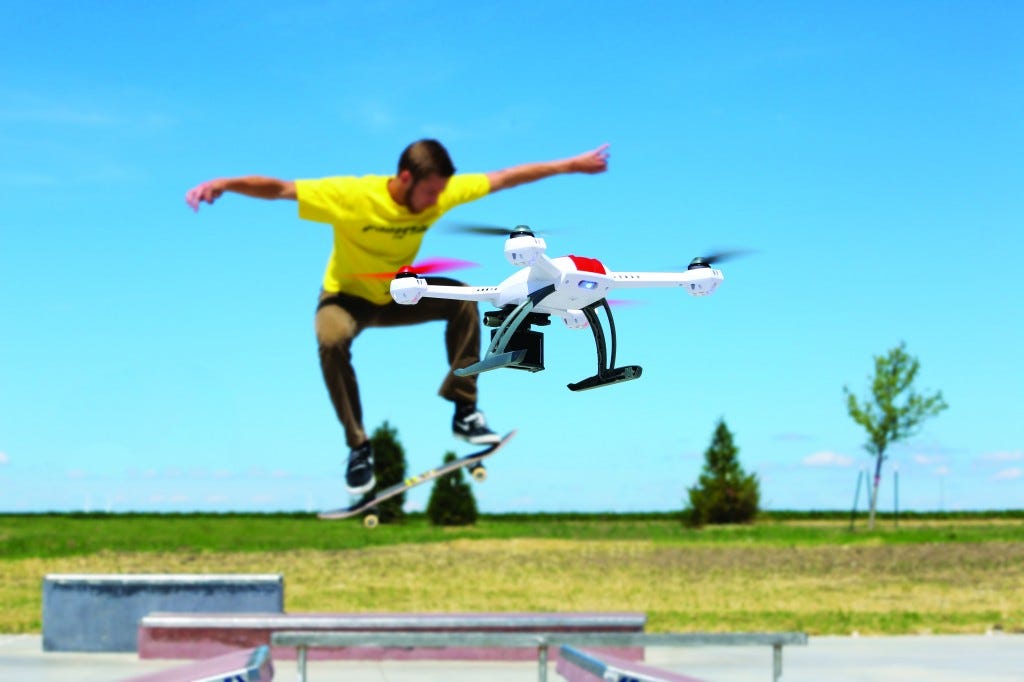 Whether you are capturing an exciting sports match or photographing a beautiful scene from above, aerial photography and filming is a fantastic hobby. Thankfully, with recent developments in cameras and remote control technology, aerial filming and photography has never been easier. Modelflight is proud to offer a range of products to help our customers get started in this hobby and in this blog post, we would like to talk about various options for getting started in aerial filming, beginning with a discussion of remote control quadcopters.
Remote Control Quadcopters
As you can imagine, probably the most important key to success in aerial photography and filming is stability. When you are up in the air trying to capture the best photo or film clip, the last thing you want is a camera that gets knocked around in the wind! Ideally, your choice of camera transportation will give you the control you need when you are in the sky. That is why we recommend remote control quadcopters. Quadcopters (otherwise known as drones or quads), are a great choice for aerial photography and filming. Because of their quad-blade design, they offer more stability than what you could normally achieve with a two-blade remote control helicopter. For this same reason, remote control (RC) quadcopters are also very easy to fly. Even if you have never flown a remote control model before, you will find that learning the controls of a quadcopter will be quite straightforward. In the following sections, we will be discussing some of the quadcopters that we recommend for aerial photography and filming.

Blade 180 QX Quadcopter with HD Camera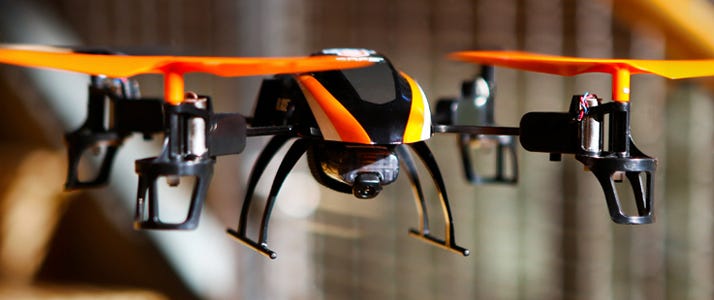 The Blade 180 QX is a great way to get started in aerial photography and filming (or flying quadcopters in general). This model has a very small size, so it is very easy to control in the air. What's great about the 180 QX is that it comes with an E-Flite 720P HD video camera included. As the name suggests, this camera offers full-colour 720p HD video functionality. Additionally, it features 1.3M still image capability, with a removable 2GB memory card to store your videos and pictures. You can even operate this camera through the transmitter! In the video below, you will see some video footage that was captured from a 180 QX:
To make the 180 QX even easier to fly, Blade Helicopters have incorporated Sensor-Assisted Flight Envelope (SAFE) Technology into the quadcopter. SAFE is designed to help maintain the 180 QX's stability in the air, so you won't have to worry too much about the effects of wind when you are up in the air.

Dualsky Hornet 460

With A Camera Mount (For iPhone, GoPro..)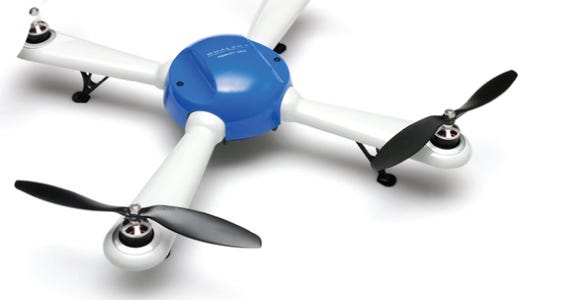 The Dualsky Hornet is a feature-rich RC quadcopter. It is much larger than the 180 QX and comes equipped with more powerful brushless motors. This is the real performance quadcopter. One thing to bear in mind is that the Hornet does not come with SAFE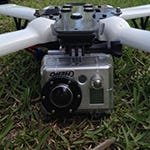 Technology. While you will still find it to be very stable in the air, we would suggest that beginners start with something smaller before moving up to this model. Nevertheless, the Hornet is a great choice for aerial photography and filming. With its brushless power, you will find that it is very quick to respond, should you need to film some fast-paced action on the ground.
Another important note to make is that the Hornet does not come with a camera mount as standard. Dualsky, however, have made a Hornet 460 camera mount which is sold separately (see inset image).
Alternatively, Modelflight offers a Dualsky Hornet package which includes this camera mount included. Irrespective of your choice, you will find that this mount can easily accomodate a GoPro camera or even a mobile phone. Check out some footage captured on the Hornet in the video below:

Blade 350 QX Quadcopter With GoPro Mount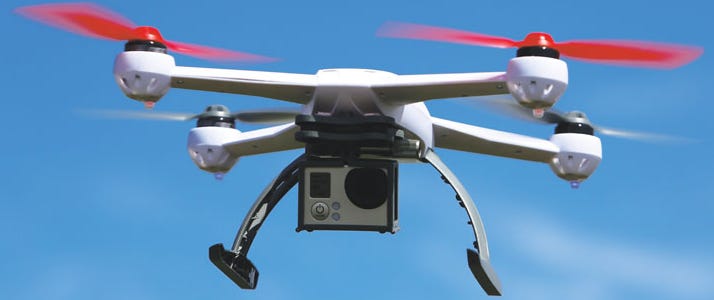 The Blade 350 QX is the ultimate GoPro quadcopter. Similar to the Blade 180 QX, this quad comes with SAFE Technology, so you will be able to maintain great stability in the air. Further to this, Blade have added an anti-vibration camera mount to the 350 QX. This mount can accomodate a GoPro Hero, Hero 2 or Hero 3 camera (each sold separately). Equipped with 1100Kv brushless motors, you will be able to access power that is similar to the Dualsky Hornet 460. Check out some on-board footage from the 350 QX in the video below:
Blade 350 QX Combo Quadcopter

With C-Go Camera and Gimbal Included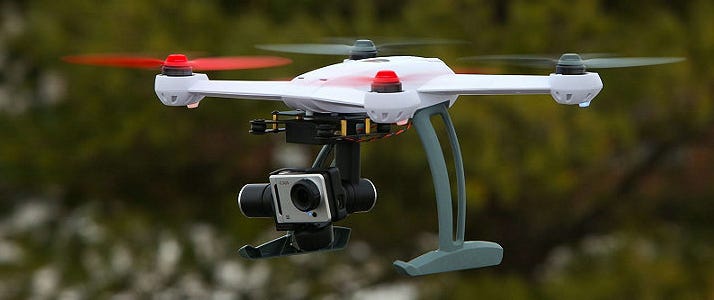 Now here is the ultimate aerial photography and filming package. The Blade 350 QX Aerial Photography (AP) Combo comes with everything you need. Not only do you get the aforementioned 350 QX quadcopter, but you will also receive an E-Flite C-Go 1 HD camera and a 2-axis brushless gimbal with optional pitch control. The C-Go 1 camera offers 1080p/30 recording and can also stream video over a 5.8GHz WiFi video downlink to supported devices. Rest assured, this 720p/30 streaming capability will not interfere with your 2.4GHz radio transmission. This lightweight camera offers low latency and long-range WiFi. The Blade 350 QX AP Combo is the all-in-one aerial photography and filming solution.

Quadcopter Comparison (Arial Photography/Filming)
Blade 180QX
Dualsky
Hornet 460
Blade 350QX
Blade 350QX Combo
Camera included
Video Quality
720p
NA
NA
1080p
Gimbal
SAFE technology
Experience level
Beginner
Intermediate
Intermediate
Intermediate
Price wo/ Radio Transmitter
$199.99
$349.99
499.99
NA
Price w/ Radio Transmitter
$239.99
NA
$549.99
$1,349.99
Conclusion
We hope this guide has given you some ideas for how to get started in aerial photography and filming. Quadcopters makes this process so much easier and we trust that the models discussed will help you in this hobby. In terms of recommendations, we would suggest that photographers/filmographers who have never flown a remote control model before should get started with the Blade 180 QX. If you are feeling more confident, though, we would definitely recommend the Blade 350 QX or the 350 QX AP Combo. With SAFE Technology included in all three of these models, you will find the stability in the air will help you capture the photos and video you need. If you have any questions about what we have covered in this blog post, feel free to leave us a comment below. Thanks for reading this guide. We look forward to helping you explore the world of aerial photography and filming.