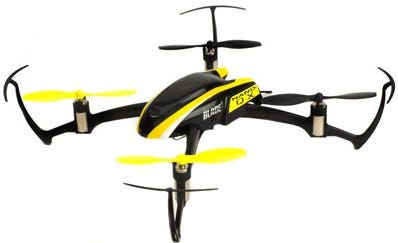 Are you looking for a great gift this Christmas?
Remote control helicopters
are an excellent choice. They offer hours of fun, are small enough to fly indoors and can easily be mastered even by pilots who do not have much experience flying RC models. In this blog post, Modelflight will be reviewing some of of our best remote control helicopter gifts to help you find the one that is right for you.
What to Look For When Buying a Remote Control Helicopter Gift
As a guide, there are a few things we suggest you look for when buying a remote control helicopter gift. Firstly, the helicopter should come
ready-to-fly
(often abbreviated as "RTF"). Some RC helicopters require you to supply extra components (such as radio transmitters) for operation. If you are buying a gift (especially for beginners), we would recommend RTF helicopters, which come with everything they need included in the box. Secondly, we would recommend electric RC helicopters, which (generally speaking) are easier to operate than their nitro-fuelled counterparts. All the pilot has to do is charge up the batteries and they are ready for takeoff! Recently on Modelflight's YouTube channel, Matt had a closer look at some of our best remote control helicopter gifts. All these RC helicopters have electric power and come ready-to-fly. Check out the video below:
The Best Remote Control Helicopter Gifts
Let's look at each of these RC gifts in turn, beginning with the Blade Scout.
Blade Scout CX
The
Blade Scout CX
is one of the best beginner helicopters available. This micro helicopter comes with a computerised Piezo gyro to give pilots excellent directional control and stability. With its proportional rotor head servo, the Scout has smooth and precise control response. If you want more details about the Scout CX, check out another video Matt did for this helicopter: We also have an action video of the Scout so you can see how smooth it is in the air: The Scout will make for a great Christmas gift for the young and the young at heart!
Blade 120SR
The
Blade 120SR
is a unique RC helicopter. It has a single rotor head to give you more agility, but it can still provide the inherent stability of a coaxial helicopter (like the aforementioned Scout CX). The 120SR comes ready-to-fly with an in-built 5-in-1 control unit, Spektrum receiver and a 500mAh 1S LiPo battery. In the video below, Matt reviews the Blade 120SR: The 120SR is really fun to fly; striking the balance between great maneuverability and stability.
Blade mQX
Let's move on move on to our range of RC quadcopters, beginning with the
Blade mQX
. What makes this model stand out is its included Artificial Stabilisation in 3 Axis (AS3X) technology. AS3X gives the mQX great control and stability in the air; irrespective of whether it is being flown indoors or outside. Even though it has a small size, it comes with 8.5mm brushed motors to give it the power needed to dart across the sky. If you would like to see more, we have a range of mQX videos on our YouTube channel, beginning with this unboxing and review video from Matt: We also have an mQX action video below: As you can see, the mQX is a very stable quadcopter. Coming ready-to-fly with everything included in the box, this gift has great appeal.
Blade Nano QX
The last model we wanted to discuss is the
Nano QX RC quadcopter
. This is a very high-tech model. The Nano QX comes with Sensor-Assisted Flight Envelope (SAFE) technology. This gives the quadcopter a "Stability Mode" to maintain its upright position in the air. If the pilot experiences any difficulty when flying the Nano, all they have to do is let go of the controls and the SAFE Technology will bring the quadcopter back to a hover all by itself. As a their skills develop, this Stability Mode can be switched off to make the Nano QX more agile. If you want more information, check out our Nano QX unboxing and review video below: We also have a video that shows how SAFE Technology works in the Nano QX: As you can see, the Nano QX has much to offer; its SAFE Technology making it one of the most stable quadcopters in Modelflight's range.
Compare Remote Control Helicopter Gifts
To summarise, we have compiled a comparison table below showing all the Christmas gifts we have reviewed:
| | | | | |
| --- | --- | --- | --- | --- |
| | Blade Scout CX | Blade 120SR | Blade mQX | Blade Nano QX |
| Model Type | Helicopter | Helicopter | Quadcopter | Quadcopter |
| Price ($) | 59.99 | 129.99 | 109.99 | 129.99 |
| Completion Level | RTF | RTF | RTF | RTF |
| Rotor Diameter | 6.50 in (165mm) | 12.5 in (318mm) | 5.5 in (140mm) | 1.97 in (50.0mm) |
| Size | Ultra Micro | Micro | Ultra Micro | Ultra Micro |
| Rotor Type | Coaxial | Single | Quadcopter | Quadcopter |
| Weight | 0.60 oz (17 g) | 3.75 oz (106 g) | 2.65 oz (75.0 g) | 0.58 oz (16.5 g) |
| Radio Included | Yes | Yes | Yes | Yes |
| Battery Size | 70mAh | 500mAh | 500mAh | 150mAh |
| Motor Type/Size | Coreless/Ultra Micro | Coreless/Ultra Micro | Brushed /8.5mm | Coreless/Ultra Micro |
| Modes Available | 1 and 2 | 1 and 2 | 1 and 2 | 1 and 2 |
| Additional Features | N/A | N/A | AS3X | SAFE |
Conclusion
In our opinion, the Blade Nano QX is the best remote control helicopter gift. With its advanced SAFE Technology, it offers everything you could want in an RC gift and more. Appealing to a wide variety of ages, the Nano QX is great fun to fly.
Click here
to order the Blade Nano QX now. Remote control helicopters and quadcopters make for excellent gifts and we hope this blog post has helped you find a model that meets your needs. Modelflight fully supports all our RC helicopters, so if you need some technical assistance, spare parts, or have any questions in general, feel free to
contact us
and we will be glad to help you. Stay tuned to this blog post for more RC news and reviews!