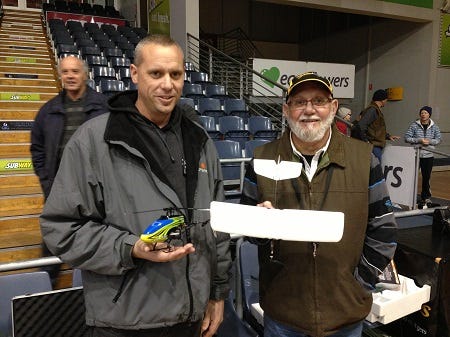 A small but enthusiastic group of pilots braved very cold conditions to attend Indoor Flying at ETSA Park in Adelaide last night. There were some great models at the event and
Modelflight
was fortunate enough to come along with a camera in hand! On show was Alan Mark's very impressive hovercraft, pictured below:
Mini Vapor
,
Night Vapor
and his own design EPP shock Flyer, a Sukhoi SU-26.
Blade 130X
and Ember and the usual collection of
helis
and
quadcopters
.
Blade Nano QX
and was very impressed with its stability and agility. The new SAFE Technology in the Nano QX clearly is a winner. Please note that there is NO indoor flying in July because of a clash with the Thunderbirds Netball finals. We will be back in August, so stay tuned to this blog for more updates about indoor flying and other RC events across Australia.