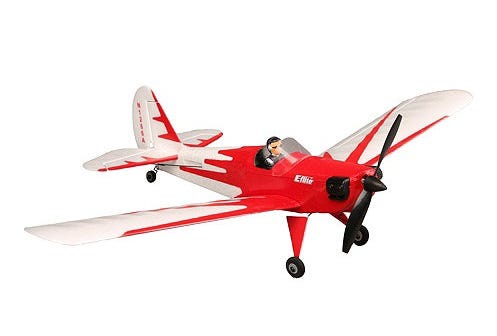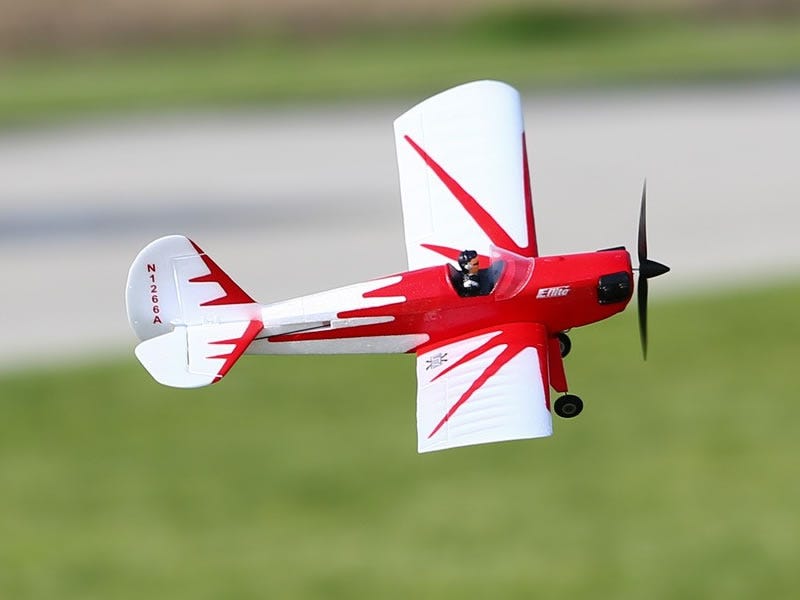 Adding to their expanding hangar of ultra-micro RC planes, E-Flite recently announced the launch of the UMX Spacewalker. This small plane certainly has a big presence. With its bright red and white trim scheme, it stands out in the air and on the ground. This plane can easily be flown in small spaces (even your own backyard) and comes with great scale details. Apart from the aforementioned trim scheme, it has a pilot figure positioned in an open cockpit. You will also notice the moulded wing ribs and visible engine cylinders, which add to the overall quality of this model.
This plane has easy-going, slow flying characteristics, but its 6mm brushed motor, gear drive and 100mm propeller combined still packs enough power to climb and loop. This model is available ready-to-fly or in a Bind-N-Fly version, depending on your preferences. The ready-to-fly model comes with an E-Flite 4-channel 2.4GHz DSMX transmitter, complete with proportional throttle, rudder, and elevator control. You will also receive 8 AA batteries for the transmitter and charger. Both versions come with 2.4GHz technology, so you will be able to enjoy an interference-free experience with a wide variety of DSM2/DSMX transmitters.
The Spacewalker comes with a pre-installed Spektrum DSMX receiver, ESC and servo unit. E-Flite have also included a 70mAh 1S 3.7V LiPo battery to power this RC plane. This should give you flight times of 5 to 9 minutes. With the included 1-cell DC charger, you can recharge this battery in about 20 minutes. If you love ultra-micro planes, the Spacewalker will be right up your alley. It has all the fun characteristics that will make for an enjoyable flying experience in your local park. This E-Flite RC plane is coming soon to Modelflight, so if you are keen to learn more, visit our website today.
Click here to learn more about the E-Flite Spacewalker.