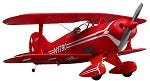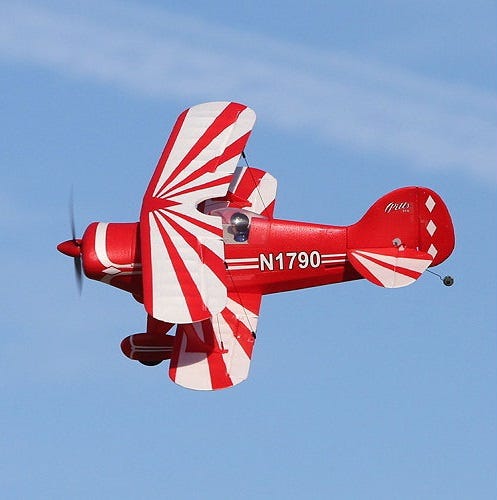 The Pitts Hits the Target
The full-size Pitts Special 1S is an icon in the field of aerobatic planes and now you have the opportunity to fly this aerobatic wonder in the most accessible fashion! E-Flite have turned the aircraft into an ultra-micro model; maintaining its ability to perform stunning aerial feats, but in a size that allows you to fly in your own backyard. The Pitts S-1S RC plane handles very well, thanks to the in-built Artificial Stability - 3 aXis (AS3X) system which gives you both great stability when required and great agility when you need to perform at your peak. AS3X utilises multi-axis sensors and software to make attitude corrections in the event of turbulence, torque and tip stalls. This works subtly behind-the-scenes, so you will be able to maximise your flying efforts without fear.
This plane comes fully-assembled out of the box (the only thing you will need to supply is a suitable transmitter), so you will be able to get flying very quickly. Even for the most ardent scale enthusiast, the attention to detail in this plane is quite impressive. You will notice the rib and stringer detents on this model. Additionally, the landing gear and tail wheel accurately replicate that which is seen on the full-scale version. It is only fitting that this plane has performance to match. Its high-output brushless power system consists of a 180-size, 3000kV outrunner motor, coupled with an E-Flite 5 x 2.75 propeller. Its these two features combined that give the Pitts the thrust required for great performance.
An AS3X RC Plane

As mentioned previously, this model plane comes with AS3X technology. Combined with the pre-installed linear long-throw servos, the Pitts has very solid flight characteristics that allow it to perform with great precision time and time again. This is a great choice for fans of scale RC planes or aerobatic pilots (even both). The E-Flite Pitts S-1S is now available at Modelflight, so if you are keen to learn more, visit our website today.
Read more about the E-Flite Pitts S-1S.