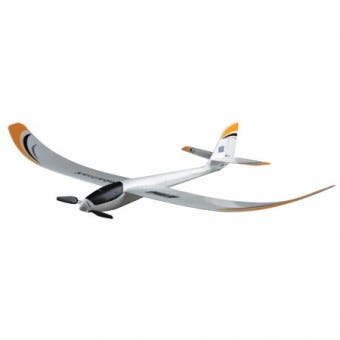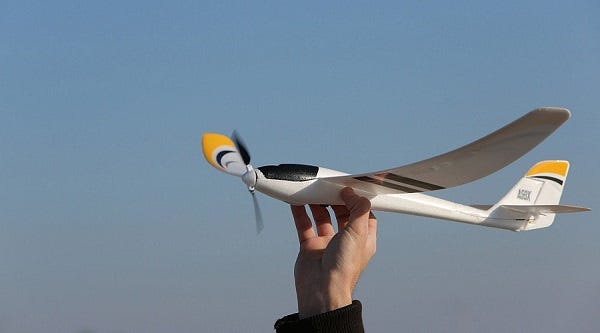 The original Radian from ParkZone was always a popular RC glider, proving to be easy-to-fly and offering great characteristics in the air. In this spirit of this tradition, E-Flite announced earlier this year the introduction of an Ultra Micro Radian and today we are pleased to annouce that this new model has arrived at Modelflight. The Ultra Micro Radian is going to be lots of fun. It comes equipped with AS3X Technology, so you know that your flights are going to be smooth and stable. With its 3-channel control, this minature Radian will offer easy flying and soaring characteristics. This ParkZone glider is constructed from light foam, giving you an easy to handle weight. The wing also comes with carbon fibre support.
Radian Power
To maximise the gliding efficiency, E-Flite have equipped this model with an ESC that has been specially programmed to work with the glider's folding propeller. You will notice how quickly this propeller will open and and fold back to streamline the airframe. With the included 150mAh 3.7V 1S 25C LiPo battery, you will be able to enjoy flight times of around 10 minutes and the battery can easily be charged through a USB power source with the included 300mA LiPo charger. The glider is powered by an E-Flite coreless brushed and geared motor, which comes pre-installed. With dimensions of 8.5 by 23 milimetres, this motor may be small, but it will give you enough power to take to the sky in style.
The Radian is very easy to assemble and transport. The wing is a one-piece design and is easily removable. So whether you are flying inside a large hall or heading for the great outdoors, you will be able to take the Radian without any hassle. This great glider is now available at Modelflight, so make sure you visit our website today to find out more.
Read more about the E-Flite Ultra Micro Radian.