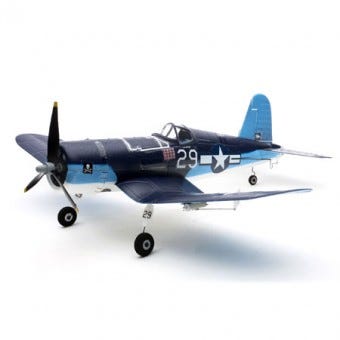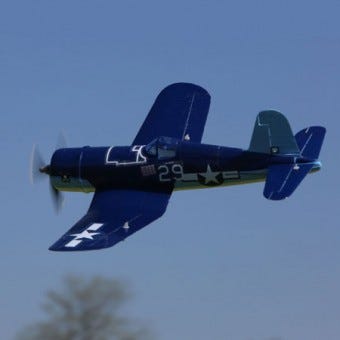 For fans of ultra-micro RC planes (or scale planes in general), some great news emerged yesterday with the launch of the E-Flite Ultra-Micro Corsair. This is an excellent addition to the E-Flite hangar. The previous Corsair from ParkZone was a very popular model and it is great to see that E-Flite have now created a smaller-scale version, which is perfect for both indoor and outdoor flying. A key feature of this new Corsair is the inclusion of Artificial Stabilisation Three Axis (AS3X) Technology. AS3X works subtly in the background as you fly; smoothing out the effects of forces such as P-Factor, turbulence and torque. This technology is so subtle, you will hardly notice it working. The control responses and throws will be as sharp as always.
The E-Flite Ultra-Micro Corsair comes with great scale detail, including an accurate paint scheme, clear canopy and moulded panel lines. As a bonus, E-Flite have included two decal sets, so you have the option of finishing your model like the Corsair flown by Gregory "Pappy" Boyington or the version flown by Ira "Ike" Kepford. In addition to the AS3X technology, there are some other innovative features of this plane including a new 3-bladed propeller and tailwheel steering, which gives you great handling in the air and on the ground. If you would prefer, though, this landing gear can be easily removed. Each aileron on this plane comes with a Spektrum linear long-throw offset servo, which gives you very sharp control when you perform roll maneuvers.
The good news about the E-Flite Ultra-Micro Corsair is that it comes completely ready-to-fly with everything you need included in the box. This includes a 4-channel DSMX transmitter (with batteries included). If you would prefer, there is also an Ultra-Micro Corsair BNF available. Irrespective of your choice, you will find this remote control plane is great fun to fly and has an impressive appearance. It is coming soon to Modelflight, so visit our website today to find out more.
Learn more about the E-Flite Ultra-Micro Corsair.