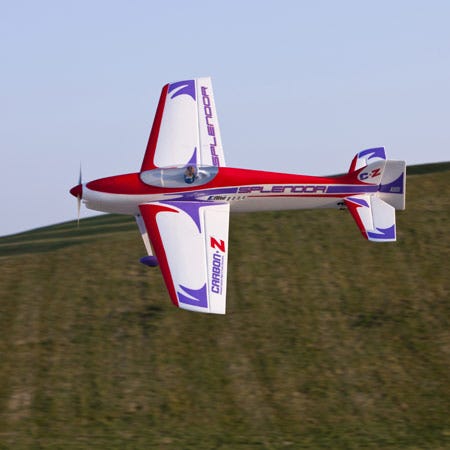 Aerobatic pilots, this one's for you.  The
Carbon Z Splendor
from
E-Flite
is a fantastic new RC plane that we were lucky enough to preview earlier this week.  The Splendor was designed by F3A World Aerobatic Champion Quique Somenzini.  Somenzini ensured that this RC plane offered everything you need to perform  incredible precision flying. The Carbon Z Splendor is constructed from a Carbon-Z wing and fuselage structure.  Putting this plane is very straightforward, thanks to E-Flite's simple bolt-on assembly.  Just make sure you have enough room for the plane's  1384mm wingspan.  When we were filming our
review video
, we had to leave the wings off in order to fit the plane on the table!  Nevertheless, this allowed Mike to easily show you what's underneath the Carbon Z Splendor's canopy.  We have embedded our review video below: http://www.youtube.com/watch?v=bITvM9xszV0 As Mike describes, this is a remarkable plane.  Equipped with a
Spektrum AR635 receiver
, brushless 50-size Q-Power system and digital mini servos, this is a true high-performance RC plane.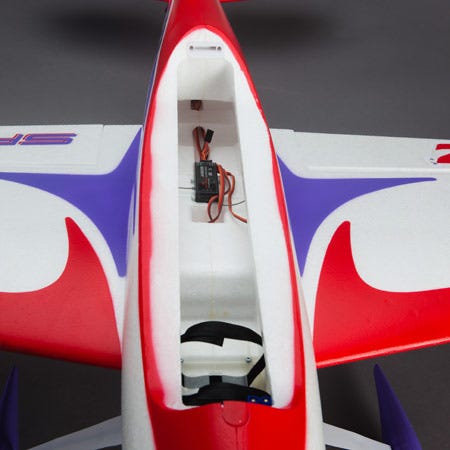 As you can see, underneath the canopy there is plenty of space to add the necessary battery to complete this
BNF plane
. Our suggestion is  a 6S 22.2V 3200mAh 30C LiPo flight battery. Beyond the internals, the Carbon Z Splendor has a stunning appearance.  It is brilliantly finished with an original Mirco Pecorari trim scheme.  You will also notice the modern cockpit details with a pilot bust installed. The Carbon Z Splendor is an exciting arrival at
Modelflight
.   For aerobatic pilots, this BNF monoplane offers the performance and agility you need to perform mesmersing feats in the air.  It can now be pre-ordered from our website at the sensational price of $399.99 with Free Delivery in Australia. Keep your eyes on this blog and on
Modelflight's YouTube channel
 as we continue to provide you with the latest updates in the world of RC.