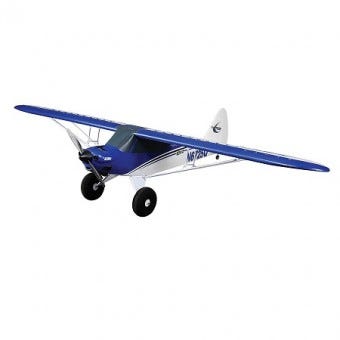 The announcement of the new E-Flite Carbon-Z Cub was met with a very positive response. As the largest RC plane to be constructed from Carbon-Z foam, the Cub is an exciting opportunity for RC pilots to step up to a giant-scale model. In this post, we wanted to talk about the Carbon-Z Cub unboxing and action videos we recently posted on our YouTube channel and give you a better idea of what this plane is like to fly.
In our first video, Matt unboxes this new E-Flite RC plane and shows you how to put one together.
As you can see, this model aircraft is quite easy to assemble (Matt was able to complete it in under an hour), so you can spend more time in the air and less time building. Bear in mind though, this E-Flite model plane is a Bind-N-Fly Basic, so you will need to supply your own transmitter, battery and battery charger to complete the model. For your reference, we have a list of recommended products on our Carbon-Z Cub product page.
In our second video, Matt took the new Cub out for a much-anticipated test flight. Needless to say, he was impressed. Check out the performance of the Carbon-Z Cub below:
You can see how smooth the Cub is in the air. Thanks to its included AS3X technology, it has great stability, which will be really helpful if you have never flown a giant-scale model before. You will also find that this E-Flite RC plane is quite versatile. Not only was Matt able to cruise through the sky, he was also able to perform a few aerobatic maneuvers too.
Overall, the E-Flite Carbon-Z Cub is an excellent RC plane. It is the ideal choice if you are ready to move up to your first giant-scale plane. Given its ease-of-assembly and smooth flight characteristics, you will be able to master the controls of giant-scale flying relatively quickly. As your confidence builds, you too may want to perform some aerobatics with the Cub; the potential is there for you to enjoy!
If you are looking where to buy the Carbon-Z Cub, it is coming soon to Modelflight. Make sure you stay tuned to our website (and this blog) for further updates.
Click here to be notified when the Carbon-Z Cub arrives.