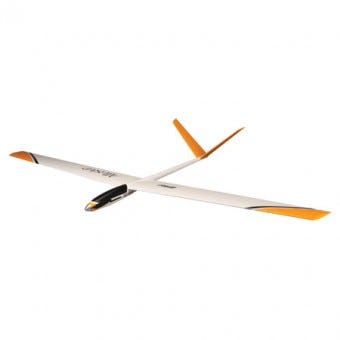 An exciting RC glider to emerge from the 2014 Nuremberg Toy Fair was the E-Flite RC Allusive. Today we are pleased to announce that the arrival of this new model is imminent. This will be a great glider for fans of thermal soaring. With its streamline fibreglass fuselage, the Allusive is a well-constructed model. This glider offers four-channel control, covering V-tail, ailerons and throttle. You will notice that the canopy is quite large and will give you easy access to the plywood mounting plates; very useful as you put together the necessary components to complete this ARF glider.
The Allusive has a bold design, with bright orange tips on the ends of its two-piece wings. These wings are made from balsa and have a foam core, striking a good balance between light weight and durability. They are finished with a high contrast UltraCote covering. E-Flite have also added built-up plug-in stabilisers which are also made from balsa. The control horns are made from fibreglass and come with pre-bent steel pushrods. There is also film hinging on the ailerons and ruddervators.
As mentioned, this glider comes almost-ready-to-fly, so you will have the opportunity to add the components of your choice to finish the model (we do have a list of recommendations on our website if you are interested).  It can accomodate brushless outrunner motors (such as the Power 15) while allowing for adequate cooling. This setup will give you the power you need to take to the skies with ease.
This is a bold model that will provide hours of outdoor enjoyment. If you are a fan of gliders, you have to check this model out. It is coming soon to Modelflight, so visit our website today to learn more.
Click here to read more about the E-Flite Allusive.