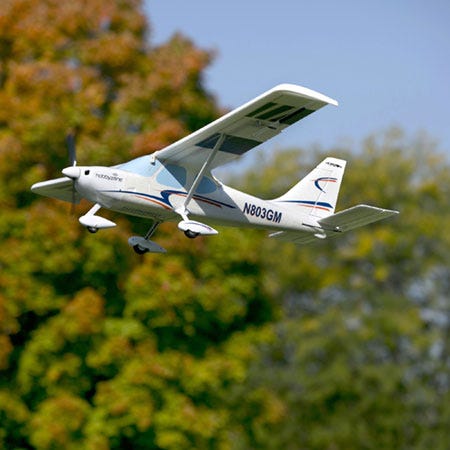 Today we wanted to show you 
Chuck T. Seeker
's latest demo video - the
HobbyZone Glasair
maiden.  We have covered several of Chuck's videos in recent blog posts, including his demo videos of the
Blade mCP X BL
, 
ParkZone VisionAire
 and
Carbon Z Yak 54
.  In this video, you will see Chuck initially fly the Glasair with the built-in Virtual Instructor technology switched on.  He then flies this RC plane with this feature switched off.  Chuck provides ample commentary during both flights, which gives a great insight into how the plane operates: http://www.youtube.com/watch?v=-SlhPmj5OKU As you can see, the Virtual Instructor feature makes flying the Glasair very easy.  This feature is fantastic if you have only had little experience with flying.  Like Chuck demonstrated, Virtual Instructor prevents the wing from dipping and stalling, allowing for a smoother flying experience.
Of course, as your skills as a pilot develop, the Virtual Instructor can be deactivated.  As you can see in the video (around the 3 minute, 20 seconds mark), Chuck easily switched the Instructor off. The difference in flight performance is evident.  Chuck had more flexibility with his maneavours. What is most interesting is Chuck's observation that the Glasair does not necessarily have to be a trainer plane. While it was designed with the novice in mind, if you are a fan of scale models, you will appreciate the Glasair's excellent details and appearance. So irrrespective of whether you are a relative newcomer or a fan of scale design, the HobbyZone Glasair offers something for everyone.  Chuck described this RC plane as a "pleasure to fly".  No doubt, you too will enjoy the smooth flying characteristics of the Glasair. This plane can be pre-ordered now from
Modelflight
.  Thank you to Chuck for creating another great demo video.  We will continue to showcase Chuck's work on this blog, so keep your eyes out for more.