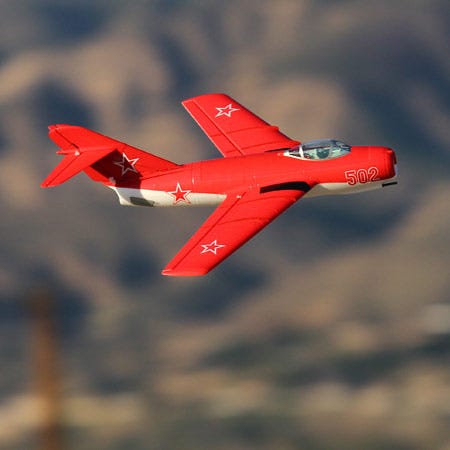 Thanks to 'Chuck Thrillseeker' for taking the time to share his review and maiden flight of the new
E-flite UMX Mig 15 DF Jet
with us!  E-flite have been producing some awesome UMX RC Planes and the RC Mig 15 is no exception Over to
Chuck
with his thoughts...
"At last they have arrived & i was straight to the shop to pick mine up, Yes! the new E-Flite UMX Mig-15 DF is all they said and more. It is a beautiful scale Jet and i am just busting to get this plane in the air"
"At last i get to fly the new UMX Mig-15 and it wasn't a disappointment, this plane rocks. Having never flown a micro EDF i just didn't know what to expect, what i got was a very exciting aircraft that takes off easy, fly's precise and just sounds and looks so sweet. First flight is with the Stock 200mAh 25C 2s Battery and these batteries have come a long way and flew this plane really well, i got 3 1/2 minutes flight time. Second flight is with the Miniaviation 300mAh 30C 2S again a great battery that giave me 5 minutes of flight time. As asked i have tried to add commentary as we fly.  Third Battery is a full 5 minute flight where Corinne has really got her eye in and caught this plane "Doing It's Thing" but thats in Part 2 of the maiden, well worth a look as i too got more accustomed to this jet and really put it through it's paces, Please Enjoy!"
"Here's the 3rd flight of the new E-flite UMX Mig-15 DF Corinne had her eye/hand/swing working great and captured the Mig "Close Up" while i am now very comfortable flying this plane so put it through it's paces. The wind was blowing in from the side on the runway and this plane slide slips in and handles the wind with ease, there is a few of the landings at the end of the vid to show just how well this plane lands and takes off. "
Chuck