We've received an amazing shipment of Carisma RC products including a new RC crawler, New Limited Editions racing kits, and a restock of their popular products. In this blog post, we're going to highlight our favourite new arrivals.
CRF-1 and CRF-GT Racing Kits
The first products we are going to take you through are the new 1/10 CRF racing kits which come in three different versions, the CRF-1 PRO, CRF-1 Team Lotus Type 98T F1 Kit and the CRF-GT Pagani Zonda R Limited Edition Kit. These high-level race kits all feature a full carbon fibre race chassis with aircraft grade alloy and high-quality composite components with some slight changes and differences between them.
The CRF-1 PRO is a chassis only version of the CRF-1 2WD platform, meaning it does not include a body shell, electronics, pinion, wheels or tyres. If you're a hardcore racer who wants the option parts included with the car and you're wanting to finish the chassis with your personal touch and customise to the track that you're running on, the CRF-1 Pro chassis kit would be the version for you.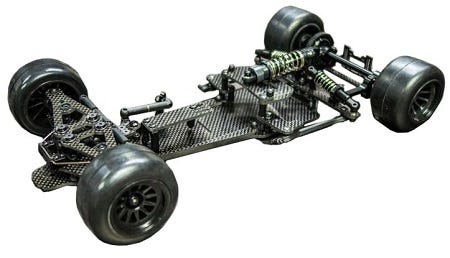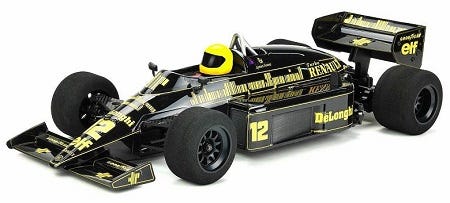 Next, we have the CRF-1 Team Lotus Type 98T F1 Kit, famously raced by the late Ayrton Senna in its full-sized guise. Made for competing in the F1 RC class, this F1 RC car comes with a fully-licensed Classic Team Lotus body. Not only is this made for racing, but it is also a collectable. You will need to add a transmitter, receiver, motor, ESC, pinion, battery, steering servo, wheels and tyres to complete the model.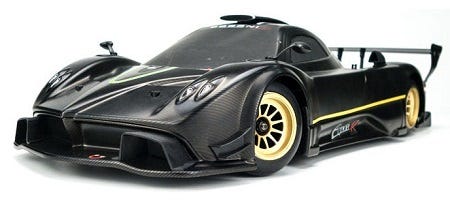 The last racing kit is the CRF-GT Pagani Zonda R which is a limited edition with only 500 units produced. It comes with an exclusively numbered chassis and a fully licensed Pagani Zonda body that you will need to build and detail yourself. It is polycarbonate and screen printed to replicate the matte look of the full-scale car. The difference the CRF-GT chassis has to the previous CRF chassis we've mentioned is the addition of a front bumper and an innovative battery hold-down mechanism.
These epic high-level race kits pay tribute to the full-size supercars and will be an exciting addition to your RC collection.
MSA-1E Suzuki Jimny JB74 and Coyote Pup RC Crawlers
A New Release from Carisma that we have received and is part of the MSA-1E series is the Suzuki Jimny JB74 RC Crawler. This mini RC crawler has a licensed Suzuki body shell with as much detail as you could hope for on a 1/24 scale car. We've also received a restock of the Coyote Pup RC crawler, which is also part of the MSA-1E series.

These micro crawlers are ideal gifts for kids; you can make rock crawling obstacles out of toys and household items or in the backyard, and, the transmitter that is supplied with the MSA-1E series is lightweight and small enough for children to use. It also features 3 different modes - Beginner, Intermediate and Expert – that you can change to suit your driving experience. There is nothing else to buy when you purchase these MSA-1E RC cars as they come with everything you need to get crawling, including 4 x AA batteries for the transmitter. Both of these RC cars run a nickel-metal hydride battery, which are safer than the LiPo batteries, and comes with a convenient USB charger.
Carisma GT24 RC Rally Cars
Coming back into stock are the ever-popular GT24 Subaru and Hyundai i20 RC Rally cars. Out of the box, these brushless powered Rally Cars perform exceptionally well. They run on a standard nickel-metal hydride battery with a USB charger but can take a LiPo upgrade if you would like more power. These RC rally cars include the same size transmitter as the MSA-1E crawlers that we mentioned earlier, that are smaller and light enough for children to use.

If you're looking for something to race around on the driveway, in the street or out in the backyard on the pavers, these GT24 RC rally cars would be ideal. They're an affordable, great way to get into RC and have some fun at home.
Carisma SCA-1E 1976 Ford F-150 Rock Crawler
Moving onto a slightly larger RC crawler that's on offer from Carisma is the SCA-1E Ford F-150. If you are wanting to move away from the 1/24 scale RC cars which are limited on where you can use them, and you are wanting to take on more gnarly terrain, then a 1/10 scale car like the SCA-1E Ford F-150 is a better option. This Rock Crawler would be a fantastic first-time RC car as they come factory-assembled with everything you need including a charger, battery and transmitter. All you need to do is charge the battery and you're ready to hit the trails!

We have received the 1976 Ford F-150 in two colour options: orange, which we have had in before, and blue which is a brand-new colour option. The SCA-1E 1976 Ford F-150 has an officially licensed body from Ford and a lot of epic scale detail with the performance to match.
We've taken you through a wide range of RC cars from Carisma, from the 1/24 scale cars you can have fun with your children and family, all the way up to the pro level race kits and everything in between. These are not all of the products that we have received, though. Head over to our website to check out all of the arrivals from Carisma. As always, if you have any questions please contact us via email, chat or on (08) 8186 4250 and we will be more than happy to assist.