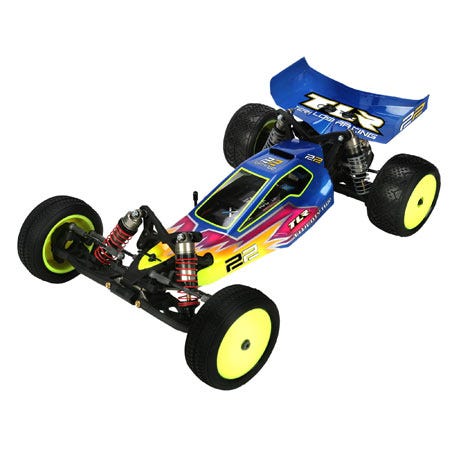 We recently received a step-by-step photo guide from Scott Jones (Modelflight and TLR Team driver) as he built his
TLR 22 Buggy
. Scott is entering this RC car into the upcoming Nationals in Mildura (2WD 1/10th Modified Class).  In this blog post, we will provide you with some of the highlights of this guide, along with Scott's commentary.  If you are a fan of
Modelflight's Facebook
 page, you also have access to Scott's full album of
TLR 22 Buggy photos
.
Servo
To begin with, Scott used the
Spektrum S6040 servo
.  This servo weighs 52 grams and offers 12kg-cm of torque (167 oz-in) at 6V.  Its speed is 0.08 sec/60 deg, also at 6V.
The Front End
Scott provided us with a tuning tip for the front end of the TLR 22 Buggy.  Instead of the standard 20 deg shim, he used 
TLR's 25 deg brass kick angle shim
.  In Scott's words, "this shim was used to put more weight over the front of the car".
TLR's aluminium front pivot plate
 to increase this weight and add further strength in the front end.
Team Losi Racing's 5 deg caster blocks
.  He said that while the kit comes with the standard 10 deg blocks, his team had found that "during races, the 5 deg caster blocks make the steering on the car more consistent for Australian conditions".
TLR's 4mm Aluminium Trailing Spindles
, which gave the car further strength in the front and smoother steering overall.
The Rear 
For the back of the RC car, Scott used
Team Losi Racing's aluminium rear hubs
.  He describes how these 0 degree hubs provided strength to the rear end and ball stud.  Scott also added
TLR's 0.75mm aluminium rear hex
.  This gives the TLR 22 Buggy a wider track and more stability.
Team Losi Racing's 3 Degree rear LRC pivot
, which he said has proven to be better on Australian tracks than the  standard 4 degree pivot that came with the kit.  According to Scott, this pivot "gives the car less toe in and provides more rear traction".
Strengthening this RC car, Scott added
TLR's Rear Camber Block
 (see image to the right) .This aluminium camber block also stops the ball stud stripping out of place in the event of a solid crash.  "This also provides more weight over the rear of the car", Scott describes.  He also suggested using Loctite and aluminium washers on the ball studs.
Power
To power the TLR 22 Buggy, Scott equipped it with the
Dualsky Z5 7.5-Turn Performance Brushless Motor
 and the
Dualsky XC870TF ESC
.
As you can see, it's impressive construction.  Thank you to Scott for taking the time photograph and to talk us through this process. Remember, you can visit our Facebook page to see Scott's complete album of TLR 22 Buggy photos.  Stay tuned to our blog for further updates about the Mildura Nationals and other exciting news from Modelflight.