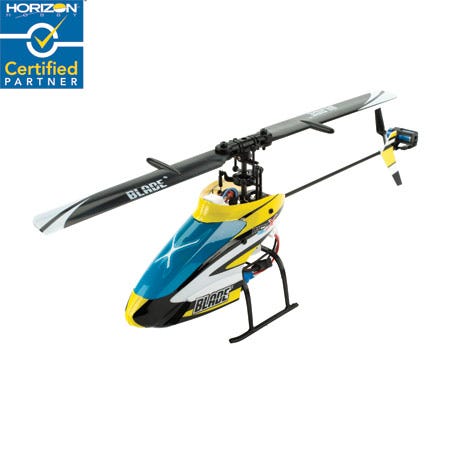 We are thrilled to announce the launch of this exciting
RC helicopter
.  The Blade mCP X BL is an extraordinary offering.  It builds upon the success of the original
mCP X
and
mCP X V2
.  The mCP X BL, however, has been completely redesigned.  It now features an extraordinary brushless power system.
With this new addition, the mCP X BL soars above its predecessors.  It is designed to withstand the rigours of brushless 3D flying.  With a 125mm solid carbon fibre tail boom, longer main blades and V2 tail prop, the mCP X BL is engineered from head-to-toe to handle 3D flying.  Blade have even reprogrammed the
AS3X
to handle the brushless power, while maintaining a stable, flybarless experience.
Some of the other exciting features with this RC helicopter include its 200mAh LiPo battery.  This 30C, 2S battery is designed to keep the head speed from loading when you are performing extreme manoeuvres.  The mCP X BL also features a robust and long-lasting linear cyclic servos with dual ball bearings.  This maintains the servo-to-swash precision throughout the life of the heli.  Best of all, this heli is a
In order to give you as much info as possible prior to the mCP X BL's arrival, we have produced a series of videos for you.  In the first one, our friend and pro pilot Hamish  puts the mCP X BL through its paces at the indoor flying session we had last night: http://www.youtube.com/watch?v=Uz5M7VwxCEo In this second film, Mike unboxes the mCP X BL, showing how it has been re-engineered to handle its new brushless power.  This video can be seen below: http://www.youtube.com/watch?v=HP4tUeGNqIM No doubt you are as excited as we are about this new Blade heli.  If you have experienced the thrill of flying either the  mCP X or mCP X V2, consider the new mCP X BL a must-have.  This exciting RC helicopter is available for pre-order now on our
website
.