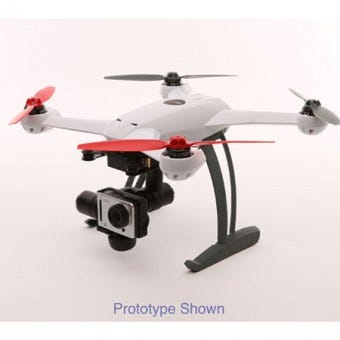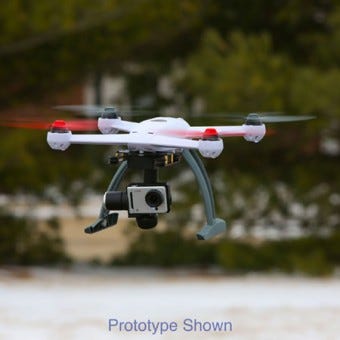 When the Blade 350 QX was announced in July 2013, it was a significant development for RC quadcopters. With its multiple flight modes and ability to carry a camera, the 350 QX was one of the most exciting releases last year. Today, we wanted to talk about the new 350 QX AP Combo from Blade. This combo package takes the original 350 QX to a new level. In this aerial photography (AP) version, you will receive an E-Flite C-Go 1 camera with your purchase. This 1080P/30 camera offers a 720/30 video downlink to supported mobile devices, using a 5.8GHz WiFi connection. It should be noted that this camera can also be purchased separately on Modelflight, so if you already own a Blade 350 QX, it will be a great choice for your quadcopter. In addition to the camera, the AP Combo comes with a 2-axis brushless gimbal with optional pitch control. Essentially, everything you need to start aerial filming and photography is included in the box.
As you would expect, the AP Combo maintains all the great features of the original Blade 350 QX. This includes the Smart and Stability flight modes. You will also have access to AP Mode, which offers great stability when you need to capture photos or footage from the sky. Furthermore, Blade have made further upgrades to the existing system, including a new RF chipset with external antenna, improved GPS performance and accuracy, in addition to a more simplified and user-friendly radio system. This remote control quadcopter also features visual compass error detection, which alerts you when calibration is required. Blade have also painted the battery hatch white to improve orientation.
If you love aerial photography and filming, or have always wanted to enjoy this hobby, the Blade 350 QX AP Combo is a fantastic choice. It comes ready-to-fly with everything you need included in the box. This RC quadcopter is coming soon to Modelflight, so if you are keen to learn more, visit our website today.
Click here to read more about the Blade 350 QX AP Combo.