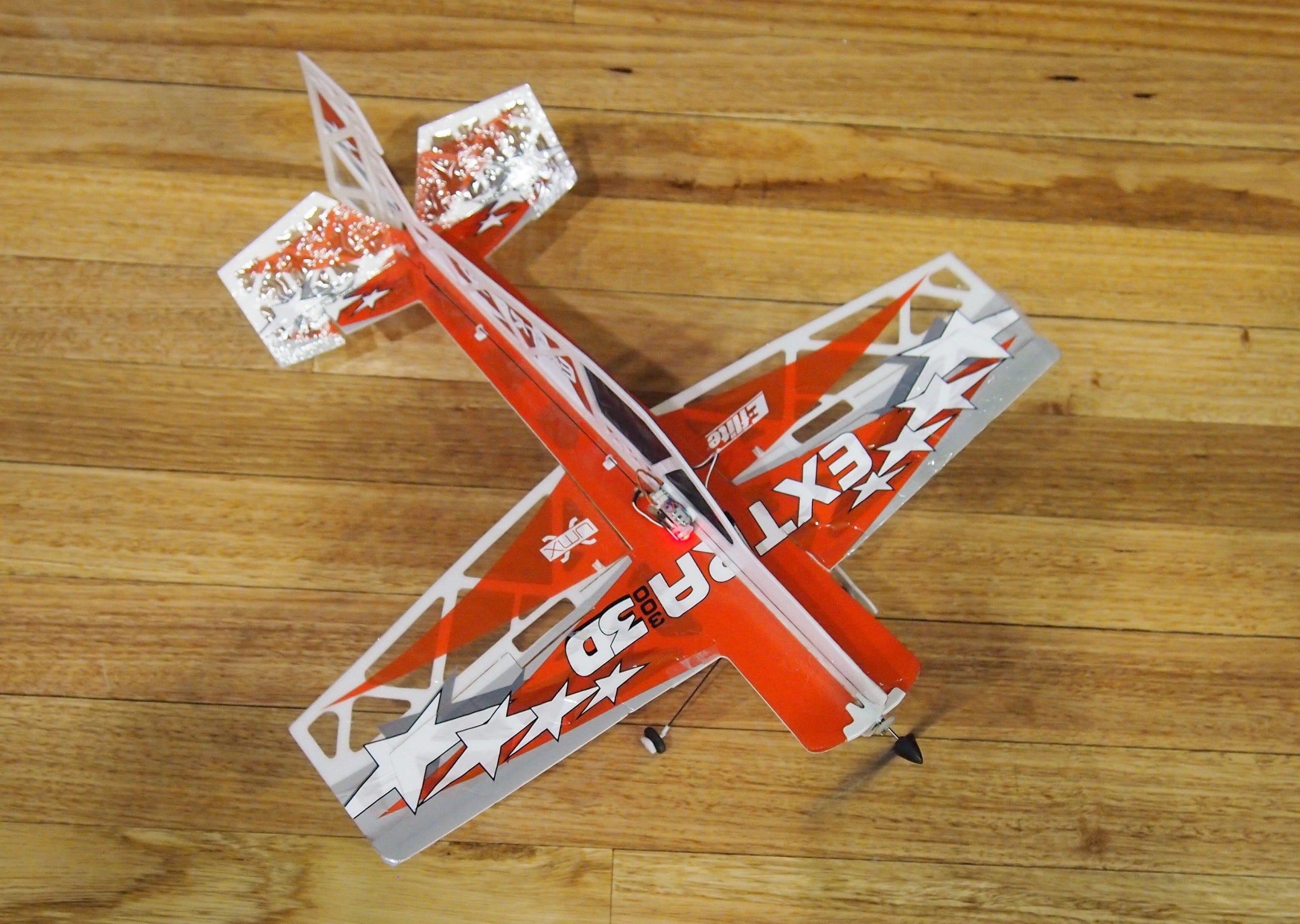 For all those who were able to attend Indoor Flying in September, you shared with all in attendance a most interesting and exciting evening,
To really commence at the beginning, I must mention our latest import and his input, thanks to
Model Flight
. The name Chris Brislin would not mean a great deal to most people who reside over the border in S.A. but to American residents of Tucson, Arizona, a large number of them would realize that Chris flew himself, not only into American history, but into World history by gaining a podium finish in the Tucson Shootout competitions. Yes dear friends, if you look at my first picture of Chris, please realize that you are looking at, and those who fly at future Indoor Meets at ETSA Park are flying with, the aerobatic model flier who is
in the top few freestyle aerobatic pilots in the world.
  How cool is that? Ordinary people would not do a double take if they passed him in Rundle Mall but a large number of model fliers will get to know and recognize him wherever they might meet. Chris hails from Queensland and he is on a working commitment in Adelaide and we, of the indoor movement, were both pleased and proud to meet him, associate with him and fly beside to him.
Chris' aircraft is of 3 metre span and, powered by a DA170c.c. motor. Now, you see, you just have to be patient and all will be revealed.  You are all well aware of Hamish Scott and his achievements, which are also World Class, he once again exhibited this several times last month when he took the floor, not only with Chris Brislin but also with our own Matthew Waye.
The first model photo that I am including is of the "
Blade Nano CP X
." A long title but it is carried by the smallest fully aerobatic helicopter which was making its first appearance  at Indoor.  We had three
Blade helis
there, starting with the tiny Nano and then each one increasing ever slightly, and each of these were flown throughout the evening by Chris, Hamish and Matthew in – well – exciting exhibitions to say the very least and I thank the three experts for their demonstrations.  The three of these aircraft are each "Bind and Fly" models and are all available from Model Flight and probably some other selected hobby shops.
This is one time that it would be great if this report was coming to you in a moving state, say Video, for if you look at my next pix, it is of the very busy fingers of Hamish whilst putting the little
Nano
through its aerobatic paces. I just hope that  you younger people could keep up with it. I watched its take-off and then its landing and satisfied myself with the gasps of admiration from those around me. To give you some idea of the size of the tiny helicopter, you will see that it is dwarfed by Hamish's fingers when held in a static display.
My last picture, and I hope that our top Web Mistress, Sam, can find a place for it,  is of the E-flite UMX Extra 300 3D and with a pair of them there, also making a fine showing at ETSA Park, who else would be flying these two small, but fascinating models than Hamish and Chris. Top stuff! In my story tonight, it is not really to enhance the excitement of the night to those who were able to attend, but rather to pass on to all and sundry, the top-level of entertainment that is on the programme each time we gather at Indoor Flying. In the Month of October, as is always the case, we will be meeting for fellowship at the ETSA Park Netball Stadium on Railway Terrace, Mile end on the third Thursday (which is the 18
th
of October) when admission is free for sight-seers who are always most welcome, and, in fact, if you fly all night from 8.30 to 10.30 it will still only cost you ten dollars. Where else can one have so much enjoyment for such a small cost ?