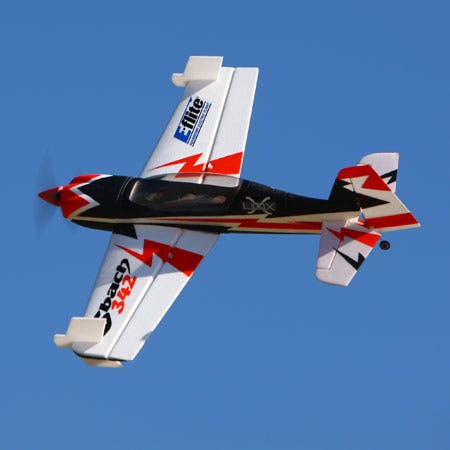 E-flite have added another Ultra Micro eXtreme (UMX)
Model Plane
to their line-up with this Mike McConville designed
3D Sbach 342
.  All you need is a 4+ channel DSM2/DSMX compatible transmitter that is capable of programming Dual Rates and Exponential, and you're off!The
Sbach 34
2 is one of the most exciting full-scale aerobatic designs to come out of Germany since the first Extra. The brainchild of aerodynamic visionary, Horst Streicher, it's the first two-seat monoplane capable of truly holding its own in Unlimited-class competition. E-flite has captured the essence of the 342s incredible performance with this remarkably scale ultra micro that flies extreme aerobatics with the same sense of power and precision you would expect of a larger model.
Designed by world-class competitor Mike McConville, the
E-flite UMX Sbach 342 BNF
comes out of the box completely assembled and ready to be bound to any DSM2 or DSMX transmitter.
Features
Magnetic cowl hatch for easy access to the motor and battery compartment
Equipped with a 180BL, 2500Kv brushless outrunner motor
Includes Spektrum AR6400NBL DSM2 receiver/ESC unit and four AS2000L long-throw servos
2S 180mAh Li-Po battery and DC charger included
Features an authentic paint scheme
Tailwheel steering