E-Flite P-47 Razorback 1.2m with Smart Technology, BNF Basic, EFL08450
The E-flite P-47 Razorback 1.2m RC Warbird is an extraordinary replica of the legendary WWII "Jug" aircraft. It combines effortless flying with advanced Smart technology, making it the ultimate choice for intermediate warbird pilots. With its impeccable design and high-energy performance capabilities, experienced pilots can unleash the true power of this remarkable aircraft.
Looking for spare parts or upgrades?
Capable of sport, scale-like, aerobatic and high-speed flying with upgraded and updated easy-to-fly capabilities
No upgrades or modifications are required to use either 3S or 4S LiPo's on the specially tuned motor
Excellent flight times and performance are provided by popular 3S and 4S 2200-3200mAh batteries
Spektrum 70-amp Avian Smart Lite ESC gives the pilot real-time current, RPM and battery voltage plus more with compatible receivers and transmitters
Spektrum DXS transmitter compatible which you will find included with most popular HobbyZone and E-flite trainer airplane models
AR631 Spektrum receiver with industry-leading DSMX and fly-by range telemetry technology
Optional use SAFE Select and exclusive AS3X technologies make flying easier and provide a locked-in feel with unmatched stability
Functional flaps for improved slow-speed performance and shorter takeoffs/landings
Scale-like strut covers, wheels and tyres on operational electric retracts
Six factory-installed servos and linkages with full 6-channel control
Composite-reinforced durable lightweight EPO construction
Optional use scale detailed bombs, rocket launchers and drop tank
Trim scheme of 'Kansas Tornade II' has been factory applied
Glue free fast and easy assembly
Upgraded and updated to be the easiest to fly and Smartest scale model of the popular P-47 yet, the E-flite P-47 Razorback 1.2m airframe is made from composite-reinforced, lightweight, durable fully-moulded EPO foam. The trim scheme has been factory applied and is based on a P-47 that served in WWII with the 510th Squadron, 405th Fighter Group. The P-47 includes a variety of scale details including the optional use drop tank and armaments, a four-blade propeller, moulded-in panel lines and more. Adding further to the scale flying experience is the retractable landing gear and functional flaps.
E-flite P-47 Razorback 1.2m: High-performance RC warbird with Spektrum technology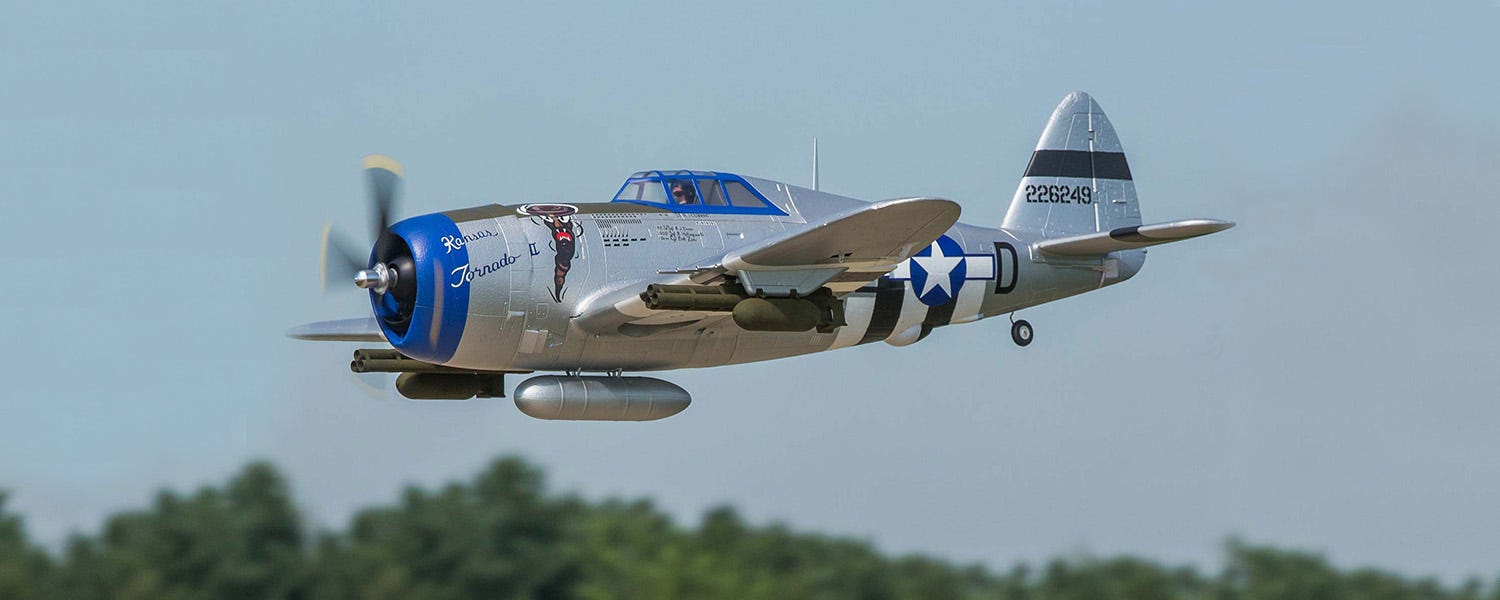 The E-flite P-47 Razorback 1.2m features a Spektrum 70-amp Smart Lite ESC, a specially tuned motor and a 4-blade propeller as part of the factory-installed brushless power system. Delivering an abundance of thrust you can fly the P-47 using a 3S 2200mAh LiPo. However, if you want unlimited vertical performance you can step it up to a 4S 3200mAh LiPo without having to make any upgrades or modifications. A variety of real-time power system-related telemetry data including battery voltage, current, motor RPM and more are provided by the Spektrum ESC using either Smart or non-Smart batteries. You will need a compatible transmitter (including the DX6e and 8e, DX6 G2/3 and 8 G2, the DX9, NX6, 8 and 10, iX12, iX14, iX20 and others) equipped with Spektrum AirWare. You will also need a compatible receiver like the Spektrum AR631 that comes with the BNF version of the E-flite P-47 Razorback 1.2m.
The Spektrum AR631 also is equipped with AS3X stability control technology and the optional use SAFE Select flight envelope protection system. The final assembly of the E-flite P-47 Razorback 1.2m requires no glue which means you can be scrambling to get airborne in minutes. The convenient size means you can transport and store this RC warbird without disassembling it or if you need to, the one-piece wing can be installed/removed. Handling, looks, scale details and performance are all packed into the E-flite P-47 Razorback 1.2m and ready for intermediate to experienced pilots to take to the skies with!
Skill Level 2 RC plane - Ideal for experienced RC pilots
Skill Level 2 aircraft, like this one, are suitable for RC pilots who already have some experience and the skills to assemble, set up and fly similar class models. And although this is the easiest-to-fly "full-house" P-47 model yet, it's not a suitable first-ever RC aircraft for new pilots or the "next step after a trainer" model for low-time RC pilots. You should have the experience and skills necessary to successfully fly higher performance and low-wing models like the E-flite T-28 Trojan 1.1m, RV-7 1.1m, Commander mPd 1.4m or other similar class models before attempting to fly the P-47 Razorback 1.2m.
Already own a Spektrum transmitter?
Bind-N-Fly (BNF) aircraft make getting into the air quickly and with the best control experience possible easier than ever. They come out of the box with the power system, servos and a Spektrum 2.4GHz receiver installed so all you need to do is bind the receiver to a compatible transmitter, finish any final assembly, and fly!
What's in the box?
(1) E-flite® P-47 Razorback 1.2m with:

(1) Spektrum™ Avian™ 70A Smart Lite Brushless ESC (installed)

(1) Spektrum Brushless Outrunner Motor (installed)

(6) Spektrum Micro Servos (installed)

(1) Spektrum AR631 6-Channel Receiver (installed)
Full-range 6–7+ channel Spektrum DSMX®/DSM2® compatible transmitter 
3S 11.1V or 4S 14.8V 2200–3200mAh LiPo with EC3™ or IC3® Connector
Compatible LiPo charger 
Completion Level

Bind-N-Fly Basic

Motor Type

Brushless

Product Length

41.97" (1066 mm)

Skill Level

Level 2

Propeller Size

10.5 x 8, 4 Blade

Charger

Sold Separately

Connector Type

IC3

Minimum Required Radio

Full-range 6–7+ Channel Spektrum DSMX®/DSM2® Compatible Transmitter

Approximate Assembly Time

Less than 1 hour

Flaps

Yes

Radio

Sold Separately

Retracts

Included

Technology

Smart, AS3X and SAFE

Power Type

Electric

Wingspan

47.24" (1200 mm)

Battery

Sold Separately

LiPo Compatibility

3S, 4S

Recommended Motor Battery

14.8V 2200mAh 4S 50C Smart G2 LiPo Battery with IC3 Connector

Receiver

Included

Material

EPO

Product Weight

62.72 oz (1778g) with Recommended Battery

Servos

Included

Speed Control

Included
All product manuals are provided by the manufacturer, If you don't find the manual or information you are looking for, contact our experts for help.