Spektrum iX20 2.4Ghz DSM-X 20 Channel Transmitter Only
The iX20 Smart transmitter from Spektrum is a brilliant blend of functionality and feel. With Hall-effect gimbals for smooth control and an ideally balanced ergonomic feel this transmitter has functional style. It is also fitted with voice and touch interface capabilities and a level of connectivity that needs to be experienced. 
Looking for spare parts or upgrades?
5-inch Android touchscreen interface with 720p HD high-resolution colour
20 fully proportional channels
Quad bearing, Hall-effect sensing gimbals
The transmitter is Mode changeable for Mode 1, Mode 2, Mode 3 and Mode 4. Easily done from the front of the Tx
Aircraft Studio Design and Mirco Pecorari designed advanced ergonomics
Spektrum AirWare – intuitive touch programming app
Interface that transfers speech to text
Enter your text and the iX20 will say it as a voice alert through headphones, speaker or bluetooth
Connect via Bluetooth with compatible devices
Take photos/video with built-in camera on rear of transmitter
Internet access through integrated wi-fi connectivity
Smart technology enabled with Smart Telemetry/Battery/ESC information and warnings available with multiple navigation screens
Online content, updates and apps are easily accessible
Fine tune special mixes in flight with On-The-Fly trim capability
Accepts model setups using G2 AirWare firmware
Switch on/off with capacitive-touch technology
Industry leading reliability and diversity delivered by dual 2.4GHz antennas
6 hours of full ON time provided through 10,500mAh Li-ion battery
Trainer-link up with wireless connection
Micro-USB connectivity and charging
CRSF protocol and long-range Crossfire technology compatability
Compatible receivers with give you 11ms frame rate
Internal memory will hold 250 models plus there is support from SD card storage
Customised 'My List' menu feature available so you only see the things you use/need
Orange rear and side grips are included for optional use
Next Generation Innovation - the Spektrum iX20
The level of powerful features and technology in the Spektrum™ iX20 Smart Radio has surpassed that of its predecessors, the DX20 or the iX12. With a wide array of upgrades and innovations Spektrum have put out the most powerful 20-channel feature packed air transmitter that it has ever released. The most obvious advance is the colour touch-display with a big 5-inch screen featuring the latest Android technology.  
One of the more subtle advances with the Spektrum™ iX20 Smart Radio is the improvements in the stylish finish and ergonomic design that Mirco Pecorari and AircraftStudioDesign have come up with. Combining their own RC pilot experience with ergonomic styling principles has produced a transmitter that gives the pilot advanced and precise control with smooth handling Hall-effect gimbals that are front access adjustable. The level of user-adjustable features on this radio enables you to customise functions such as mode configurations and switch assignments and set up the functionality to best exploit the speed and precision of the DSMX Spektrum technology at your fingertips. 
Upgrading through the Spektrum AirWare App is now easier with a more user-friendly interface and new speech-to-text functionality. If you want to set up customised reports, telemetry warnings etc. you just need to talk to your iX20 and it will listen.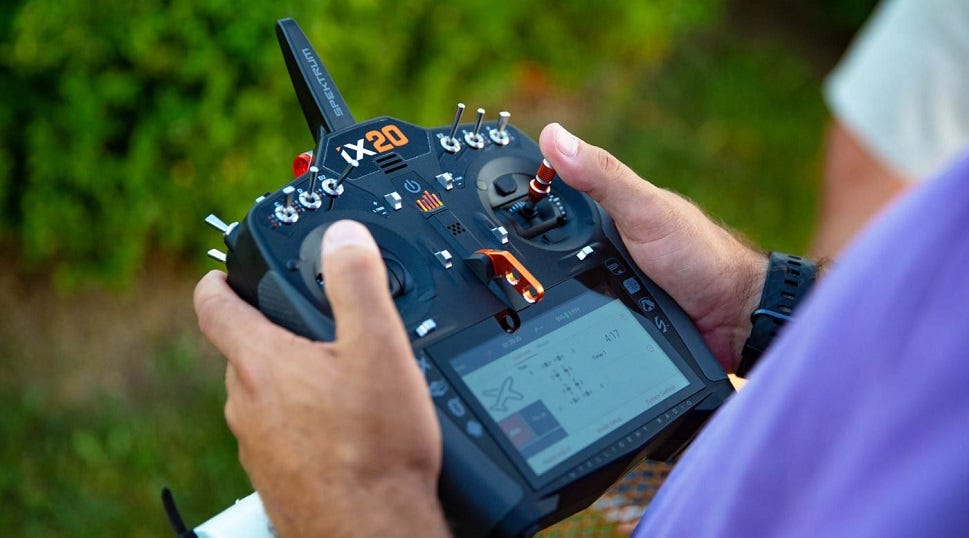 Faster Android-Powered Touchscreen Interface 
The Android powered 5-inch touchscreen on the Spektrum™ iX20 Smart Radio is super responsive going from off to fully on in 30 seconds and waking from sleep mode in a second or less. With a processing speed that is 250% faster than the iX12 you will receive your on-screen information almost instantaneously allowing for quick and precise changes that will take effect instantly. Access to an evolving list of apps from the Google Play store is just one more advantage you get from having a fully functional Android interface. 
Convenient Wi-Fi, Bluetooth, and USB Connectivity  
The Spektrum™ iX20 Smart Radio gets even smarter when you connect to wi-fi. You'll get automatic updates on Spektrum AirWare, along with the ability to download third-party apps and model setups. Almost any bluetooth device will connect to the iX20 meaning that earbuds can be used for voice alerts, listen to music etc. You can charge the internal Li-ion battery through the micro USB port using an ordinary USB to Micro-USB cable as well as link up to your laptop or PC, connect flight controllers, and, recognize accessory devices. 
Stay Connected Through Smart Technology 
With Smart batteries, ESC's and receivers your Spektrum™ iX20 Smart Radio can communicate effectively with them all giving you updates on critical information like motor temperature, air speed, battery voltage and more. All this information is available to you on your Android screen with instantly updated telemetry data displays, or, you can set up your voice alert system to keep you updated when certain limits and values have been reached. Smart technology enables you to customise what information you receive, how you receive it, and, what it looks and sounds like. 
Cross-Fire Module Support 
The integrated auxilary serial port on the Spektrum™ iX20 Smart Radio gives you the ability to access an alternate RF system. The TBS Crossfire CRSF protocol is one such system you can use with minimal effect on latency performance. 
Forward Programming 
What once required a PC, mobile phone, cable or Bluetooth dongle can now be achieved using the Forward Programming technology in the Spektrum™ iX20 Smart Radio. You can now configure Smart receivers directly and wirelessly from your transmitter. Using Spektrum AirWare firmware language also means that Forward Programming is now easier to use. 
On-The-Fly Fine Tuning 
Rather than landing to make an adjustment, or, having to access a menu while trying to fly at the same time you can now use the On-The-Fly fine tuning function. This enables you to adjust mixes and values by using one of the four non-primary trim controls available to you to host this function. 
Sharable Model Files  
Juggling models between the transmitter memory and either SD cards or Bluetooth memory devices will be fairly rare with the Spektrum™ iX20 Smart Radio's large 250 model internal memory capacity. You can transfer models between Spektrum brand radios and sharing between 'G2' system and iX-series radios is made easy via Bluetooth or SD Card.  
Note: The iX20 can import SPM and iSPM file types, but can export only iSPM type files. 
Wireless Trainer Link 
Linking up with other Spektrum transmitter users for training purposes with your Spektrum™ iX20 Smart Radio is simple using the wireless trainer link. Using ModelMatch technology once two transmitters are bound will allow the iX20 to re-link without having to repeat the bind process again.  
With Wireless Trainer Link, You Can: 
You can teach someone with another DSMX/DSM2 transmitter to fly by using the wireless 'buddy box. 
When flying a camera drone you can set up the gimbal functions on a second transmitter that will allow both a drone flyer, and, a camera operator to focus on their specific tasks.  
Wirelessly control head tracking on specially equipped Spektrum FPV headsets with this wireless trainer link 
Spektrum™ DSMX®/DSM2® Compatible Receiver
Band

2.4GHz

Model Memory

250 (internal)

Modes

User-Selectable1, 2, 3 or 4

Transmitter Battery

10,500mAh 1S3P Li-Ion (installed)

Modulation

DSMX®, DMS2®

Number of Channels

20

Frame Rate

22–11ms

Resolution

1024 or 2048

Range Class

Full

Telemetry

Yes

Connectivity

Wi-Fi/Bluetooth/Micro USB/ Auxiliary 8-Pin Serial/Headphone

Function Components

10 Switches, 8 trims, 2 Sticks, 2 sliders, 1 Knob, 1 Button
All product manuals are provided by the manufacturer, If you don't find the manual or information you are looking for, contact our experts for help.