TLR 22T 4.0 2wd Stadium Truck Kit, 1/10
You can expect big improvements from the new TLR 22T 4.0 Stadium Truck. This latest offering from TLR includes a laydown transmission treatment and a mid-motor that will give you the 22T race winning speed and performance that you've come to expect. Unpack it, hook it up and you're away!
Midmotor location
12mm GEN II big bore shocks
3gear laydown transmission
All new precut 22T 4.0 body
Aluminium plated rear hub
2.5mm hardanodised 7075 T6 lightweight aluminium chassis
TICN coated hinge pins and shock shafts
Front suspension with VLA
Battery mounting options in either transverse or foreaft
Adjustable trail and ackermann on spindle
Revised ball differential
Rear pivots are adjustable for antisquat and toe
Fully adjustable rear camber block in aluminium
Bell crank steering system
Aluminium bleeder screw caps
HDS slipper with HD spring
The next evolution of the 22T is here. TLR have taken the proven performance of the 3.0 version and improved upon it with the release of the TLR 22T 4.0 Stadium Truck. This kit utilises the advantages of the mid-motor laydown position to fully exploit the shorter chassis length of the truck class along with the wider tracks they race on. You'll see the improvements when you're next out on track at your local club or competing in the ROAR National Championships.
Resulting in quicker cornering and a much flatter and more consistent drive, the laydown transmission configuration see's a more central motor location which gives the 22T 4.0 better performance on track. Driver's can still fit their choice of battery pack across the chassis allowing for the best weight bias set up to suit the race surface. Everything you loved about the 22T 3.0 has now been improved upon.
Laydown Transmission
Moving the motor forward by 20mm to a central location to allow for the laydown transmission enables the TLR 22T 4.0 to deliver a much more consistent and flatter drive out on track.
Option and Tuning Parts Included
Given the high performance expectations on the 22T 4.0 Team Losi Racing have included upgradeable components like the rear camber block, ball stud spacers, clamping rear hexes and a machined 7075-T6 aluminium top shaft.
Aluminium Plate Rear Hub
The aluminium plate on the 22T 4.0's rear hub is held in place with a vertically adjustable M3 screw and ball stud. The hub base is moulded composite which differs to an aluminium hub as it allows a press bearing fit without play and minimal upsprung weight. This gives the rear hub more support from the aluminium plate as there is no pushing or pulling out of the M3 screw as it is still threading into composite and won't work loose with the rigours of driving.
Two Shock Mounting Options
The new 22T 4.0 body in combination with the laydown transmission configuration allows you two options when mounting the Gen II rear shocks. You can go traditional and put them to the rear of the rear tower, or, if you wish to increase the forward weight bias and rear end stability you can opt for mounting them in front of the rear tower.
Ballast Tuning Options
The design of the aluminium 7075-T6 chassis allows for brass plates to be fixed below the battery. This gives you the option of tuning your vehicle to changing track conditions by simply changing your weight plates. If you are running a higher static weight this will help on high grip surfaces by making the chassis far more neutral and subsequently easier to drive.
New 22T 4.0 Body
The new 22T 4.0 body shape is fashioned from 1.2mm robust and durable polycarbonate. Not only does it give excellent aero-balance but is also designed to allow for the tuning variations associated with the shock tower and mounting options at your disposal.
GenII 12mm Big Bore Shocks
Featuring machined shock bushings, 2 x 1.6 x 1.7mm machined pistons, and, X-Ring Seals the Gen II 12mm Big Bore Shocks are easier to maintain while also providing improved standards of performance. The threaded hard anodised shock bodies and bleeder screw caps are both aluminium while the shock shafts are TICN coated.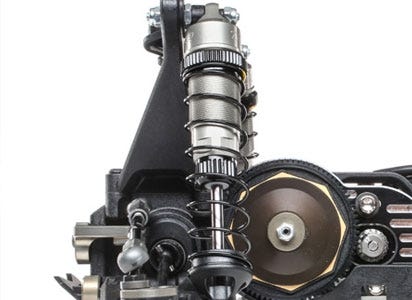 Lightweight 7075-T6 Aluminum Chassis
The new design on the 22T 4.0 chassis is not only lighter but it also allows for quickly adjustable brass ballast weights, and, optional battery mounting positions depending on your set up preferences.
Fully Updated Ball Differential
The 22T is now at version 4.0 and has brought along components from each version that just work. The revised parts from version 2.0 have been used in the ball differential because of this proven performance. The revised thrust washers, one-piece nut and self centering diff gear, tungsten carbide diff and thrust balls, and 2nd operation flattened outdrives will continue to give you the long lasting performance and super smooth drive you know and should continue to expect from TLR.
Transverse Battery Mounting
With the 22T 4.0 you have both shorty type and saddle LiPo battery mounting options. The molded mud guards and 2.5mm wider aluminium chassis create mounting pockets that allow for these variable mounting set up options. You can tune your 22T for more front/rear weight that provide setup stability without increasing the overall weight of the RC truck.
Adjustable Toe and Anti-Squat
The rear pivots on the 22T 4.0 now fit adjustable inserts for the anti-squat and rear toe adjustments. This allows for the geometry to be changed quickly and easily without having to buy any additional parts. The rear anti-squat adjustments range from 0.0 to 3.0 degrees while the rear toe adjustments range from 2.5 to 4.0 degrees. Adjustments can be made to both in 0.5 degree increments.
HDS Slipper
The Heavy Duty Slipper (HDS) and 82T HDS spur gear both come standard on the 22T 4.0. These come with the tapered and grooved slipper plates that when working in conjunction give you a more consistent, longer lasting and self cleaning slipper performance.
Motor
Electronic Speed Control
Servo
Tyres
Radio System
48 Pitch Pinion Gear
Charger
Battery
Paint
Tools
Type

2WD Stadium Truck

Scale

1/10

Length

13.9 in (354mm) without Body/Wheels

Width

12.7 in (322mm)

Height

5.65 in (143mm)

Wheelbase

11.4 in (290.5mm)

Chassis

2.5mm 7075-T6 Aluminum

Suspension

Lower A-Arm, Upper Adjustable Link

Drivetrain

2WD

Motor or Engine

540 size Sold Separately

Speed Control

Sold Separately

Radio

Sold Separately

Servos

Sold Separately

Batteries

Sold Separately

Charger

Sold Separately

Gear Pitch

48P

Wheel Size

2.20 in (56mm) x 1.90 in (48mm)

Kit/RTR

Kit

Shock Type

12mm Big Bore, Oil Filled

Body

22T 4.0, Clear Polycarbonate

Ball Bearings

Full Rubber Sealed Ball Bearings

Experience Level

Advanced

Recommended Environment

Outdoor

Assembly Time

3-5 Hours

Is Assembly Required

Yes
All product manuals are provided by the manufacturer, If you don't find the manual or information you are looking for, contact our experts for help.
Looking for spare parts or upgrades?