Axial SCX10 III Jeep JT Gladiator RC Crawler, RTR, Red, AXI03006T2
The scale crawling playing field has changed now that the SCX10 III Jeep JT Gladiator RTR from Axial has arrived. Upgraded from the proven SCX10 platform, this RC Crawler offers a larger 355mm wheelbase to accommodate a more realistic body and a DIG function to get you up, over and through your favourite crawling obstacles.
Looking for spare parts or upgrades?
2.4GHz DX3 DSMR Spektrum radio provides advanced response, interference resistance, and, range, and is fully compatible with Spektrum Smart technology provided by the Spektrum Firma 40 ESC/Receiver
355mm wheelbase with longer frame rails and chassis allow for a more realistic Jeep JT Gladiator body
Three-piece realistic Jeep JT Gladiator body that features injection-moulded scale parts including door handles, hood vents, bed rack, mirrors and more
Transfer case cover and transmission housing protect the replica V8 engine, improve scale appearance and add forward-mounted weight
Centred battery tray that accepts full-size NiMH or LiPo's with side pod space to run smaller "shorty" LiPos
Lock the rear axle from your transmitter with the DIG function which enables a tighter turning circle from front wheel drive
Optional two-speed transmission that increases vehicle speed by around 40%
Run DIG and two-speed transmission simultaneously with the addition of a micro servo and 4-channel receiver (sold separately)
New AR45 Portal Axles have an offset front housing to add to the realistic looks, increase ground clearance and a universal that gives 45 degrees of steering
Hypoid gears are included on the differential locker allowing for smaller size gears, improved gear reduction and reducing torque twist
New O-ring material feature on the oil-filled shocks for a better seal and cap with bleed screw for easier rebuilds
Stronger materials increase stiffness and durability
Detailed interior and moulded driver that adds to the scale realism
Simple body removal thanks to new rear body mounts
15kg, high torque metal geared waterproof servo allows you to drive confidently when the weather and conditions aren't ideal
Floor sides and inner fenders reduce visibility of internal components from the side
Improved materials increase durability and stiffness while holding tighter tolerances to eliminate most "slop".
Metal stainless steel pivot balls at all suspension points increase durability and wear life for consistent handling.
All-metal drive train components in the transmissions, portals and axle gears — with pinion gear included, the vehicle has 23 metal gears in total
Remove and replace tyres with no glue with the 3-piece beadlock wheels
Increased ground grip and clearance with taller officially licensed Nitto Trail Grappler tyres
Improved suspension geometry reduces torque twist while allowing chassis fine-tuning
Next-level off-road scale action with the Axial Jeep JT Gladiator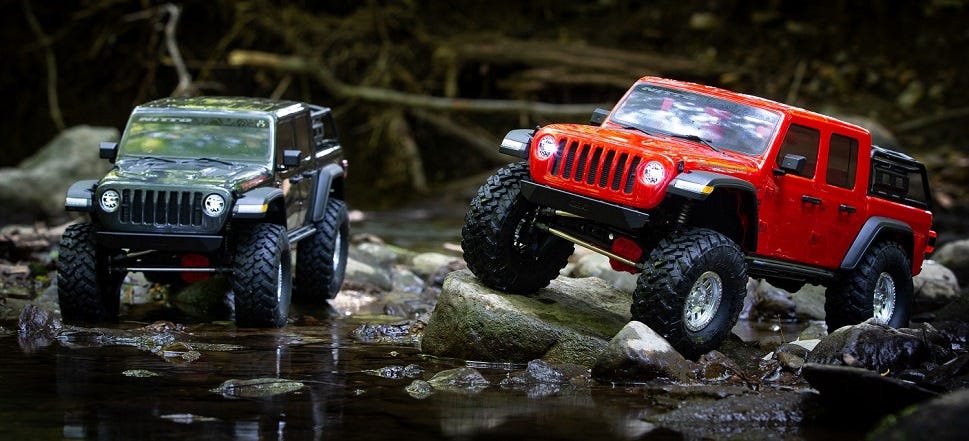 Off-road scale action has taken another leap forward with the release of the 1/10th scale Axial SCX10 III Jeep JT Gladiator 4WD RTR. The SCX10 III chassis keeps key features of the successful SCX10 platform while making improvements that will take your RC Crawling to the next level. The chassis realism on the Axial SCX10 III Jeep JT Gladiator 4WD RTR gives you a replica V8 engine housing where the brushless motor is installed, giving the chassis forward-mounted weight. This is paired with a scale detailed transfer case and transmission housing like its full-scale counterpart. This RC crawler gives you the advantages of Spektrum Smart technology as it comes with a 2.4GHz DX3 3-channel DSMR transmitter and the 40A Firma ESC/Receiver combo as the standard radio system. To enhance your Smart Technology experience, you can install a Smart LiPo battery that allows you to view the charge capacity you have left on the voltage level indicator on the DX3 transmitter. You can go all out and fit out your DX3 with the Spektrum BT2000 Bluetooth module, download the Spektrum Dashboard free app and you can start using real-time telemetry without the need for modules or sensors on board.
The Axial SCX10 III Jeep JT Gladiator's transmission arrives set up with a DIG function that allows you to lock the rear axles, giving you a front-wheel-drive and a tighter turning radius to get you up and over challenging obstacles. Alternatively, instead of having the DIG function, you can set-up a two-speed transmission where you can increase the rock crawler's speed by 40%. You can have access to both of these features simultaneously by adding another micro servo and using a radio with another channel – like the Spektrum DX5.
The new AR45 portal axles on the SCX10™ III Jeep® JT Gladiator feature portal gears for increased ground clearance, offset front housing for a more authentic look and universals that offer 45 degrees of steering. Additionally, tried-and-true Hypoid gears are included on the differential locker allowing for smaller size gears while improving gear reduction at the axle and reducing torque twist. When it comes to batteries, the Axial SCX10™ III Jeep® JT Gladiator gives you options. Not only does the standard battery tray - positioned near the centre of the chassis for better balance - accept full-size NiMH or LiPo batteries, you are able to use "shorty" LiPo packs in the side pods provided. The normally visible internal components are hidden with floor sides and inner fenders give a cleaner/more scale look.
The three-piece authentic looking body of the Jeep JT Gladiator sits atop the chassis and has over 20 injection-moulded parts including a bed rack, door handles, mirrors, hood vents and more — taking polycarbonate body realism to the next level. Adding additional scale realism and giving you higher clearance and more grip when it matters is the taller and wider R35 compound, officially-licensed Nitto Trail Grappler tyres that come mounted on 3-piece Beadlock wheels.
What's in the box?
(1) Axial® SCX10™ III Jeep® JT Gladiator 4WD

(1) Spektrum™ DX3™ DSMR® Radio

(1) Spektrum Firma™ Smart 40A ESC/Receiver (installed)

(1) Spektrum 15kg Servo (installed)

(1) Product manual
Vehicle Battery (accepts standard and shorty packs)
Compatible charger
Type

"Scale" 4x4 Crawler

Completion Level

Ready-to-Run

Scale

1/10

Length

22.25 in (565 mm)

Width

9.25 in (234 mm)

Height

9.5 in (241 mm)

Weight

7 lb (3.175 kg)

Ground Clearance

3 in (76.2 mm)

Wheelbase

14 in (356 mm)

Track

8.9 in (226 mm)

Front Track

8.9 in (226 mm)

Rear Track

8.9 in (226 mm)

Chassis

Adjustable Steel C-channel

Suspension

Multi-Link Solid Axle

Shock Type

Oil-Filled/Coil-Over Spring

Drivetrain

4WD (locked front and rear)

Differential

Locked

Wheel Type

Injection Moulded 3-Piece Beadlock

Wheel Diameter

1.9 in (48.3 mm)

Wheel Width

1 in (25.5 mm)

Tyre Compound

R35 (sticky)

Tyre Tread

Nitto Trail Grappler M/T

Tyre Diameter

4.7 in (119 mm)

Motor Type

Brushed

Motor Size

540

Pinion

14T

Gear Pitch

32-Pitch

Final Drive Ratio

45.6:1 Low / 31.3:1 High

Speed Control Included

Y

Radio

Spektrum

Servos Included

Y

Body

Polycarbonate

Ball Bearings

Complete Vehicle

Experience Level

Beginner

Recommended Environment

All-Terrain

Is Assembly Required

No
All product manuals are provided by the manufacturer, If you don't find the manual or information you are looking for, contact our experts for help.