ProBoat 1/6 Jetstream Brushless 24in Jet Boat RTR, Shreddy Scheme, PRB08051T1
Experience the thrill of high-speed jet boating with the groundbreaking Pro Boat 1/6 Scale Jetstream RTR. Built to be the ultimate RC jet boat for kids to experienced boaters, from 2" shallow streams to deep waters, it's your ticket to excitement and adventure!
Looking for spare parts or upgrades?
Shreddy and MoJo officially licensed liveries
Scale details include a full cockpit, steering wheel, simulated speakers, deck material and a roll cage
Blake Wilkey inspired poseable scale driver
A quick battery swap system called SSL (Strap/Slide/Lock)
Stainless steel hardware that is rust-resistant
Powerful water-cooled brushless system
Compatible with 4S 5000mAh LiPo batteries
Strong ABS main hull with an armour-plated underside
Full-length stern ride plate with adjustable trim tabs
High-performance jet pump with adjustable nozzle trim
Realistic manoeuvring with the reverse gate
Long-lasting composite impeller and intake grate
Waterproof LED light bars on the front and rear
Spektrum SLT3 transmitter and electronics included
Stainless steel wear ring
Optional parts available for improved performance and durability
Get ready to dominate the waves with the first RC jet boat that's built for bashing - the 1/6 scale Jetstream RTR from Pro Boat. This isn't just another remote-control boat; it's a high-powered thrill ride that brings the exhilaration of full-size jet boating to the palm of your hand. From its innovative reverse gate to the durable composite impeller and intake grate, every detail mirrors the authentic look and feel of a full-size boat. Whether you're craving heart-pounding speed, jaw-dropping jumps, or fearless bashing through rough waters, the Jetstream delivers unparalleled performance and excitement.
The first RC jet boat that's built for bashing
Engineered to surpass all competitors, the 24-inch Jetstream RC jet boat effortlessly achieves feats that others can only dream of. The innovative jet pump propulsion system, complete with a reverse gate, offers unmatched versatility whether you're backing it off a trailer or executing swift manoeuvres on the water. The robust composite impeller and intake grate ensure powerful propulsion and efficient water intake, maintaining perfect balance even in water as shallow as 2 inches.
Propelled by a water-cooled brushless system, the Jetstream charges through challenging streams with unmatched agility. Navigating obstacles is a breeze, thanks to the dual-stage motor cooler that ensures optimal temperature control. Precision steering and manoeuvring are achieved through two Spektrum servos, while a Spektrum SLT3 transmitter and SLR300 3-channel receiver ensure a solid connection.
Pro Boat Jetstream is designed for durability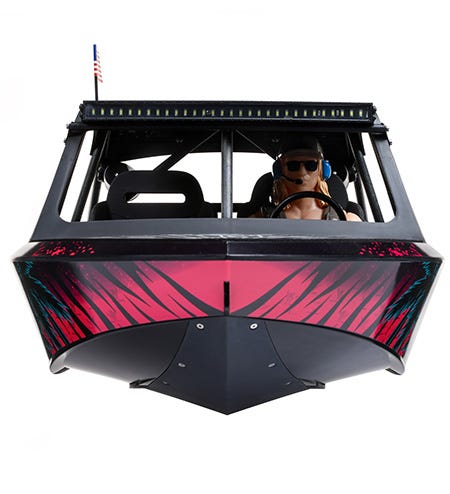 The Pro Boat Jetstream's built-to-bash design is centred around a rugged ABS main hull, protected by replaceable armour plating crafted from durable nylon glass fibre composite. Strategically placed along the hull's centre and chines, these armour plates provide unparalleled protection against extreme usage, shielding the jet pump during the most intense adventures. The upgraded jet pump housing features a replaceable stainless steel wear ring that allows for precise impeller clearances while ensuring exceptional durability, even in shallow pebble and sand-filled waters.
The Jetstream's powerful jet pump features an adjustable nozzle trim, shielded by a full-length stern ride plate with replaceable and adjustable trim tabs. High-strength, impact-resistant glass-filled nylon armour plating safeguards the stern and side rails, offering the ultimate under-hull protection. Fine-tune your trim tab adjustment with scale aluminium turnbuckles, mimicking real boating functionality. Stainless steel intake pins prevent debris and rocks from compromising the impeller's integrity, ensuring uninterrupted adventures.
Minimal downtime with the SSL battery swap system
Say goodbye to lengthy downtime with the SSL (Strap/Slide/Lock) quick battery swap system. Seamlessly switch to a fresh battery pack and get back in the action in an instant, without the hassle of tightening battery straps. Additional battery trays are available, allowing you to keep the excitement alive with readily available backup batteries. The hard-mounted IC5 connector holder keeps your battery wires away from moving parts as well as simplifies battery installation. Just put your pack into the RC boat, push your battery connector in and you're ready to hit the water!
Blake Wilkey Death Boat replica or MoJo H2O livery – which will you choose?
The Pro Boat Jetstream comes in two different officially licensed liveries. You can choose the thrilling Blake Wilkey Death Boat replica or the captivating MoJo H2O livery, featuring high-impact graphics that stand out from the crowd. Both liveries boast realistic details, including a roll cage, full cockpit, steering wheel, simulated speakers, and a roof rack adorned with a brilliant waterproof LED forward-facing light bar and rear-facing racing lights that are easily controllable at your fingertips. The scale driver figure is inspired by Mini Boat Mafia driver Blake Wilkey and adds an authentic touch with its hat, sunglasses, and communication gear.
Unlike prop-driven remote-control boats, the Jetstream operates without a propeller or rudder, allowing it to conquer waterways others can't. From small ponds to expansive lakes, it excels in any environment. Novice boaters will revel in the excitement of bashing through waves, while seasoned RC enthusiasts can push it to the limits with daring tricks and manoeuvres.
Take your Jetstream RC jetboat's performance and durability to the next level
You can enhance the durability and performance of your Pro Boat 1/6 Jetstream with optional upgrades. These include an aluminium intake grate with stainless steel pins (PRB381002) and a precision-engineered CNC-machined stainless-steel impeller (PRB382001). Seamlessly integrate Smart functionality with an optional Firma 120A Brushless Smart Marine ESC with the mounting posts that come with the Jetstream. Pair it with a Spektrum Smart radio for full Smart telemetry capabilities, taking your jet boat adventure to a whole new level.
Embark on an adrenaline-pumping journey where every surge, every twist, and every turn of the 1/6 scale Pro Boat Jetstream RTR are under your command. Experience the thrill for yourself and start your shredding adventure today!
What's in the box?
1/6 Scale 24" Jetstream Jet Boat RTR

Spektrum SLT3 3-Channel Transmitter and SLR300 3-Channel Receiver

Boat Stand

AA Transmitter Batteries

Product Manual
5000mAh 4S 50+C LiPo Battery with IC5 or EC5 connector
Compatible charger
Hull Type:

V-Hull

Vehicle Size:

Standard

Type:

Performance Scale

Scale:

1/6, 24"

Completion Level:

RTR (Ready-To-Run)

Length:

24" (609mm)

Beam:

12.6" (320mm)

Hull Height:

8.9" (225mm)

Weight:

7 lb (3.2kg)

Motor Size:

4068 1600Kv

Speed:

20+ MPH

Radio:

Spektrum SLT3

Speed Control:

100 Amp 2-4S Sensorless Brushless Marine

Hull Material:

ABS/Nylon

Trim Scheme Colours:

Shreddy (palm)

Prop Size:

34mm Impeller

Hull Type:

V-Hull

Recommended Battery:

4S 5000mAh LiPo

Drive System:

Direct/shaft

Steering System:

Jet Nozzle

Experience Level:

Intermediate

Recommended Environment:

Outdoor

Is Assembly Required:

No

Approx Assembly Time:

Less than 1 Hour
All product manuals are provided by the manufacturer, If you don't find the manual or information you are looking for, contact our experts for help.