Hangar 9 Valiant RC Plane, 10cc ARF
The features of this famous full-scale version are immediately evident when you launch the new Hangar 9 Valiant 10cc ARF into the air. Customise it with floats or a brushless electric motor to suit your flying style without making any modifications.
STOL capability and expanded flight envelope improved with functional flaps
Achieve excellent ground handling with painted, wide track aluminium landing gear
Painted wheel pants and fibreglass cowl
Expert laser cut plywood and balsa for solid lightweight construction
Large and easily accessible front battery hatch for fast battery changes
Compatible float accessories (sold separately) enable take off and landing from water
Quick field assembly is made easy with a cantilevered, two piece plug in wing set
Genuine Hangar 9 UltraCote covering makes outer plane maintenance that much easier
Clear see through side windows and canopy for extra scale detail
EP installation is made simple with the electric motor mount included
Constructed to facilitate installation of Evolution 10cc gasoline engine
Matching spinner included with the complete hardware kit
Soar the skies with the Hangar 9 Valaint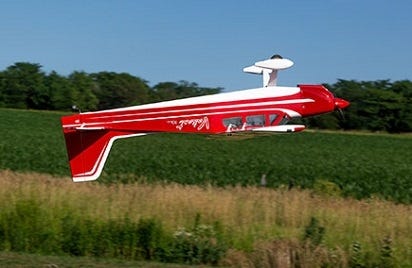 The high-wing full-scale version of the Valiant is widely regarded as a classic. You'll be thinking the same of the Hangar 9 Valiant 10cc as well after one flight. The Hangar 9 version is designed to classic scale and engineered to utilise smaller engines for optimal performance. Without making any modifications you'll be able to install brushless electric power systems if you are looking for a non-fuel option. The Evolution 10GX is a 10cc gas engine that will give you a long flight on the smell of an oily rag. The 7.5-ounce tank costs next to nothing to fill but will get you plenty of time in the air. If you choose the electric option there is easy access for battery changing through the large front hatch.
Incredible scale detail
The scale detail and classic lines of the Hangar 9 Valiant RC plane are further enhanced by the genuine UltraCote covering that allows for easy outer surface maintenance. Assembly of the Valiant is largely based on bolting with the exception of the glue in control surfaces, vertical fin and horizontal stab. Set up at the flying field is made simpler with the two piece cantilever wing design that gives the Valiant a slick look along with removing the need for wing struts. The factory machined hinge slots and holes allow for an easier, more enjoyable setup, and, the hard points that are also factory installed make putting on a pair of separately purchased lightweight floats simply a matter of turning in the screws. As well as looking good the wheel pant accessorised undercarriage is also robust enough to handle the less than average grass runways you may encounter.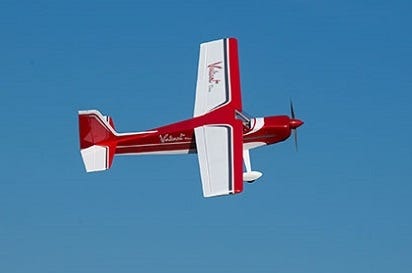 The Valiant has been designed to be versatile with a semi-symmetrical airfoil providing excellent wind penetration and stability for flying when conditions are not optimal. The Valiant's operational flaps allow for super short take offs and landings (STOL), and, very enjoyable slow speed flying. With the flaps up the Valiant can shift to an aerobatic sports flyer with this high wing cabin model capable of crisp roll performance, serious loop capability and the rudder surface area to achieve knife edge manoeuvres with precision.
Lightweight, yet durable
For durability and exacting scale standards, the Hangar 9 Valiant is constructed with laser cut, lightweight plywood and balsa enabling cruising or sport flying with confidence. To ensure an easy to maintain, good looking finish the Valiant is covered with genuine Hangar 9 UltraCote.
Power it how you like
Versatility has also been built into the design of the Hangar 9 Valiant 10cc. You have the option of going with the Evolution 10GX 10cc or 11cc four stroke gas engines. If electric is your thing then conversion to a brushless electric power equivalent is simply a matter of utilising the motor mount that comes with the hardware kit which accommodates either fuel or electric installations.
Whether you choose a fuelled or electric power source you will find the Valiant's semi-symmetrical airfoil and light wing loading is very friendly to the flyer whether you're cruising or sport flying. The operational flaps give your flight envelope enough versatility to accommodate short take offs and landings.
If you like this plane, you should also take a look at the E-Flite Valiant 1.3m Plane.
10cc two- or four-stroke gas/petrol engine or equivalent electric motor system
Full-range, 6+ channel transmitter and receiver
(7) Standard-size servos (6 for the electric power option)
(2) Batteries for receiver and engine ignition (for the gas power option)
Propeller
Wingspan

69" (1752mm)

Overall Length

49.25" (1250mm)

Wing Area

640sq inches ( 41.3 sq Dm )

Flying Weight

7.0–8.0 lb (3.2–3.7kg)

Engine Size

10cc Glow/ Gas (sold separately)

Motor Size

Power 46 Brushless Outrunner Motor, 670Kv (sold separately)

Radio

6-Channel (sold separately)

Servos

6-7 Standard size (sold separately)

Trim Scheme Colors

UltraCote (HANU870) White, (HANU881) Silver, (HANU866) True Red

CG (centre of gravity)

2.5" to 3.25" back from the leading edge

Wing Loading

25oz/sq ft

Prop Size

12x6-13x8 (sold separately)

Spinner Size

2.25"

Speed Control

60A (sold separately)

Recommended Battery

2 Cell Life or Lipo 2000+ Mah Rx, 14.8V 4S 4000mAh LiPo motor (sold separately)

Flaps

Yes

Retracts

Yes

Approx. Flying Duration

6-8 mins

X-Port

No

Anti-Crash Technology

Yes

Pitch

No

Landing Gear

Yes

Experience Level

Intermediate

Recommended Environment

Outdoor

Assembly Time

10-15 Hours

Is Assembly Required

Yes