Flex Innovations Twin Otter 80E Super PNP, Night Version, FPM5080A
Dive into the exhilarating realm of STOL (short takeoff and landing) capabilities and unlimited flight potential with the Twin Otter 80E by Flex Innovations. This RC plane blends breathtaking scale design with unparalleled aerobatic enhancements, creating a lifelike presence both in the skies and on the ground. From graceful STOL flights and light 3D aerobatics to mind-bending pinwheels, 720-degree stall turns, torque rolls in either direction and much more, the Twin Otter 80E is an aviation enthusiast's dream come true.
Looking for spare parts or upgrades?
Super Light wing loading for unmatched handling
Scale lines with imitation windows for authentic aesthetics
Wide flight envelope, from STOL to light 3D aerobatics
Capable of impressive manoeuvres like pinwheels, 720-degree stall turns, and torque rolls
Advanced Aura 8 AFCS featuring differential thrust and differential yaw motor gain
Quick assembly time of less than 1 hour
Removable battery tray
Spacious top hatch for easy battery and equipment access
Large flaps for impressive short take-offs and landings
Large control surfaces for exceptional manoeuvrability
Hollow EPO foam wing with internal wood and carbon fibre structure
Two-piece wing and removable stabs for easy transport and field assembly
Innovative plywood sub-frame for secure motor attachment and superior battery mounting
Compatible with a single 6S 5200-6200 LiPo battery
Float-ready airframe for optional float installation (sold separately: FPM507024)
Equipped with (6) DS34 metal gear digital servos for precise control and (1) DS15 metal gear servo for nose steering
Twin counter-rotating Potenza 40 size 550Kv motors for extraordinary power
Twin genuine HobbyWing 60A ESCs with 1-SBEC
Twin counter-rotating wood 14 x 6" Flex props
Pin-Style hinges for enhanced freedom of movement
Custom control horns for optimized throw and precision
Ball links for secure and precise control
Factory applied trim scheme
Welcome to the exhilarating realm of short takeoff and landing (STOL) aviation! Flex Innovations presents the Twin Otter 80E, a true marvel of engineering and aerodynamics that redefines the possibilities of RC flight. This aircraft combines scale perfection, aerobatic prowess, and unmatched versatility both in the skies and on the ground. Get ready to experience the thrill of a lifetime as you explore the Twin Otter's remarkable capabilities, from slow STOL flight and graceful 3D aerobatics to mind-bending pinwheels, 720-degree stall turns, torque rolls in both directions and much more! Whether you're a beginner, an expert, a scale enthusiast, or a 3D aficionado, the Twin Otter 80E promises to captivate aviation enthusiasts of all levels.

Unmatched Performance with the Aura 8 Advanced Flight Control System
The Twin Otter comes equipped with the state-of-the-art Aura 8 Advanced Flight Control System, setting a new standard for stabilization systems in the RC world. With Flex's latest Aura firmware, this aircraft introduces differential thrust, unlocking unprecedented yaw authority and enabling aerobatics previously unseen in a twin-engine aircraft. The motor gain is finely tuned to provide smooth, predictable, and precise flight without interfering with pilot inputs. The stock Aura 8 program offers built-in flap programming, Live-Wing, and Crow functions, all operable with just an 8-channel transmitter. Connecting the Aura 8 system to your receiver is a breeze, making your flight preparations hassle-free. The Twin Otter is pre-programmed with three Flight Modes (Low Rate, Gyro Off - Low Rate, Gyro On - High Rate, Live-Wing, Gyro On), giving you the flexibility to choose your preferred flying style.
Power, Precision, and Versatility in Every Detail
Fueling the Twin Otter's powerful performance are twin Potenza 40 550KV motors, matched with genuine 60-amp HobbyWing ESCs and 14x6 propellers. This dynamic power system is fueled by a single 6s 5200mAh – 6200mAh LiPo battery, strategically positioned on a removable tray for quick reinvigoration. With removable wings and stabs, the Twin Otter 80E seamlessly assembles and disassembles, making transportation effortless. Optional wing bags offer additional protection during transport while maintaining the convenience of leaving the props and spinners attached.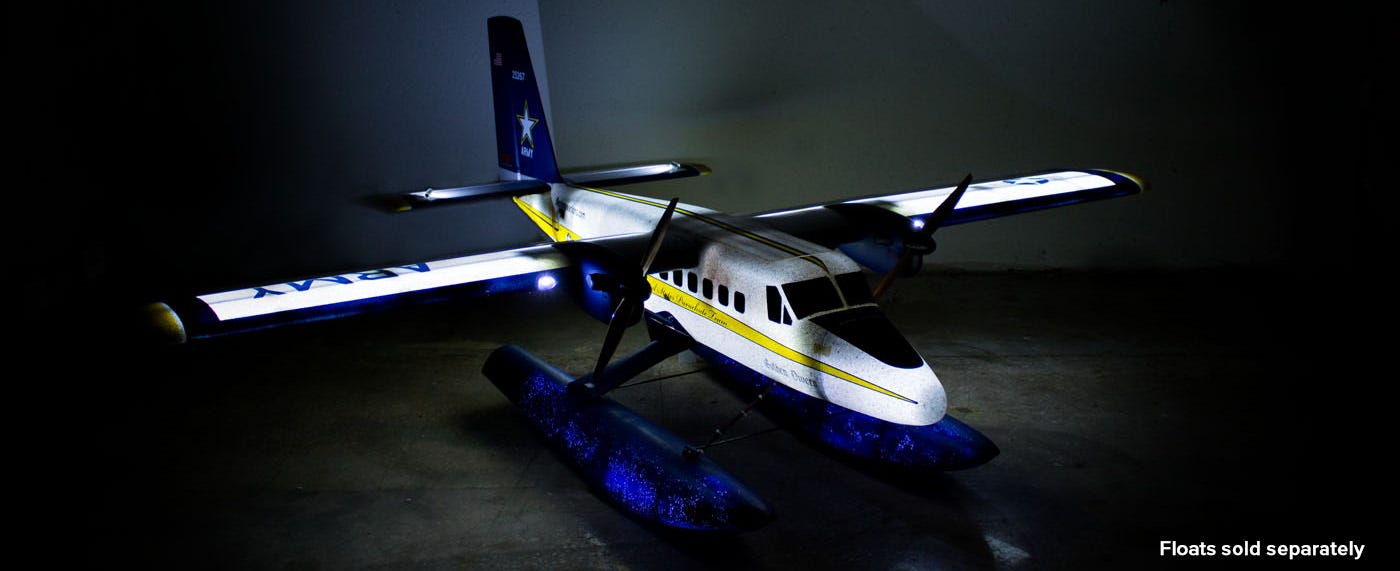 Crafted with meticulous attention to detail, the Flex Innovations Twin Otter features an internal structure combining plywood and carbon fibre, ensuring durability and resilience. Thanks to its EPO foam construction, the aircraft remains robust and repairable. Even more remarkable, the Twin Otter accommodates optional lighted floats without compromising its flight prowess, enhancing its versatility. Experience the thrill of flying in low light with the Night Version of the Twin Otter 80E. Illuminated internally and externally, this version features pre-installed LEDs that light up the fuselage, wings, and tail. Additionally, fin-mounted spotlights create a mesmerizing visual spectacle, allowing the Twin Otter to grace the skies during dusk, dawn, and even after dark.
Crafted for Performance by World Champion Quique Somenzini
Meticulously designed by World F3A and Freestyle Champion Quique Somenzini, the Twin Otter is a testament to his uncompromising pursuit of excellence. From its swift assembly to its precision flight control, every aspect reflects Quique's dedication to maximizing capability while maintaining simplicity. Assembly takes less than an hour out of the box and remains quick to assemble at the field. Experience the rush as the Twin Otter delivers stability, precision, and unrivalled maneuverability that will leave an everlasting smile on your face!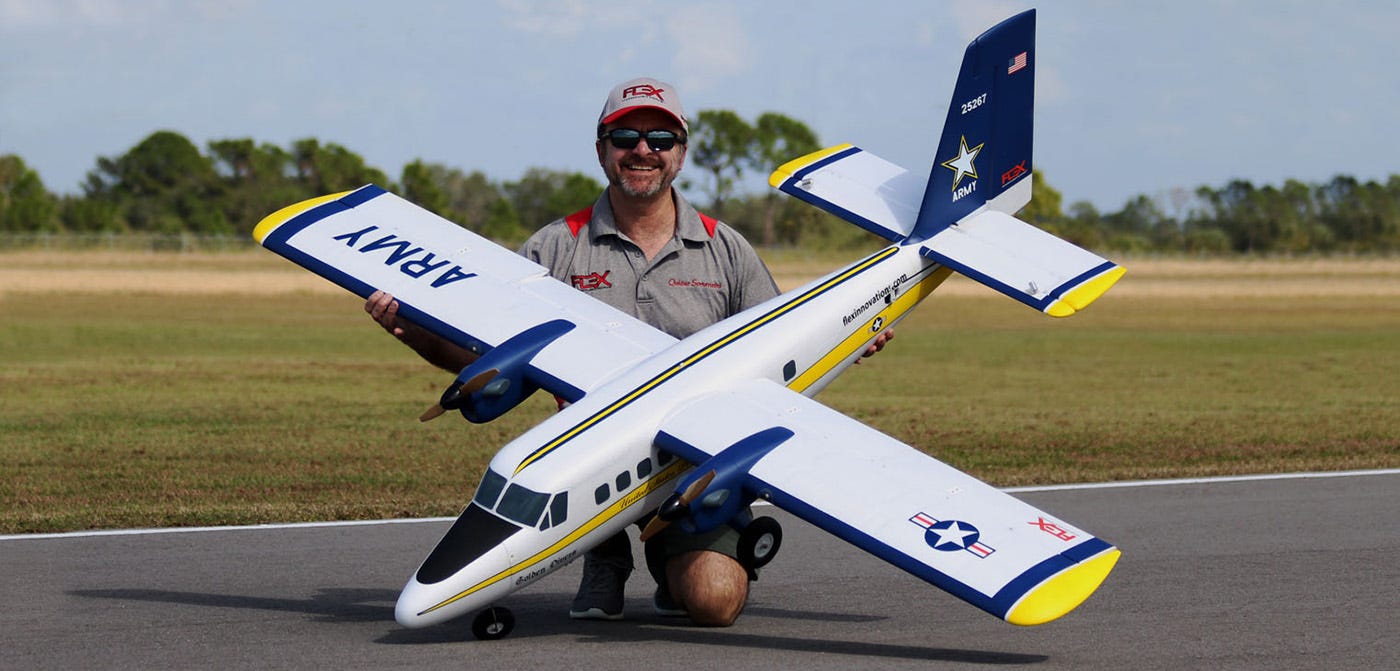 5200-6200mAh 6S 22.2V 40C+ LiPo battery
Minimum 8-channel transmitter
Serial capable receiver to match your transmitter
Length:

74.25 in. (1886 mm)

Wingspan:

90.0 in. (2286 mm)

Weight:

10lb 4oz. (4650 grams) with 6S 6200mAh LiPo

Flight Time:

Approximately 5-7 minutes on 6S 6200mAh LiPo

Channels:

8+ (recommended)

Battery:

5200 to 6200 mAh 6S 45C+ LiPo
All product manuals are provided by the manufacturer, If you don't find the manual or information you are looking for, contact our experts for help.