Flex Innovations RV-8 60E G2 Super PNP Night Version, Orange, FPM4880B
The versatile RV-8 Super PNP night version from Flex Innovations is a lightweight, RC plane that has a flight envelope that will challenge the experts but is forgiving enough for beginners. This G2 version features an upgraded power system, updated Aura AFCS program, removable battery tray and the integration of traditional-style hinges on the tail control surfaces.
Looking for spare parts or upgrades?
NEW Powerful 70 size 500Kv motor and HobbyWing Skywalker 100A ESC
Updated Aura 8 AFCS config
Improved fit and finish of foam parts
Pin hinges installed on tail control surfaces
Assembles in less than an hour
Carbon fibre and wood wing structure covered with durable EPO foam
Superior cooling and battery mounting provided by the inventive plywood sub-frame which allows the motor to be securely fixed to the fuselage
Low-speed control provided by Vortex generators
Metal geared DS34 digital servos x 6 for flaps, elevators, rudder and ailerons
Ailerons and flaps connect to the fuselage with a single connection
Incredible scale lines and detail enhance your flying experience
Lightweight, two-piece wing for easy loading, transportation, handling and field assembly
Removable battery tray
Increased scale appeal and durability provided by aluminium 6061-T6 landing gear
10Amp/5V switching BEC with a 100amp ZTW BL motor controller
Optimized throw and precision using custom control horns
Designed to accommodate a varied array of battery sizes and their associated performance levels
Tail-mounted elevator and rudder servos for immediate precision and control
Trim scheme is factory applied for a superb finish
Remarkable STOL capability due to large flaps
Replace or customize cockpit occupant with removable pilot
Eye-catching LED light system – internally mounted LED's that emit light from inside the plane, and, two LED spotlights that shine back on the tail for illuminated night flying
Mid-flight control over LED light system for bright light or code black flying
Navigation light system installed to scale detail
Brilliant manoeuvrability provided by large control surfaces
Custom tooled 17.5 x 7" Somenzini-Ribbe (SR) Prop that gives the pilot impressive grip at all speeds
Ball linkages used for secured and precise control
Airframe equipped with float installation points if you choose to retrofit
The Flex Design Team has incorporated valuable customer feedback and leveraged Flex Innovation's relentless quest for the ultimate flying aircraft, resulting in the creation of the second-generation RV-8 60E. This latest model showcases a new level of performance and convenience, thanks to the addition of new features. Notable enhancements include an upgraded power system, updated Aura AFCS program, removable battery tray, fresh trim scheme, and the integration of traditional-style hinges on the tail control surfaces. Furthermore, the mould has been updated to significantly enhance the fit and finish of the foam parts!
Whether in the air or on the ground the RV-8 Super PNP from Flex Innovations demands attention. With its spectacular paint scheme, scale canopy, and lines that are bound to catch the eye, this is one RC plane that you'll love flying.
Sporty and versatile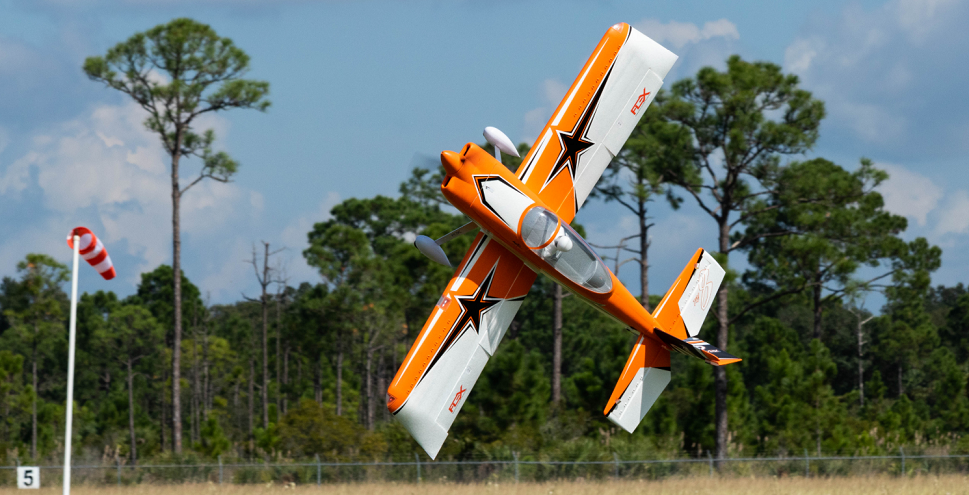 This night version of the RV-8 Super comes kitted out with an LED system that sets this giant scale plane apart. Internally mounted LED's make the RV-8 glow from the inside out making night flying that much easier. There are two spotlights that shine back on the tail of the RV-8 that not only enhance night flying but dramatically highlight this RC planes brilliant scale lines against the black sky. Even if you're mid-flight you turn the LED's on or off from your transmitter for that 'now you see them….now you don't' effect.
An advanced flight control system
For an electric RC plane the RV-8 Super has enough aerobatic manoeuvres in its repertoire to keep advanced flyers happy and with a finely tuned power to weight ratio it is friendly and predictable enough for beginners also. Included in the RV-8 Super package is the Aura 8 Advanced Flight Control System (A8AFCS). The A8AFCS offers a level of in-flight stabilization that is industry leading and gives the pilot precise aircraft control even in an RC plane of this size. Pre-programmed with 3 flight modes the A8AFCS caters for all levels of a flyer with – Low Rate/Gyro Off, Low Rate/Gyro On, and, High Rate/Live-Wing/Gyro On – to choose from. The A8AFCS only requires you to connect to your receiver and it will work with any receiver and transmitter brand on the market.
With a hollow structure and carbon fibre/plywood in critical locations the RV-8 can boast an advanced plywood sub-structure that allows the power system to be secured to the landing gear mount and the wing tube. This enables this RC plane to run smoothly even when you are applying high power. With an outer layer of EPO foam the exterior of the RV-8 Super is not only rugged and durable but also repairable in case you put it into the deck.
Accessories available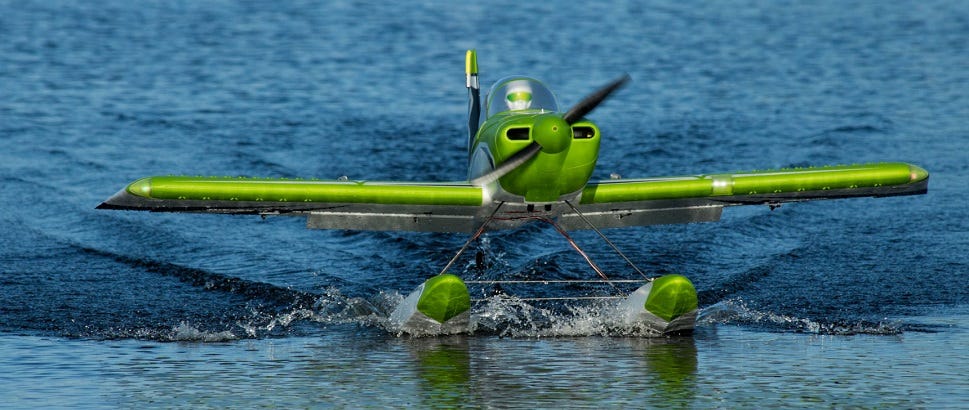 You also get the flexibility of options with your RV-8 – floats with LED lights for water takeoffs/landings, a keychain camera mount so in-flight footage can be captured, and, the LED light set up that makes night flying possible.
The RV-8 has hundreds of design variations but FreeStyle and World F3A Champion, Quique Somenzini, has worked with Flex Innovations to make this RC plane as practical and simple as possible. You can have your RV-8 assembled within an hour and its practical design means it is easily transported, put together and pulled apart.
Not only does the RV-8 look good in the air but it also delivers the pilot a level of precision, power and stability that will have you singing its praises.
8+ channel computer transmitter
4200-6200mAh 6S 22.2V 40C+ LiPo battery
Serial capable receiver
Length:

66.3″ (1685 mm)

Wingspan:

75.8" (1925 mm)

Weight:

10 lb 3 oz. (4660 grams) with 6s 5200mAh

Wing Area:

1120 sq. in (72.3 sq. dm.)

Channels:

7+ (9 with Crow, Gyro kill and Night LEDs On/Off)

Battery:

4200 6S -to- 6200 6S

Flight Time:

5 to 9 minutes depending on flying style
All product manuals are provided by the manufacturer, If you don't find the manual or information you are looking for, contact our experts for help.