E-Flite SR-71 Blackbird Twin 40mm EDF Jet, BNF Basic, EFL02050
The dream is now a reality with the E-flite SR-71 Blackbird Twin 40mm EDF giving RC pilots the opportunity to fly this aviation icon! This one is for the experienced RC pilot and it's designed to be affordable and compatible with 4S LiPo batteries.
Looking for spare parts or upgrades?
RC replica of the world's fastest and highest-flying manned aircraft that is officially licensed and gives you a flying experience that is unparalleled
The most practical and affordable SR-71 Electric Ducted Fan (EDF) jet model yet
Compatible with popular 2200mAh 4S 30+C LiPo's to power twin 40mm fans and outrunner motors
With a compatible transmitter get a range of real-time telemetry data including overall battery current and voltage
Industry-leading 2.4GHz DSMX technology and fly-by range telemetry built into the Spektrum receiver
Optional use SAFE Select flight envelope protection makes it easier to fly
Includes exclusive AS3X stabilising technology that provides a locked-in feel
Separate aileron, elevator and nose gear steering controlled by four factory-installed servos
Steerable nose wheel and landing gear allow for take-off and landing on smooth surfaces
Landing gear is removable to allow you to use automatic Hand Launch Assist Mode and the moulded in finger grips if you are flying over grass or other surfaces
Composite and plastic reinforcements throughout the fully moulded and extremely durable EPO airframe
Improved visibility provided by snap-in vertical fins that have been painted red (optional use)
Ready to fly right out of the box after some minor assembly
Fully painted and factory-applied finish with the option of a Habu decal
Developed in the 1960s by Lockheed Martin to fly higher and faster than all other airplanes and missiles, the SR-71 'Blackbird' is one of the most iconic and unique aircraft of all time. The full-scale SR-71 holds the world records for sustained speed (3,529 km/h / Mach 3.3) and sustained altitude (85,069 feet). While the E-flite SR-71 Blackbird Twin 40mm EDF won't hit those speeds or heights, it will give experienced RC pilots a taste of flying an icon of the sky.
Experience the icon: SR-71 Blackbird Jet replica

As you open up the box of your E-flite SR-71 Blackbird Twin 40mm EDF, just know that by snapping in the black vertical fins (or optional higher visibility red ones) and then binding your 5+ channel Spektrum DSM2/DSMX transmitter to the factory-installed Spektrum receiver is all it takes for you to be airborne. This Spektrum receiver is equipped with the optional use of SAFE Select and exclusive AS3X technologies. SAFE Select gives the pilot automatic self-levelling along with pitch and bank angle limits and if you feel your flying is accomplished enough you can switch them off at any time. AS3X technology is working behind the scenes to dampen the effects of turbulence and wind which in turn gives you a locked-in feel that makes it feel like you are in control of a much larger aircraft.
Telemetry at your fingertips
Whether you are using Smart or non-Smart batteries you can receive a range of telemetry data from your E-flite SR-71 Blackbird Twin 40mm EDF regarding real-time power system functions including current draw, battery voltage and more. Just equip your Spektrum transmitter (including the DX6e and 8e, DX6 G2/3 and 8 G2, the DX9, NX6, 8 and 10, iX12, iX14, iX20 and others) with Spektrum Airware and you can receive instant data while you fly. The power system is equipped with high RPM brushless motors and twin 40mm fans and is compatible with common and affordable 2200mAh 4S 30+C LiPo batteries that will give you a fantastic array of flight times and performance.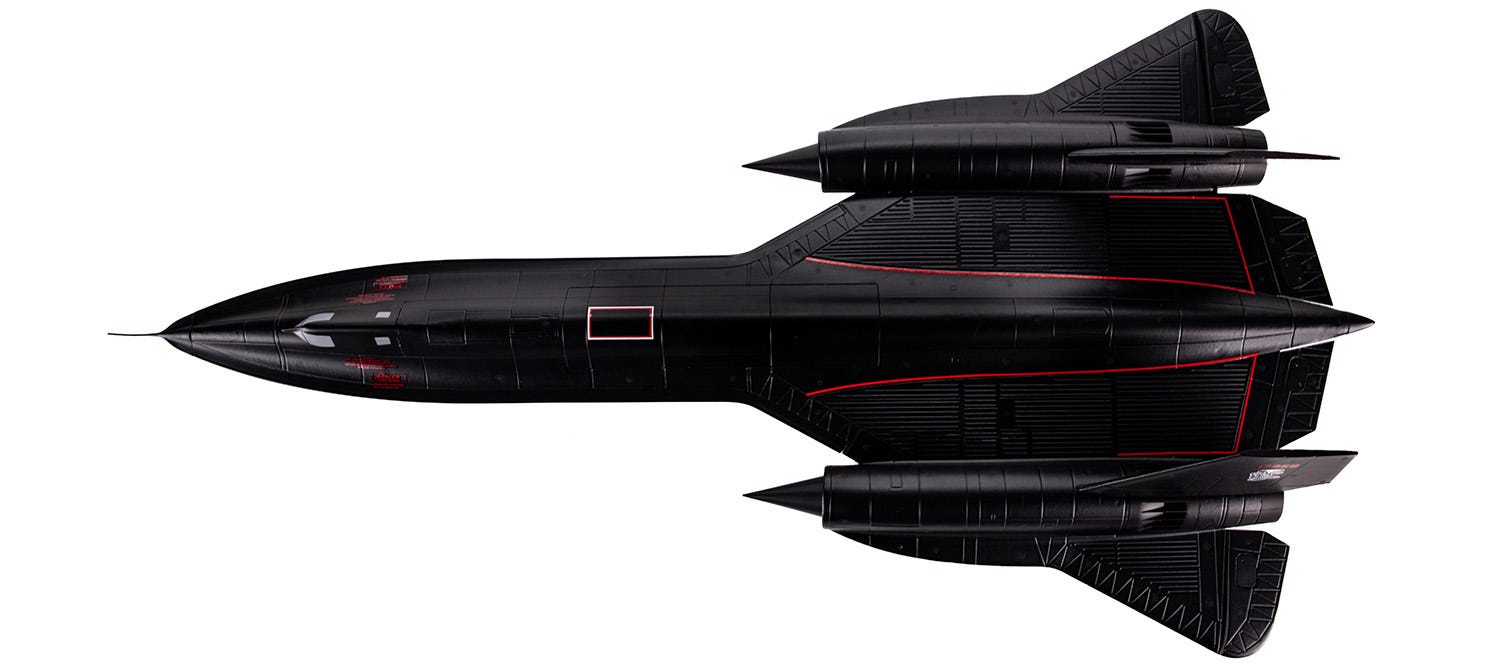 The superb looks on the E-flite SR-71 Blackbird Twin 40mm EDF are constructed with a fully moulded EPO airframe which features many scale surface details like panel lines. There are composite reinforcements in the nose and throughout the aircraft along with plastic-reinforced fuselage chines. This makes for the perfect mix of lightweight durability. There is a rubber nose cone for additional protection along with pitot tubes and the vertical fins come in two colours – black as per the scale detail or optional use red fins for higher visibility in the air. These snap into place making their removal and replacement super easy. To complete the scale look, the factory-applied paint job with a decal finish replicates the Habu markings of 17958. There are also decals for the nose included.
Launch options for ultimate flexibility
There are two launching methods on the E-flite SR-71 Blackbird Twin 40mm EDF RC Jet. One involves the installation of a fixed landing gear that is equipped with a steerable nose wheel that has tyres that replicate the look of the full-scale Blackbird. Taking off from smooth surfaces is made simple. The second option is hand launching your SR-71 with the landing gear removed which will give you extra speed and vertical capability. The moulded-in finger grips along with the automatic Hand Launch Assist Mode make taking off in this manner a breeze. No matter how you take to the skies in this iconic super-fast spy plane, you know you'll get an incredible flying experience that other models just won't give you.

Skill Level 3 RC jet - designed for experienced RC pilots
Skill Level 3 aircraft, like this one, are suitable for more experienced RC pilots who already have the skills to assemble, set up and fly similar class models. And although this is the easiest-to-fly SR-71 model yet, it's not a suitable first-ever RC aircraft for new pilots or a first-ever EDF (Electric Ducted Fan)/jet model for intermediate to experienced RC pilots. You should have the experience and skills necessary to successfully fly high-performance EDF models like the E-flite Habu SS (Super Sport) 50mm or 70mm, the Viper 70mm and/or larger EDF models before attempting to fly the SR-71 Blackbird Twin 40mm EDF.
Are you new to flying RC (Radio Controlled) aircraft? If you are, the SR-71 is not a suitable first-ever RC model and we recommend learning to fly with one of our purpose-built trainer aircraft such as the E-flite® Habu STS (Smart Trainer with SAFE) 70mm EDF. It's equipped with exclusive and innovative SAFE technology that makes it possible for almost anyone to learn to fly successfully! The Ready-To-Fly (RTF) Basic version includes almost everything needed to fly (except for a compatible LiPo battery and charger that are sold separately) and is a perfect choice if you're a new RC pilot!
What's in the box?
(1) E-flite® SR-71 Blackbird Twin 40mm EDF with:

(4) Spektrum Linear Servos (installed)

(2) Spektrum Brushless Outrunner Motors (installed)

(1) Spektrum Control Unit with (1) Receiver and (2) Brushless ESCs (installed)

(1) Product Manual

Full-range 5+ channel Spektrum™ DSMX®/DSM2® compatible transmitter
4S 14.8V 2200mAh 30+C LiPo with EC3™ or IC3® Connector
Compatible LiPo charger
Battery

Sold Separately

Connector Type

IC3

Motor Size

1820-6800Kv 6-Pole

Product Length

37.6" (955 mm)

Charger

Sold Separately

Receiver

Included

LiPo Compatibility

4S

Completion Level

Bind-N-Fly Basic

Recommended Motor Battery

14.8V 2200mAh 4S 30C LiPo Battery with IC3 Connector

Approximate Assembly Time

No Assembly Required

Material

EPO

Minimum Required Radio

Full-range 5+ Channel Spektrum™ DSMX®/DSM2® Compatible Transmitter

Radio

Sold Separately

Technology

AS3X and SAFE

Product Weight

29.4oz (834g) with Recommended Motor Battery

Fan Size

40mm EDF

Motor Type

Brushless

Speed Control

Included

Power Type

Electric

Servos

Included

Skill Level

Level 3

Wingspan

19.88" (505 mm)
All product manuals are provided by the manufacturer, If you don't find the manual or information you are looking for, contact our experts for help.