E-Flite Apprentice STS 15e RC Plane, BNF Basic, EFL3750
The most popular trainer in the world has just gotten even better! The new E-flite apprentice STS 1.5m features Spektrum smart components, SAFE technology and the ability to add optional landing assist sensor and SAFE plus technology to make flying even easier for the beginner pilot.
Looking for spare parts or upgrades?
Based on one of the best platforms ever designed for learning to fly radio controlled (RC) airplanes—the Apprentice S 15e
Perfect for first-time pilots, experienced pilots that teach others to fly and club training programs
Official Trainer of the Academy of Model Aeronautics (AMA) and many clubs worldwide
The ideal choice for new pilots when learning to fly with an instructor at an RC flying field
Exclusive SAFE® technology from Horizon Hobby makes it easy to learn to fly
Easily upgrade to SAFE Plus GPS-enabled technology to add AutoLand, Virtual Fence and Holding Pattern features
Optional and easy to install Landing Assist Sensor (LAS) available for smoother landings
Includes everything you need to fly in one box—nothing extra to buy or provide
Factory-installed servos, Spektrum flight controller and serial receiver
Powerful and efficient brushless power system including a Smart ESC
Wide-stance tricycle landing gear with steerable nose wheel
Quick and easy assembly—no glue or special tools required
Durable EPO construction that's tough yet lightweight
Optional floats available for flying from water
Practice flying this aircraft in the RealFlight® simulator
The perfect beginner RC plane
E-flite have taken one of the most popular trainers in the world and made it ever SMARTER with the release of the apprentice STS 1.5M. The Apprentice's docile and stable flight characteristics coupled with its large 1.5m wingspan make this not only an easy plane to fly but also easy to see and orientate in the sky. The New Apprentice STS 1.5M also has the ability to be upgraded to the SAFE plus GPS enabled system, this offers features such as Autoland and virtual fence with an option to install the all-new landing assist sensor, this sensor automatically "flares" the model to make landing safer and easier than ever before.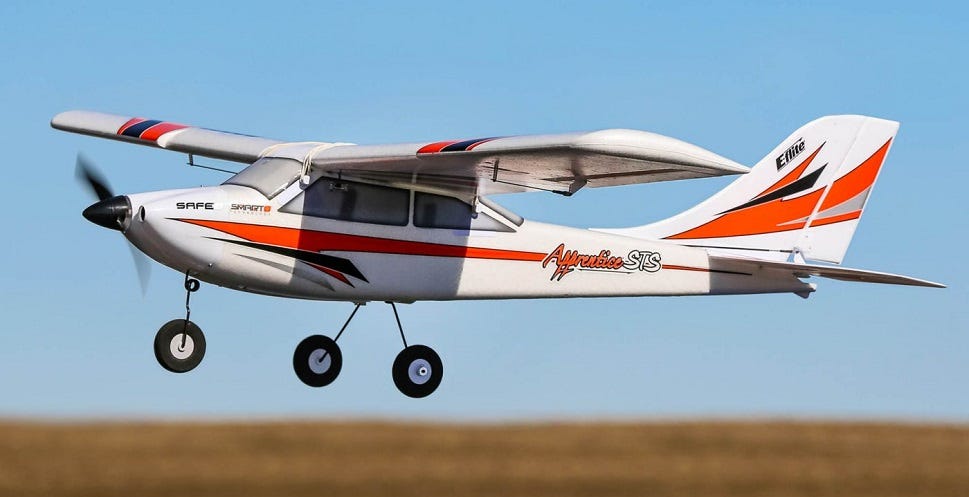 The Bind-N-Fly (BNF) version is available for more experienced pilots and clubs who want to use their own Spektrum transmitter along with any batteries and chargers that they may already own. Regardless of the version you purchase both are powered by a super-efficient and grunty brushless system with Smart ESC and all of the electronics are pre-installed by the factory. Assembly of the EPO airframe is simple and requires no glue or special tools to put together.
The E-flite Apprentice STS 1.5m is a very capable aerobatic model in its own right. Loops, rolls, stall turns and inverted flight are all possible with this model! You can even chuck on some floats for water flying if you like! There's a reason that the Apprentice has become so popular as a training aircraft, it's just so easy to fly! With docile tendencies and a fantastic flight envelope, this model will help you learn to fly!
Progressive flight modes
Beginner Mode:
In this flight mode, the model has bank and pitch limits to prevent the pilots from over controlling the model and getting into trouble. When you let go of the sticks the model will return to level flight, allowing you to regain composure and go again.
Intermediate Mode:
The bank and pitch limits are turned down in this mode, giving you more freedom but still limiting the ability to over control the model, the model will not return to level flight on its own, allowing tighter turns and more general manoeuvrability
Advanced Mode:
In this mode it's all on you! There are no bank or pitch limits and you can do any aerobatic manoeuvres that you like, Panic recovers and still be activated by switching back into beginner mode and releasing the sticks.
Panic Recovery:
If you lose control of the model in Intermediate or Advanced mode just simply return the switch to beginner mode and release the sticks. SAFE technology will take over and return the model to straight and level flight.
Optional SAFE Plus GPS Technology
With a simple installation of the optional Spektrum GPS Module (sold separately), you can take the flight assistance to the next level. With features like Autoland helping to land the model automatically from the GPS initialization point. The holding pattern feature allows you to essentially pause your flight and place the aircraft into a GPS guided pattern until you feel like taking over again and continuing on flying. Finally, the virtual fence system keeps the model from ever being able to fly too far away and puts up a virtual block than when the model hits this point it turns around and comes back.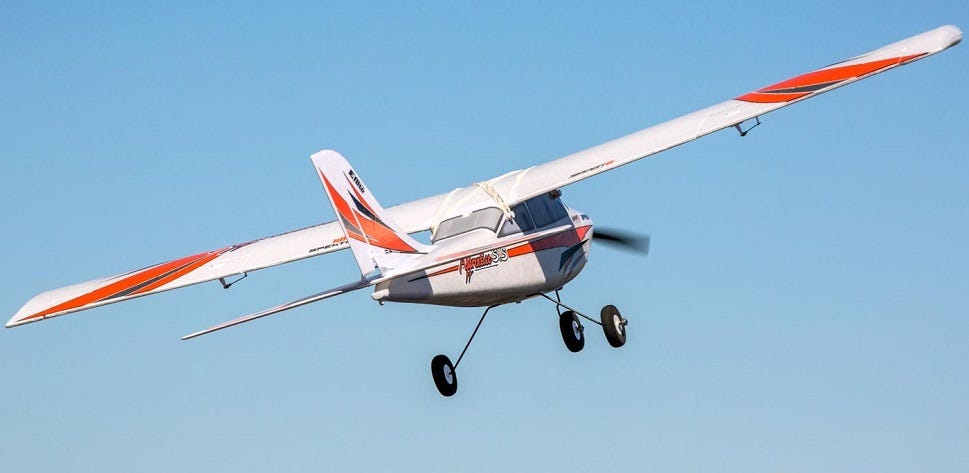 Full-Range 6+ Channel Spektrum™ DSMX®/DSM2® Compatible 2.4GHz Transmitter
3200mAh 3S 11.1V LiPo Battery with EC3™ or IC3™ Connector
3S 11.1V LiPo Compatible Charger
Control Throw - High (Ailerons)

0.91" (23mm)

Minimum Speed Control

Smart 30A Brushless (installed)

Servos

Four standard, two micro

Control Throw - Low (Rudder)

1.10" (28mm)

Flying Weight

251-2000g, 49oz (1390g)

Landing Gear

Prebent wire, tricycle configuration

Approximate Flight Time

5 minutes

Control Throw - Low (Elevator)

0.71" (18mm)

Wing Area

515 sq in (33.2 sq dm)

Control Throw - High (Rudder)

1.35" (35mm)

Completion Level

Ready-To-Fly

Length

42.5" (1080mm)

Transmitter Range

Full

CG (Center of Gravity)

3.125" (79mm) from leading edge of wing measured at the fuselage

Control Throw - Low (Ailerons)

0.71" (18mm)

Wingspan

59" (1500mm)

Recommended Charger

Spektrum S120 USB-C Smart Charger

Control Throw - High (Elevator)

0.91" (23mm)

Recommended Motor Battery

Smart 11.1V 3S 3200mAh LiPo w/IC3 connector included

Airfoil Shape

Flat bottom

Approximate Assembly Time

No assembly required

Minimum Required Radio

Spektrum DXe DSMX 2.4GHz

Motor Size

840kV
All product manuals are provided by the manufacturer, If you don't find the manual or information you are looking for, contact our experts for help.