Dualsky XM3040EG-9 1350kv Brushless Glider Motor, suit F5J
The XM3040EG-9 brushless motor from Dualsky is suited for FAI F5J gliders. Weighing a mere 104g and able to develop 400-500W this motor is perfect for F5J gliders weighing up to 1800g.
Suitable for FAI F5J Gliders
Over-sized hollow shaft, front bearing
Three-point bearing distribution results in a strong resistance against the impact of landing
Based on the design of EA V3 high-torque systems
Active cooling fan
15% more power than the Dualsky EA motors
The Dualsky XM3040EG-9 brushless motor has a unique capsule type protective canister design, presented in the form of an in-runner with the wires located at the rear of the motor. These changes make the motor suitable for the nose of an F5J or similar RC glider. Lightweight, with a 5mm shaft so hard landings pose no problems.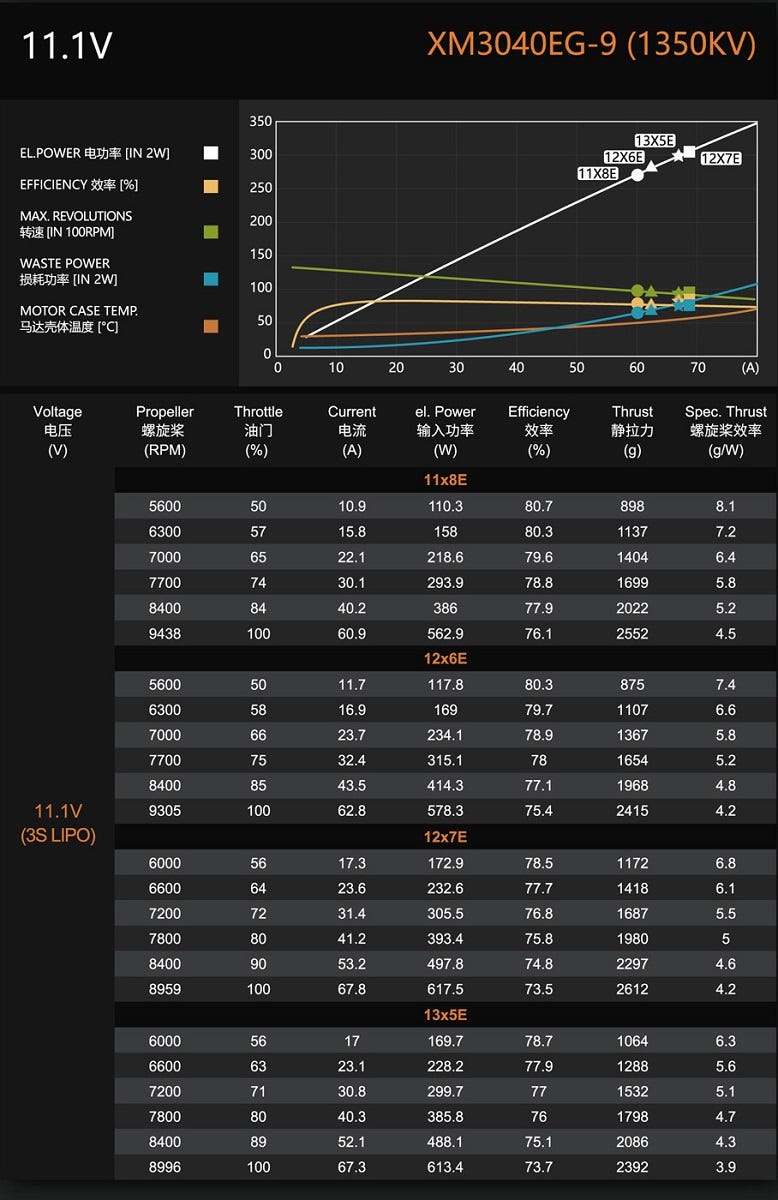 RPM / V (KV)

1350

Weight

104 g

Diameter

Front face: 26 mm
Body: 31 mm

Length

40.9 mm
56.9mm incl. shaft

Diameter of Shaft

5 mm, hollow

Pitch of Holes

A: 16, B: 19

Input Connectors

GC3.5

Solts and Poles

12N14P

IO @ 10V (A)

1.9

Resistance (Ri) (mOhm)

29

No. of Cells (LiPo)

3

Max. Efficiency Current

18

Max. Burst Current

35

Max. Power (30S)

420

Torque

310

Recommended ESC

Dualsky XC4018BA-V2 or XC-45-Lite

Propeller

3S: 10x6, 10x8, 11x6, 11x8, 12x6, 12x7, 13x5

Applications

For up to 1800 grams thermal gliders, e.g. FAI F5J