Blade mCPX BL2 RC Helicopter, BNF Basic, BLH6050
Learning 3D heli aerobatics is now much less intimidating thanks to the durable design, refined flight performance, and SAFE® Technology panic recovery in the Blade® mCP X BL2.
Looking for spare parts or upgrades?
Panic Recovery and SAFE Stability modes
Flybarless AS3X system
Strong and durable design
Brushless 6700Kv main motor
Tail motor is a brushless 7700Kv outrunner
High performance and fast flight symmetrical main blades included
Torque and speed delivered with precise stability through dual ball bearing, linear long-throw cyclic servos
Designed to absorb crash impact with minimal damage
Easily seen and spotted decal trim scheme
Micro 3D made easy
The Blade® mCP X BL2 has been designed with the beginner to intermediate RC pilot in mind. In the Blade stable of RC choppers, it fits between the Nano S2 and the Fusion 180. Built on the mCPX platform the BL2 version elevates the design and flight performance elements to give you an improved flying experience. This RC chopper brings the power in a big way with a brushless 6700Kv main motor and a 7700Kv brushless tail motor at your disposal making 3D aerobatics even easier to perform.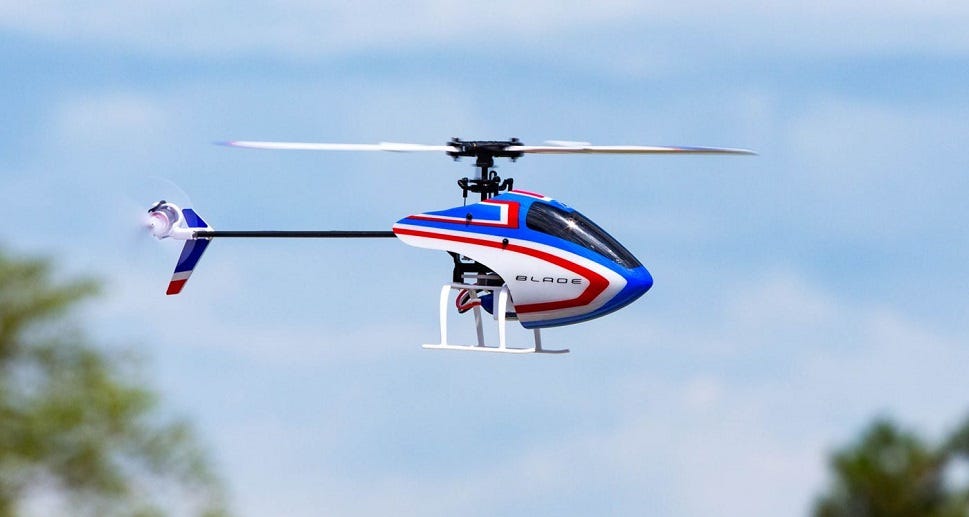 The Blade® mCP X BL2 is fitted with exclusive AS3X and SAFE technologies which work behind the scenes to smooth out your flight performance by providing additional stability which in turn allows for more competent and confident flying. Equipped with three progressive flight modes the capabilities of the Blade® mCP X BL2 can increase as your flying confidence improves. This makes it perfect for beginners who can take it up with SAFE mode engaged, and, also allows for the more experienced who may push the envelope secure in the knowledge that this RC helicopter can handle moderate crashes and keep on flying. Take the Blade® mCP X BL2 up for fun or practice regularly and challenge your skill level wherever your flying is currently at.
SAFE Z Altitude Control
Using the Blade® mCP X BL2's on-board accelerometer to maintain a consistent altitude the SAFE Z Altitude Control is another safety net as you push your flying limits. Vibration to the gyro has been removed with a vertically mounted flight controller that also improves damping.
6+ channel Spektrum™ DSM2®/DSMX® compatible transmitter
2S 280mAh LiPo Flight Battery
Suitable LiPo Battery Charger
Completion Level

BNF Basic

Main Rotor Head Type

Collective Pitch (CCPM) Flybarless

Swashblade Type

120 deg

Main Rotor Diameter

263mm

Main Rotor Blade Length

117mm

Main Blade Material

Plastic

Tail Rotor Diameter

40mm

Tail Blade Material

Plastic

Main Motor Type

Brushless Inrunner, 6700Kv

Battery

2S 280mAh LiPo (sold separately)

Tail Drive

Direct Drive

Tail Motor Type

Outrunner Motor

Main Frame Material

Plastic

Canopy/Body Material

Plastic

Flying Weight

62g

Approximate Flight Time

4 minutes

Number of Channels

6

Experience Level

Intermediate

Recommended Environment

Indoor/Outdoor

Is Assembly Required

No
All product manuals are provided by the manufacturer, If you don't find the manual or information you are looking for, contact our experts for help.