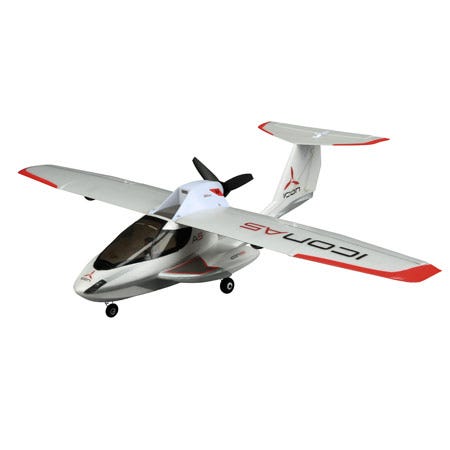 If you are a fan of the Icon A5 RC plane from ParkZone, or you have an appreciation for amphibious flyers, check out this new release at Modelflight. The Icon A5 now comes as an ultra-micro RC plane. It maintains the authentic Icon A5 trim scheme, but now comes with AS3X technology. This reduces the effect of P-factor, turbulence and torque forces when you are up in the air, allowing for smoother flight. With this technology, you will feel like you are controlling a larger RC plane.
Even if you have never flown an RC seaplane before, ParkZone have designed the Ultra-Micro Icon with a specifically-shaped hull to make taking off, and landing, on water very easy to master. If you prefer to land or take off on a more solid surface, the Icon comes with landing gear that can be easily mounted to the plane.
This model plane is powered by a 2500Kv brushless motor and comes with a 2S 180mAh 20C LiPo battery. Additionally, ParkZone have included a Celectra 2S DC LiPo charger from E-Flite. Because it is a Bind-N-Fly RC plane, you will need to supply your own air radio. As a recommendation, the DX6i transmitter from Spektrum will give you the functionality you need to get the Icon in the air easily. This RC seaplane comes with four-channel control, covering throttle, aileron, elevator and rudder.
The Ultra-Micro Icon has a cockpit and battery hatch that connected via a magnet; making it simple to detach. You will also notice how ParkZone have included a tinted cockpit canopy with a painted pilot figure.
The ParkZone Ultra-Micro Icon A5 is going to be a fantastic plane to fly, on land and on the water. With its AS3X technology, you are certain to have a smooth flying experience time and time again. This RC plane is coming soon to Modelflight, so if you are keen to learn more, click here to be notified about its arrival.