Losi Baja Rey 2.0 1/10 Desert Truck RTR, Method Scheme, LOS03046
If you looked at the Method Ford Raptor Baja Rey 2.0 you will immediately notice the officially licensed wheels, tyres and body. Take a peek under the shell and you'll see where even more improvements have been made on this popular platform that is going to bring you A-grade desert terrain performance.
Looking for spare parts or upgrades?
Officially licensed 2023 Ford F-150 Raptor R body
Officially licensed Method wheels
Officially licensed BFGoodrich tyres
Spektrum 3800Kv brushless motor and waterproof 130A ESC for speeds up to 80 km/h
Compatible with 2S or 3S LiPo batteries (sold separately)
Functional LED light bars and dual spare tyres
Genuine desert truck performance with long travel suspension
Newly designed rear axle, front gearbox, upper front arm and 4-link bar
Larger 5x11 front bearings and 5x13 rear bearings to better support the pinions
2.5mm upper deck on the 3mm aluminium chassis plate
New additional dampening shock on the long-travel shocks
Differentials and transmission have sealed metal gears
Rear-loading battery and bottom-loaded motor for easy maintenance and battery swaps
Race-inspired, moulded full roll cage
4-wheel drive for the best traction over all of the different terrain types
Smart and AVC technology built into the DX3 Spektrum transmitter
As the only RC racing platform of its size featuring a true scale chassis and suspension set-up, the Losi 1/10 scale Baja Rey 4WD desert truck is truly one of a kind. Once you've taken a closer look at the Baja Rey you'll uncover more and more details. Once you take a drive of the Baja Rey...you won't look back.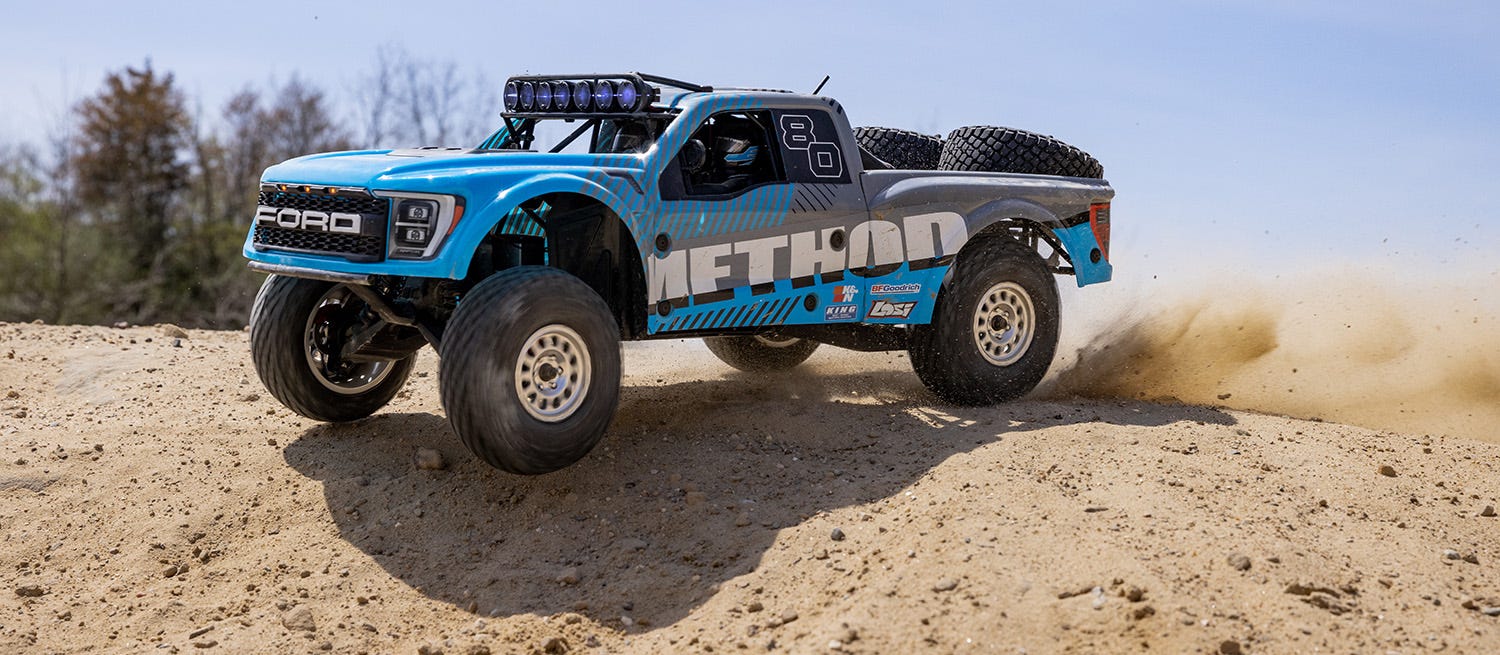 The impressive Losi Baja Rey 2.0 platform gets even better
Released in 2016 Losi's Baja Rey quickly had the punters raving about its superb combination of speed, handling and overall performance. A few years later a new Baja Rey body style was introduced but due to the success of the platform it remained unchanged. The old adage applies... If it ain't broke don't fix it. Well, it never broke but Losi decided to enhance the Baja Rey with significant design improvements and another body update to bring us the Baja Rey 2.0. You'll have to drive one to know for sure but this new Baja Rey is even better than the last one and it will handle the most formidable desert terrain with power, precision and performance.
Underpinning the strength and performance of the Baja Rey 2.0 is still the tough 3mm aluminium chassis plate connected to a 2.5mm upper deck that made the original so successful. From there though the design change improvements are many. A new front gearbox design allows for much easier tuning and maintenance while the fluid-filled front differential can now be removed without needing to pull out the front suspension. The front and rear axles use the same differential which permits the use of stub axles and dogbones giving you the option of rear-toe tuning. At the time of purchase, there is a zero-degree toe installed but there are three-degree optional rear toe blocks included that allow you to increase traction.
Increased durability to the pivot ball area has been added with stronger upper 4-link bars than the original Baja Rey had. A complete re-design of the upper front arms now allows you to put in a secondary dampening shock and also provides greater durability in this critical area of the Losi Baja Rey 2.0 4WD Desert Truck. The steering servo saver is also new and provides improvements in the consistency of steering performance as well as increased servo protection. The combined benefits of these improvements mean you get more tuning ability, easier maintenance and improved durability and strength in key areas of your Losi Baja Rey 2.0 4WD Desert Truck.

You will no doubt subject your Losi Baja Rey 2.0 4WD Desert Truck to as many big jumps and bumps as you can find and that's when the long travel shocks will come into play soaking up all the impact energy. Externally there are bump stops fitted to provide softer landings on harder surfaces. The coil-over springs on the threaded shock bodies allow you to fine-tune the pre-load settings using adjustable collars. Another new feature on the Baja Rey 2.0 is an additional dampening shock giving you a look that matches full-scale desert racing trucks as well as improved handling. In order to soak up even more energy from huge bumps and jumps there is an independent A-arm front suspension and solid 4-link rear suspension that allows the Losi Baja Rey 2.0 4WD Desert Truck to perform with the realistic movement and handling you'd see a full-scale desert truck displaying.
The front and centre diffs and the single-speed transmission are sealed against the elements with engineering by the Losi team that allows it to handle the punishing output of the brushless motor and whatever challenging terrain you're smashing through. The MOD 1 gears fitted to the Baja Rey 2 add to its toughness and the adjustability of three diffs gives drivers the option of setting this desert basher up to handle differing track conditions.
Experience unmatched realism with the Losi Ford F-150 2023 Raptor R body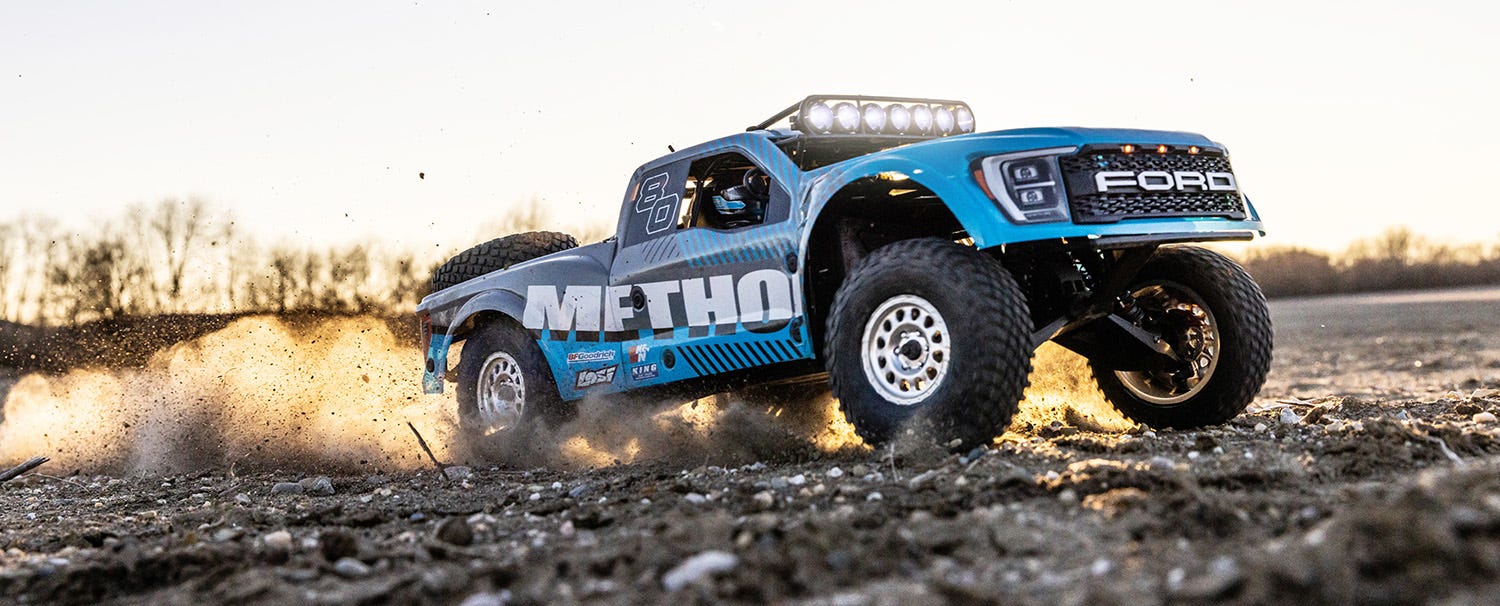 Working closely with some of the Baja Race's best brands Losi have been able to bring you the most scale-detailed RC desert truck possible. The officially licensed Ford F-150 2023 Raptor R body has been kitted out in the Method Ford Raptor desert racing livery which captures the full-scale truck's rugged styling with moulded details that include the hood vent, driver helmets, mirrors, front grille, fire extinguishers, jack, interior and more. The officially licensed tyres on this Baja Rey 2.0 have the same high traction KR3 tread pattern that was used on the original BFGoodrich tyres tested and used by race-winning drivers in the Baja California desert. The officially licensed wheels upon which these tyres are mounted are designed after the Method 101 Race Wheels which were noted for being fast, strong and light. The rear-mounted spare tyres are not only in keeping with the scale look of desert racers but are also fully functional in the event that you need a changeover.
Seven light pods make up the LED lighting system along with a rear red LED light strip and Raptor grille lights. This obviously means you can keep the Losi Baja Rey 2.0 4WD Desert Truck racing well after the sun sets. You will need to provide your own fully charged 2S or 3S LiPo battery but other than that the kit comes with its own DX3 Spektrum Smart transmitter along with a brushless waterproof power system. Plug in your battery and this Baja Rey 2.0 Bad Boy is ready to hit speeds of 80km/h+!
Stay in control with AVC Technology

Providing hundreds of tiny steering and throttle adjustments per second the Active Vehicle Control (AVC) system is built-in to the receiver to give you ultimate control even when you have it pinned! More precise control means less dirt flinging wheel spins and more high-speed track bashing and huge air. For those who do love a bit of sand-spitting wheel spins (and who doesn't!), you can adjust the AVC level using a knob on your Spektrum DX3 transmitter. This allows you to decide how much additional traction control AVC provides you. If you're feeling confident you can even turn it right off.
Spektrum DX3 transmitter included
The advanced features on the DX3 Spektrum transmitter include a throttle limiting switch with 3-positions which can be set to 50%, 75% or 100% power availability. If your Baja Rey 2.0 has a Spektrum Smart battery installed you can get a remaining power level indication displayed on your transmitter while you race. You also have the option of adding a Spektrum BT2000 Bluetooth Module (SPMBT2000 – sold separately) which you can hook up to the free download Spektrum Dashboard app. This will allow you to access the Smart capabilities in your Spektrum Smart ESC which will provide you with real-time telemetry data, allow you to set up warning alarms, and, enjoy more programming options.
What's in the box?
(1) Losi Method Ford Raptor Baja Rey 2.0 1/10 Scale 4WD RTR

(1) Spektrum DX3 Transmitter 3-Channel DSMR Radio System

(4) AA Transmitter Batteries

(1) Product Manual

3 degree rear toe blocks (installed)

0 degree rear toe blocks (included, not installed)
(1) 2S or 3S LiPo Battery with EC5™ or IC5® connector
(1) Compatible Battery Charger
Completion Level

Ready-to-Run

Scale

1/10

Length

24.9 in (631.3mm)

Width

17.9 in (454mm)

Recommended Environment

All-Terrain

Height

7.9 in (200mm)

Is Assembly Required

No

Experience Level

Beginner

Ground Clearance

1.6 in (41mm)

Wheelbase

14.6 in (372mm)

Ball Bearings

Full

Chassis

3mm Plate, 6061-T6 Aluminum

Suspension

Independent/Solid Axle

Shock Type

0.4 in (10mm)/0.3 in (8mm), Composite, Oil Filled

Body

Polycarbonate, Screened

Drivetrain

4WD

Differential

Bevel Gear/Sealed

Wheel Type

Method 101

Wheel Diameter

2.2 in (55.9mm)/3.0 in (76.2mm)

Wheel Width

1.6 in (41.5mm)

Tire Compound

45A (Being confirmed 12/9/22)

Tire Tread

BFGoodrich KR3

Tire Diameter

4.8 in (121mm)

Brakes

Electronic via ESC/Motor

Motor Type

Non-Sensored Brushless

Motor/Engine Size

3660/3800Kv

Pinion

13T (Being confirmed 12/9/22)

Spur Gear

36T

Gear Pitch

1.0 MOD

Internal Gear Ratio

3.8:1

Final Drive Ratio

10.99:1

Speed Control Included

130A

Radio

Spektrum Smart DX3 3-Channel DSMR

Servos Included

Spektrum S614S
All product manuals are provided by the manufacturer, If you don't find the manual or information you are looking for, contact our experts for help.