Hangar 9 Fokker D.VII RC Plane, 30cc ARF, HAN2890
The Hangar 9 Fokker D.VII will be the first large scale World War 1 fighter in our warbird line-up. The beautifully crafted ARF model is an accurate scale replica of the full size version of the German fighter, even the most detailed modeller will appreciate all of the fine aspects of this scale ARF.
Covered in authentic Hangar 9 UltraCote
Complete quality hardware package included
Built with Lightweight laser cut balsa and ply
Two-piece bottom wings with aluminium tube provides easy transport and assembly
Scale pilot and instrument details throughout the cockpit
Designed to accept gas/petrol engines and electric motors
Matching paint on fibreglass cowl includes moulded details
Genuine shock-absorbing main landing gear with matching paint finish
Sprung wooden tail skid included
Ready to install scale replica engine included
Convenient three-piece top wing simplify aircraft assembly
Machine guns included for added realism and scale looks
Large top hatch provides easy access to electronics and flight batteries
8" vintage scale wheels included
Functional tail flying wires
World War I German Fighter Replica
The German Fokker D.VII is often considered as one of the greatest fighter aircraft of the first world war, the story of its creation is what makes this aircraft such an enigma. During the end of 1917, the Allies had retaken air superiority over the western front with the S.E. 5 and the SPAD fighters. To counter this, the German government offered aircraft manufacturers to submit prototype single-seater fighter designs for inspection and evaluation in Berlin, Jan 1918. The best overall design would be rewarded with a production contract with the German airforce. The winner of this was the Fokker D VII and was built on an initial run of 400 units.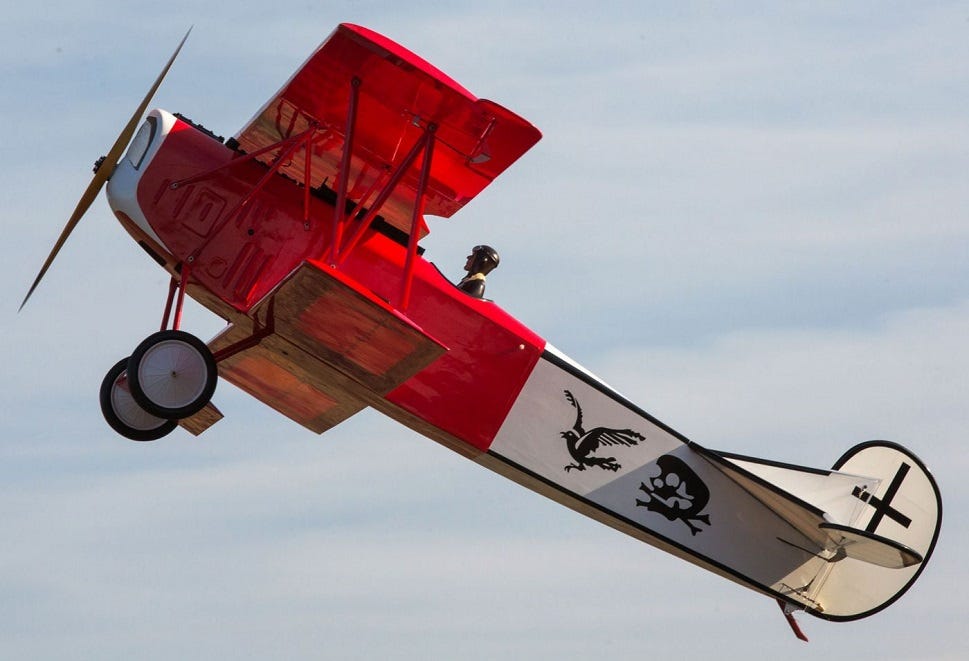 The Fokker D VII was simple to manoeuvre, strong in construction and agile enough to be highly respected and feared by the enemy. The Fokker D VII could attack vertically when other aircraft would stall and fly away. The superior performance of the Fokker D VII allowed it to be very successful and of the 3,300 that were produced over 700 still remained in service after the war ended.
Incredible scale detail
Hangar 9 takes this historic war legend and brings it back to life as a giant scale ARF with tremendous scale details. This RC plane has been expertly crafted with high-quality components and build standards. This results in an ARF that goes together seamlessly and has great flying manners with an excellent appearance. Scale details like moulded machine guns, scale pilot figure, cockpit details and 8" scale tyres are sure to be appreciated by even the most critical aeromodeller. A shock absorbing main landing gear takes most of the bounce out of grass runways and provides a smooth cushioned landing. Finished in genuine UltraCote covering this ARF warbird has the looks to match the performance. Designed and built to accommodate a variety of 30cc to 60cc engines in either 2 or 4 stroke configuration and even a brushless electric setup in that is your preferred method. All the required hardware for the various power system options is included in the box, making finishing this model incredibly easy. A high access top hatch makes battery swaps and maintenance super simple, access to electrics are also nice and easy.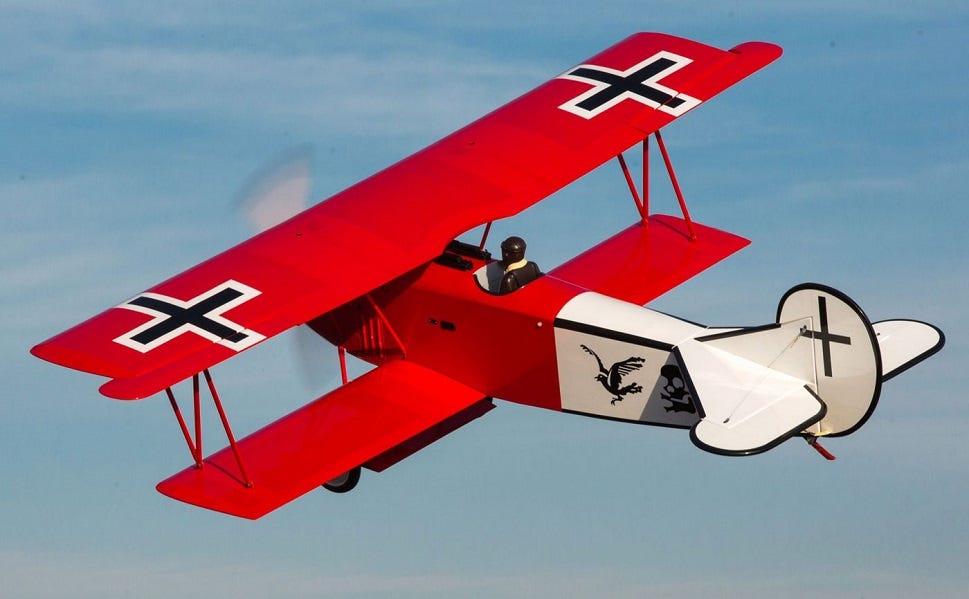 Whether this is your first giant scale warbird or another plane to add to your collection, you will not find a better replica of the Fokker D VII that accurately captures this spirit of this fantastic war legend.
30cc to 60cc two- or four-stroke gas/petrol engine or equivalent electric motor system
Full-range, 6+ channel transmitter and receiver
(6) High-Torque Standard-size servos (5 for the electric power option)
(2) Batteries for receiver and engine ignition (for the gas power option)
Propeller
Tools and adhesives for assembly (refer to manual for complete list of items needed)
Wingspan

87" (2210mm)

Overall Length

72" (1829mm)

Wing Area

2430 sq in (156.8 sq dm)

Flying Weight

23 - 28lbs (10.4 - 13kg)

Engine Size

2-stroke gas: 30-60cc

Motor Size

160-360

Radio

4-channel minimum (sold separately)

Servos

Six required

Trim Scheme Colors

Red, white and black

CG (center of gravity)

7" (178mm) behind leading edge of top wing center section

Prop Size

18-26 gas, 20x10 electric

Spinner Size

Spinner nut

Speed Control

120A

Recommended Battery

10-12S 7000-14000mAh, 2S 7.4V 4000mAh LiPo receiver battery

Control Throw (Ailerons)

Up 1-9/16" (40mm), Down 1-3/16" (30mm) High / Up 1" (25mm), Down 25/32" (20mm)

Control Throw (Elevator)

Up 1-31/32" (50mm), Down 1-9/16" (40mm) High / Up 1-3/8" (35mm), Down 1" (25mm) Low

Control Throw (Rudder)

Left/Right 3-1/8" (80mm) High / Left/Right 1/31/32" (50mm) Low

Approx. Assembly Time

20+ Hours

Charger

LiPo compatible (sold separately)

Landing Gear

Front landing gear with foam wheels with optional rear gear

Assembly Time

20+Hours

Is Assembly Required

Yes
All product manuals are provided by the manufacturer, If you don't find the manual or information you are looking for, contact our experts for help.