E-Flite Draco 2.0m STOL RC Plane, BNF Basic
The incredible looking Extra Scale DRACO 2.0m from E-flite is the only officially licensed RC version of Mike Patey's superb bush plane. An absolute specialist STOL aircraft and a brilliant scale flyer – you'll love getting this one in the air!
Unmatched short take-off and landing capability from this brilliant bush plane
This unique DRACO by Mike Patey is the only officially licensed scale replica
One of the most feature-rich, highly engineered and detailed E-flite aircraft to date
Moulded-in surface features, antennas, wingtip skids, steps just some of the many extra scale features
Leading edge slats, slotted flaps, and, licensed KING shocks on the main gear and tail wheel just some of the functional Extra scale features
Vast array of LEDs including tail beacon, landing, navigation, reversing plus more lights with an adjustable light controller
Backlit instrument panel, detailed cockpit and pilot easily visible through clear windshield and windows
High powered 4S to 6S compatible brushless motor is factory installed and comes with 4 bladed large diameter prop
Flight times of up to 10-15+ minutes can be achieved with batteries from 4000 to 7000mAh easily fitted for high-performance flying requirements
Spektrum Avian 100mAh Smart ESC gives the flyer real-time current draw, motor RPM, battery voltage plus other data via compatible transmitters and receivers
With compatible 7+ channel transmitters you can have optional-use motor reversing to use in ground handling situations
AR637TA Spektrum receiver with industry-leading DSMX technology and full-range telemetry
AS3X and optional-use SAFE Select select technology to assist pilots with additional stability and flight envelope protection
Six metal-geared servos with internal ball-link equipped linkages have been factory installed
Big battery compartment easily accessed through large magnetically secured top hatch
Forward and reverse ground handling made easy with steerable and shock equipped tailwheel
Oversized tundra tyres fitted to scale articulated shock-absorbing main landing gear
Fully moulded durable carbon fibre strategically fitted to handle the rigours of STOL on different surfaces
Quick and easy assembly/disassembly with a V2 hands-free servo connection system and a two-piece wing with quarter-turn thumbscrews
Airframe constructed from toughened fully moulded EPO with additional wood and carbon fibre reinforcement
Super looking paint finish and additional decals have been factory applied
A bush plane like no other
The full-size DRACO began life as a Wilga 2000. After Mike Patey's hard work and determination were finished with it the DRACO was born and quickly established itself as the ultimate bush plane. A new turboprop engine and many more modifications saw the DRACO able to go to the same places as the Carbon Cub but could reach 28,000 feet altitudes, climb twice as fast and reach cruising speeds of 289km/h with 4 passengers plus gear. The FAA approved the redesign done by Mike Patey as an 'experimental exhibition aircraft'. When you see the highly engineered and visually stunning DRACO 2.0m from E-flite you'll understand why!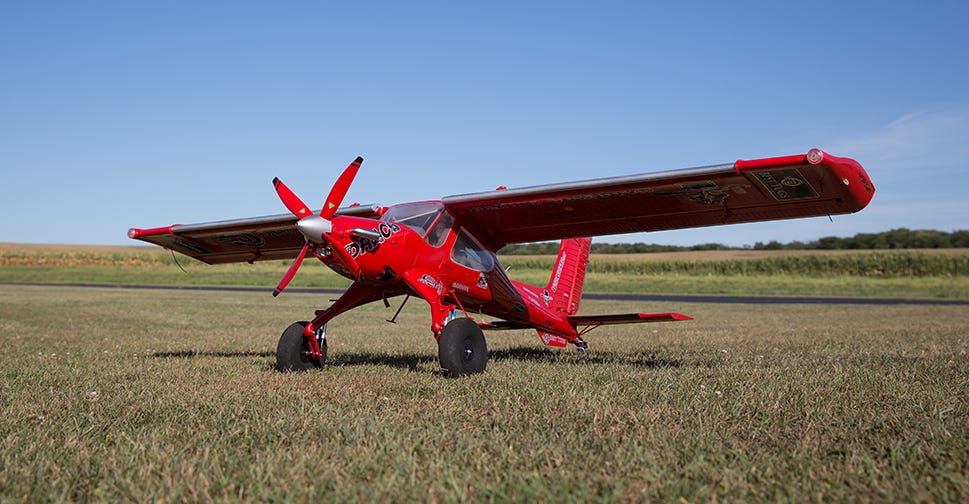 As the only officially licensed scale replica E-flite knew it had to give the Extra Scale DRACO 2.0m RC bush plane the scale detailing and engineering it deserved. They have delivered. Externally the factory-applied finish on the lightweight, fully moulded durable EPO airframe is eye-catching. The Extra Scale features adding to this superb appearance include antennas, wingtip 'stinger' skids, steps, and much more. The detailed cockpit with a backlit instrument panel and a pilot figure can be easily seen through the clear windows and windshield. The functional Extra Scale details on the E-flite DRACO 2.0m RC bush plane include leading-edge slats, slotted flaps, scale-like licensed KING shocks on the tail wheel, and main gear plus more.
With 17 LEDs on the airframe and a custom LED controller, you can select strobing, solid, or a combination of light patterns from your compatible transmitter. The carbon fibre custom-made main gear is fitted with oversized tundra-style tyres that you give ample prop clearance and absorb the harsh bumps. The steerable shock-absorbing tailwheel also provides excellent ground handling with the option of backward taxiing with an optional-use motor reversing feature available with a compatible 7+ channel transmitter and SMART receiver.<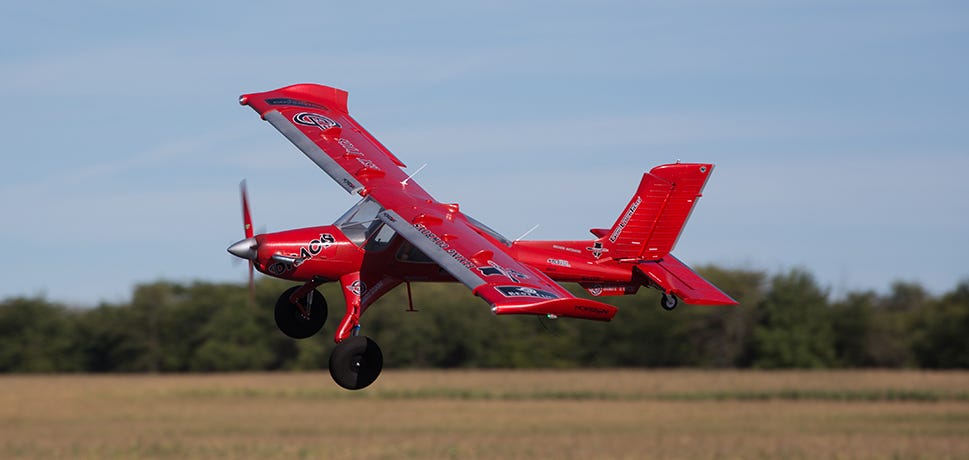 The E-flite DRACO 2.0m RC Bush Plane delivers precision control from the 6 metal geared, factory-installed servos with ball-link equipped internal linkages. The large 4-blade propeller on the DRACO is driven by a high-powered brushless outrunner motor that can run 4000 to 7000mAh LiPo batteries depending on whether you want to fly smooth and slow or speed into vertical aerobatics. The E-flite DRACO 2.0m RC Bush Plane also comes equipped with a Spektrum Avian 100mAh SMART ESC with the BNF version also including a SMART AR637TA receiver that will give you full range telemetry that includes real-time current, motor RPM, ESC temperature, battery voltage plus more if you have a compatible AirWare equipped transmitter.
Easy no-tool assembly/disassembly is achieved with a two-piece wing that is secured with thumbscrews requiring only a quarter turn. In the BNF version of the E-flite DRACO 2.0m RC Bush Plane you get the optional-use SAFE Select and AS3X technology that will work behind the scenes to smooth out your flight characteristics and also provide flight envelope protection with set parameters. If you go with the Plug-N-Play (PNP) option you can equip your DRACO with the battery, receiver, charger and transmitter of your choice. Either option is going to give you a brilliant scale STOL flying experience like no other RC plane before it!
What's in the box?
(1) E-flite® DRACO™ 2.0m

(1) 100A Spektrum™ Avian™ Brushless Smart ESC (installed)

(1) Brushless Outrunner Motor (installed)

(6) Metal-Geared Servos (installed)

(1) Spektrum™ AR637TA 6-Channel Receiver

(1) Product Manual
Full-range 6-8+ channel Spektrum™ DSMX®/DSM2® compatible transmitter
4S 14.8V to 6S 22.2V 4000–7000mAh LiPo with EC5™ or IC5® Connector
Compatible LiPo charger
Wingspan:

77.7 in (1973 mm)

Overall Length:

53.0 in (1345 mm)

Flying Weight:

10.0 lbs (4535 g) with 6S 5000mAh 30C battery;
8.5 lbs (3855 g) without battery

Motor:

Brushless Outrunner (installed)

Speed Control:

Spektrum™ Avian™ 100A Smart Brushless (installed)

Servos:

(6) Metal-Geared (installed)

Radio:

Full-Range 6-8+ Channel Spektrum™ DSMX®/DSM2® compatible transmitter

Receiver:

Spektrum™ AR637TA 6-Channel (installed)

Battery:

4S 14.8V to 6S 22.2V 4000-7000mAh LiPo with EC5™ or IC5® Connector

Experience Level:

Skill Level 2 = Some Experience Required

Rec. Environment:

Outdoor

Assembly Required:

Yes

Approx. Assembly Time:

Less than 1 hour
All product manuals are provided by the manufacturer, If you don't find the manual or information you are looking for, contact our experts for help.
Looking for spare parts or upgrades?