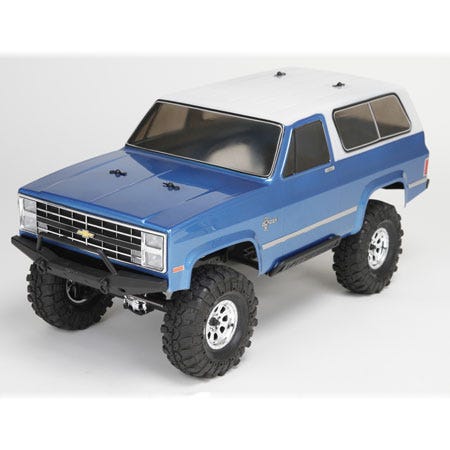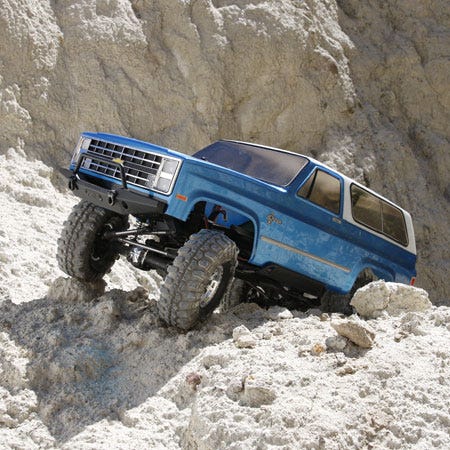 Vaterra are already well-known for producing outstanding rock crawlers. From the Twin Hammers Rock Racer to the Slickrock, off-road vehicles are one of their specialities. Today, we are pleased to announce that they are taking off-road vehicles to another level, with the introduction of their new Chevrolet K-5 Blazer. This RC truck is inspired by the 1986 vehicle of the same name; one of the most popular four wheel drives of all time. This new truck comes in kit form, giving you the opportunity to build the Blazer to your own specifications.
At the core of this RC truck is Vaterra's new Ascender chassis. This platform features stamped-steel C-channel ladder frames and an adjustable wheelbase. You have the choice of four wheelbase lengths with this truck (314, 302, 290 and 278mm); giving you great flexibility when tackling the off-road terrain. There are clear markings on the frame to make these adjustments easier. The chassis is equipped with 3-link panhard bar front suspension and 4-link rear suspension. All of these links are made from aluminium, giving you great durability. The Blazer features oil-filled threaded shocks with a wide choice of pre-load settings.
This Vaterra rock crawler comes with a single-speed metal gear transmission which can accomodate high-output motors and tough terrain. The battery tray has been designed to float over front axle and can accept 96mm short packs. By having the battery weight positioned over the front of the axle, you will notice that the front tyres gain extra traction when scrambling over rocks and making steep ascents. The Blazer also features crawler-style bumpers and rock slider side bars. The front and rear bumpers come with moulded tow hooks and there is an opening in the front for a winch cable. The side bars and bumpers can also be moved if you want to attach a different 1/10-scale body.
The Vaterra Chevrolet K-5 Blazer is a very exciting offering. It is your opportunity to take a whole new platform and customise it to your liking. With its Ascender chassis, the off-road terrain is yours to conquer! The Blazer is coming soon, so visit Modelflight today to find out more.
Click here to learn more about the Vaterra Blazer.