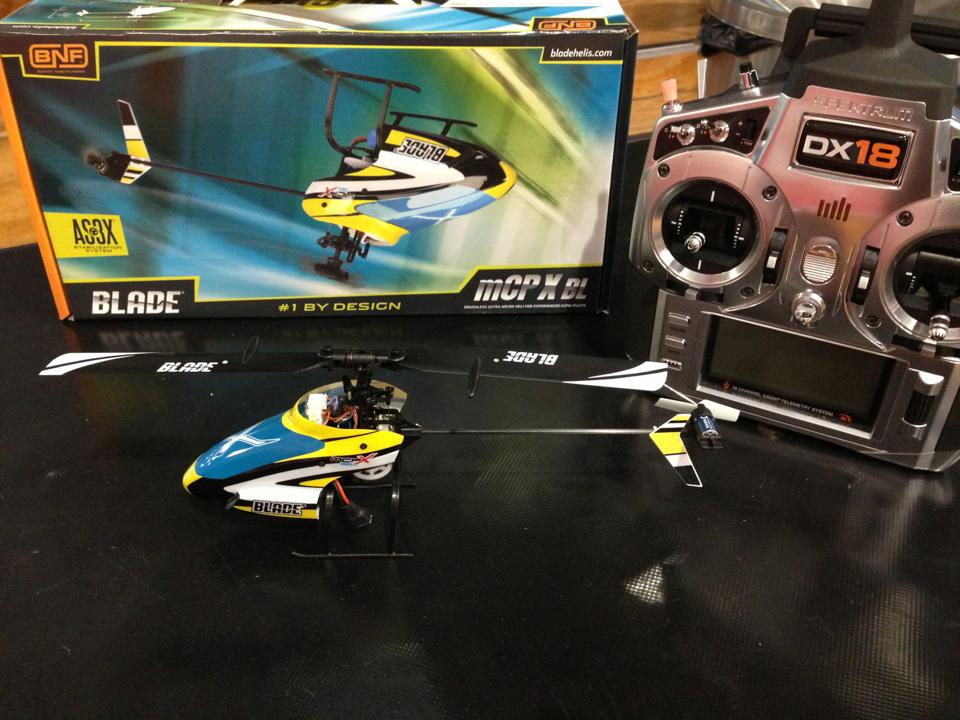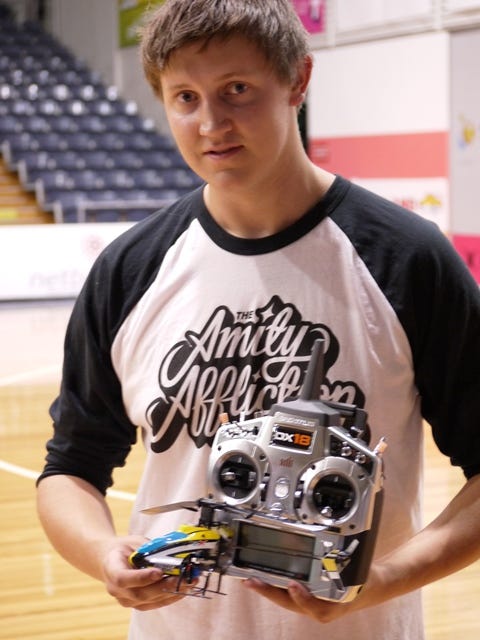 Last night was certainly an amazing experience for everyone who came along to
Modelflight's
indoor flying session at ETSA Park, South Australia.  A lot of new products have arrived since the last indoor flight in
December 2012
, with two of them being showcased with great reception.  Despite the hot weather, around 30 pilots and spectators watched as the
Blade mCP X BL
and
ParkZone Visionaire
were flown for the very first time.  It was only fitting that heli pilot extraordinaire  Hamish had the honour of trying out the brushless mCP X.  To say that he put the RC helicopter through its paces would be an understatement!  Hamish's exciting demo video has now been
uploaded
to our YouTube channel.  As you can see, the brushless power in this new Blade heli makes it an extraordinary performer.  Combined with the
AS3X system
, this performance is matched with amazing stability, giving the Blade mCP X incredible potential (as Hamish demonstrated).  If you enjoy watching Hamish's heli skills, we have put together a playlist on our
YouTube channel
 called
Hamish and His Helis
.  Mike also reviewed this new remote control helicopter in another
video
.
We also got to witness the
ParkZone Visionaire's
maiden flight.  It was amazing to watch.  Similar to the Blade mCP X BL, the AS3X system in the Visionaire gave it superb stability.  We look forward to flying this RC plane again.  A snippet of the VisionAire in action can be seen in the below video, which offers many other exciting highlights from last night's flying action. http://www.youtube.com/watch?v=ZzmPkDVG3mM Overall, a great time was had by everyone.  Seeing new products in action is always a thrill for us at Modelflight.  If you would like to chance to fly the Blade mCP X BL and/or ParkZone VisionAire yourself, these models are available now at our
website
.  If you would like to view (or re-experience) previous indoor flying events, we have put together a
playlist
 on our YouTube channel.  For now though, stay tuned to our blog for reports on our next indoor flying event in February and throughout 2013.