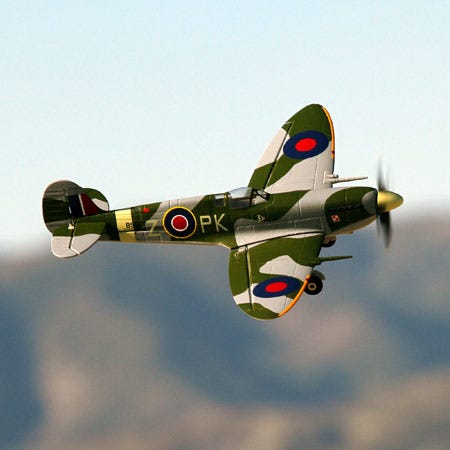 Our friend Chuck has been hard at work reviewing the latest micro
ParkZone model plane
; the Spitfire Mk IX! ParkZone's Ultra Micro Series
Spitfire Mk IX
with the AS3X system gives you great scale details in a plane that you can fly just about anywhere, even in not so ideal weather! Here's what chuck had to say about this new
parkzone rc plane
:
"Here it is at last, with thanks again to Mike from OMP, the latest release from Parkzone in the Ultra Micro range, It's a War Bird, but not just any War Bird, it's the legendary Spitfire Mk IX, with the latest AS3X technology on board to make your flying experance even better. It's also a baby brother for the ParkZone Spitfire released in the Park Flyer range last year and what a beauty this plane is too. The detail is right up there with the best and the only thing i could see that would have been nice was a pilot to go in the excellent canopy, that has a realistic dash inside. Well lets get this video rolling so you can have a close up look at this new offering from Parkzone the UM Spitfire Mk IX With AS3X" C
huck
The next clip that we have from Chuck is his Maiden flight of the Spitfire: If that wasn't enough for you, Chuck has also given us some BONUS footage of the
ParkZone Ultra-Micro Spitfire
- this time the plane is silhouetted against the clouds and sun, no close ups, so you can get a perspective of just how fast and well this plane manoeuvrers in the air. I must say it is a joy to fly and really looks the part silhouetted against the sky, so sit back and enjoy a 3 minute flight of ParkZone's new UM
Spitfire
...