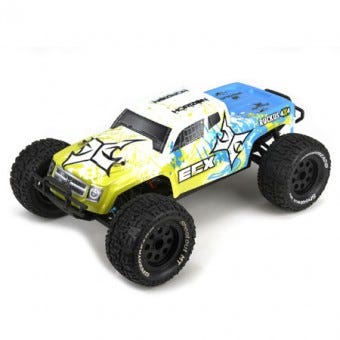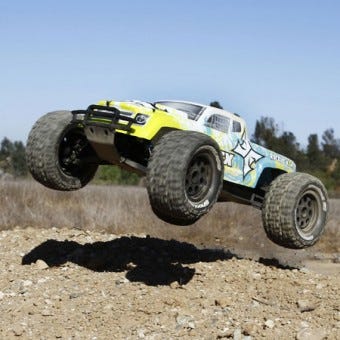 Recently on the Modelflight Blog, we have been talking about the new 4WD versions of already-popular ECX RC cars. From the ECX Torment to the Circuit RC truck, these new, upgraded-drivetrain vehicles are some of the most popular new products to emerge from the 2014 Nuremberg Toy Fair. Today, we wanted to focus on one of these new ECX trucks, the 4WD Ruckus RC monster truck, an update of the original Ruckus RC truck.
The original Ruckus was a dream-come-true for many; a gutsy RC monster truck that could easily be driven by beginners. The new 2014 Ruckus RC truck maintains that strong performance balanced with beginner friendliness. It comes completely ready-to-run with everything you need in the box. This includes a pre-installed 550-sized 15T motor with a LiPo-ready ESC. This power line-up will give you plenty of speed and control when you hit the track.
With the new four wheel drivetrain, the ECX Ruckus will be able to perform like never before and you will be able to command this power easily with the included Spektrum DX2E 2.4GHz transmitter (coupled with a waterproof receiver). What is exciting is that the Ruckus can accomodate the new Active Vehicle Control (AVC) technology. All you will require is the Spektrum SRS4210 receiver (sold separately); the Spektrum DX2E can work with this receiver.
Additionally, ECX have included a Dynamite 2400mAh 7-cell battery. This power pack help you to bash across the terrain without any hitches and you will find that the battery retaining system in the Ruckus is very easy to use. You will also receive a 2-amp peak charger from Dynamite.
Complete with adjustable oil-filled shocks, all-terrain tyres and a fully-painted body, the new ECX Ruckus RC monster truck is going to be a thrilling car to drive. It is coming soon to Modelflight, so visit our website today to find out more.
Click here to learn more about the ECX Ruckus 4WD RC Monster Truck.