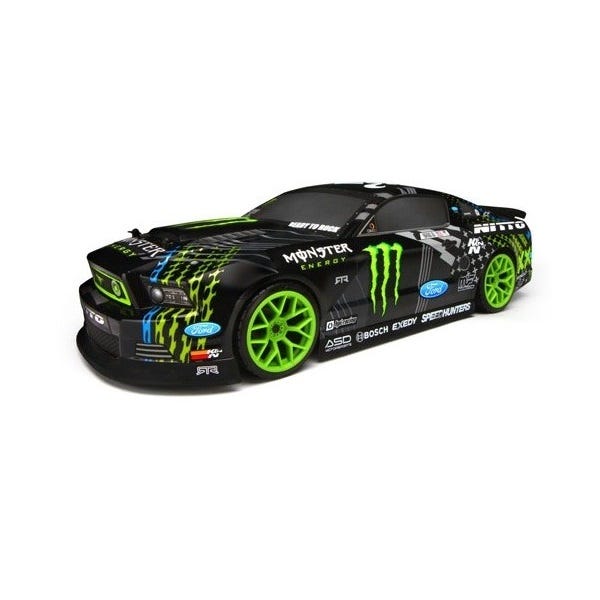 Our RC drift car garage is growing at Modelflight! We have just received stock of the new E10 Drift Monster 2013 Mustang RC car from HPI. This is a very exciting addition to our range. The HPI E10 remote control car is a great choice if you want to get started in RC car drifting. It comes ready-to-run with everything you need included in the box.
One of the great things about this HPI RC drift car is its looks. It comes with a fully-painted replica Monster Energy Nitto Tire 2013 Ford Mustang body; a tribute to the full-scale Mustang driven by Vaughn Gittin Jr. The E10 also features officially-licensed Nitto NT05 hard compound drift tyres. You will find that these specially-designed tyres allow you to easily drift on paved surfaces. They have been designed to hold a smooth line and maximum drift angle; similar to full-size cars.
The car has independent suspension and four wheel drivetrain which is enclosed to prevent dirt and dust from getting into the gears; minimising maintenance and increasing reliability. HPI have also given this RC Mustang a large foam bumper to protect it from crash damage.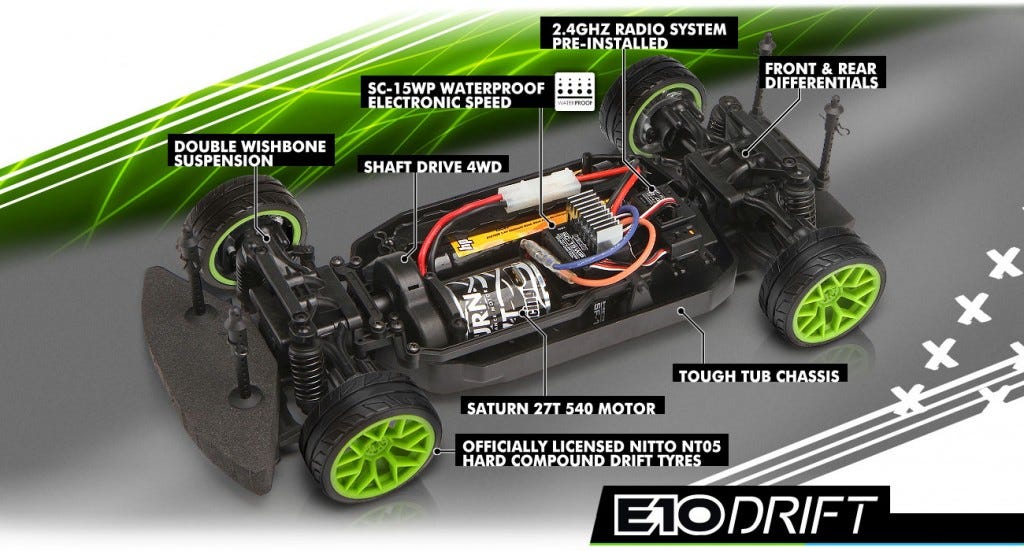 Powering this RC drift car is a Saturn 27T motor and an SC-15WP ESC, offering throttle, brakes and reverse. The HPI E10 comes with standard body mounting points, so you can fit a variety of HPI Racing bodies to customise the look of this car. You will also find that most of the popular wheels and tyres can easily bolt on; giving you extra tuning and styling options.
The HPI E10 2013 Mustang is available now from Modelflight. If you have always dreamed about going drifting with an RC car, this is your chance. Check out our website now to find out more.
Visit our page on the HPI E10 2013 Mustang drift car.