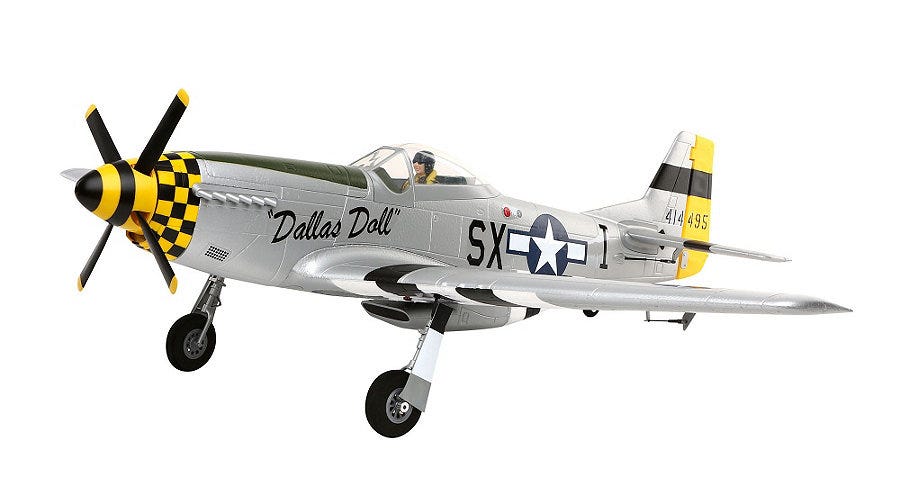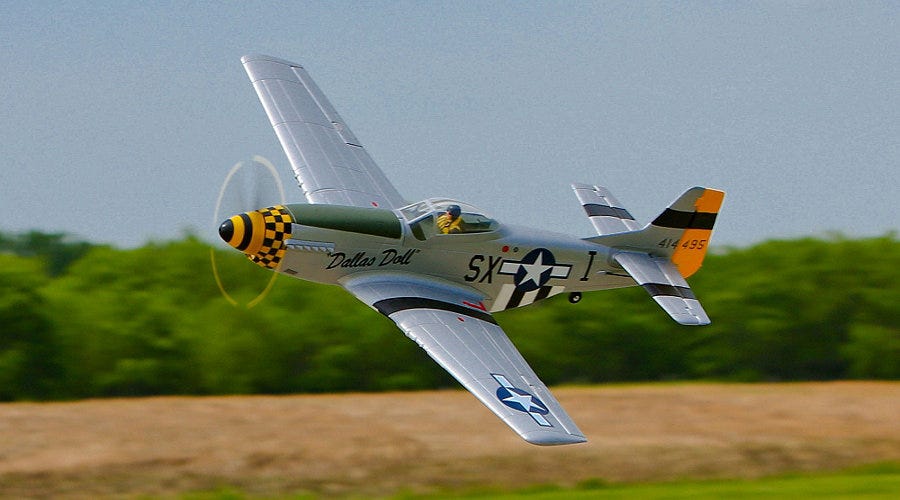 Out of all the scale RC planes at Modelflight, the P-51D Mustang has always been the most popular. These legendary World War II fighters have reputations that precede them and we are proud to offer a range of Mustangs for pilots and history buffs alike! Today, we are pleased to announce that E-Flite have made a valuable contribution to the Mustang hangar, with the release of their P-51D Mustang RC plane. This is an exciting offering. The plane comes with fully operational flaps and a retractable electric main landing gear. Both these features come pre-installed. You will be able to perform great landings right from the get-go. These retracts have also been equipped with covers over the steel struts; enhancing the scale appearance with the outer gear doors. It's these functional flaps, combined with the Mustang's light wing loading, that gives the plane a great flight envelope and the ability to take off in shorter distances and land more slowly.
Mustang Power
But this is just the beginning. The E-Flite RC Mustang comes equipped with a powerful 15-size brushless outrunner motor. This 950Kv motor will give you the drive to take to the skies with ease. The Mustang is constructed from durable Z-Foam with composite reinforcement; making it both maneuverable and durable. What's more, the Mustang comes with great scale features such as a 4-blade propeller, panel lines and details such as a pilot, gun and cockpit. You will find that assembling this plane is quite straightforward. The battery hatch is easily accessible and the model comes with a bolt-on wing.
This new model plane will be available in Plug-N-Play (PNP) and Bind-N-Fly (BNF) Basic versions. Irrespective of your choice, we should be able to help you find all the items you need to complete these models. The Mustang is coming soon to Modelflight, so if you are keen to find out more, visit our website today.
Click here to learn more about the P-51D Mustang.